The bank, which recently announced it is keeping its HQ in London, said global banking and markets staff could move to Paris if UK leaves EU.
French appeal court reduced the bank's bail from 1 billion euros in relation to a probe into alleged tax evasion and money-laundering activities.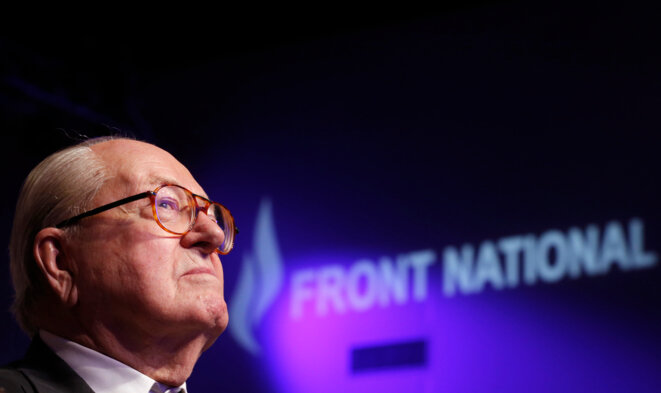 À la convention du FN pour les municipales, le 17 novembre 2013. © Reuters
The honorary president of the far-right Front National, Jean-Marie Le Pen, was the economic beneficiary of a undisclosed trust in Switzerland which was overseen by his butler and which contained 2.2 million euros in its bank account, according to information received by Mediapart. Gold ingots and coins made up 1.7 million euros of the sum involved. The revelation of the undeclared account, which was at the HSBC bank and then moved to the Compagnie bancaire helvétique (CBH), is set to provide fresh embarrassment for the Front National which is already the subject of a a judicial probe over campaign funding, and which has been hit by a damaging public split between Jean-Marie Le Pen, its former president, and his daughter Marine Le Pen, its current president. Jean-Marie Le Pen could now face investigation for tax fraud or for making false declarations to public authorities. Karl Laske and Marine Turchi report.
HSBC Holdings PLC is placed under formal investigation and set 1 billion-euro bail after a probe into alleged tax evasion by its Swiss arm.
The financial crime prosecutors' office has ecommended charges be brought against the bank for encouraging tax fraud and money laundering.
Le Monde has uncovered an email by Hervé Falciani offering information on tax dodgers and which UK tax officials claimed no knowledge of.
The French finance minister has denied UK government claims that it was refused permission to use leaked bank files to bring prosecutions.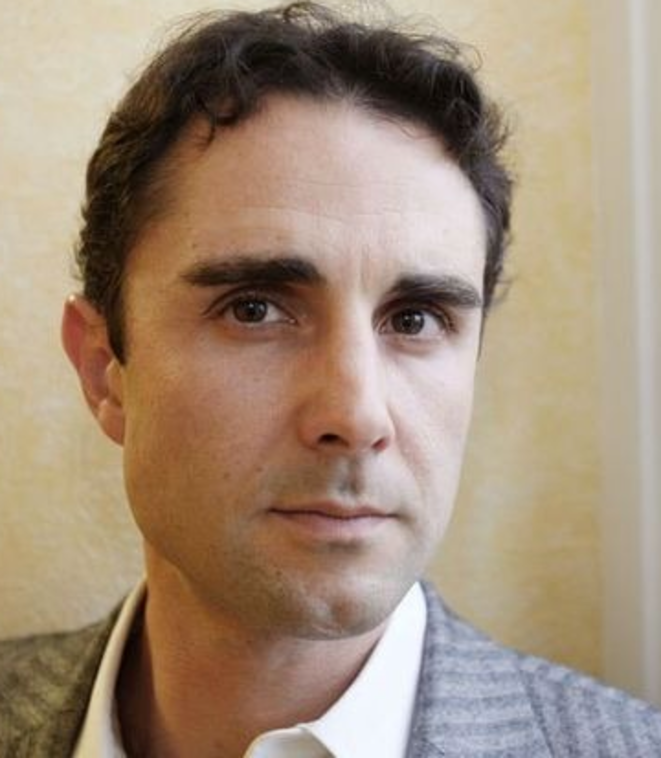 Hervé Falciani. © Reuters
Hervé Falciani, the HSBC employee who exposed the existence of tens of thousands of tax evading accounts held at the bank in Geneva, is back in France where he will give evidence to MPs drawing up a new law on tax fraud. In an interview with Mediapart the former IT man, who was arrested in Spain last year pending possible extradition to Switzerland, has told Mediapart that the Swiss authorities tried to buy his silence with the offer of a non-custodial sentence. Valentine Oberti reports.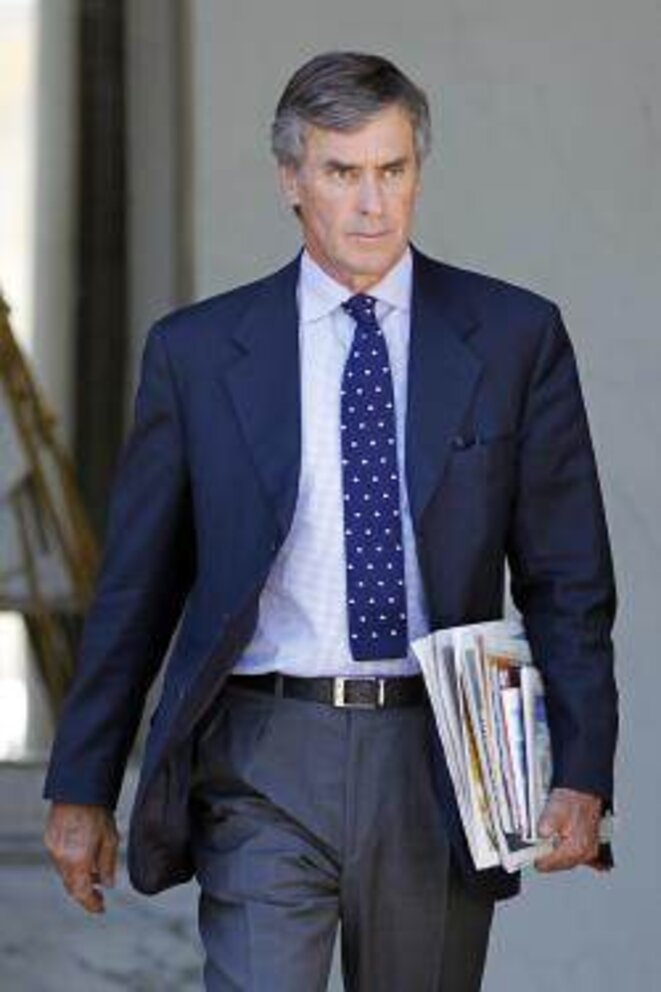 © Reuters
Disgraced former French budget minister Jérôme Cahuzac (pictured), who in April confessed to holding a secret foreign bank account while leading a crackdown on tax dodgers, sat on evidence implicating the HSBC bank's French unit in organizing tax evasion which was handed to him when he was president of the parliamentary finance commission, Mediapart can reveal. The bank is now at the centre of a French judicial investigation, launched in April, into suspected "laundering of the proceeds of tax fraud" and the "illegal prospection" of clients. Cahuzac, who as president of the parliamentary finance commission had the power to launch an independent investigation into the bank's activities in France, received the information in August 2010, when his brother, Antoine Cahuzac, was a senior director of HSBC's French arm. Fabrice Arfi and Valentine Oberti report.
French magistrates have opened an investigation into alleged illegal solicitation of clients and money laundering by the HSBC bank.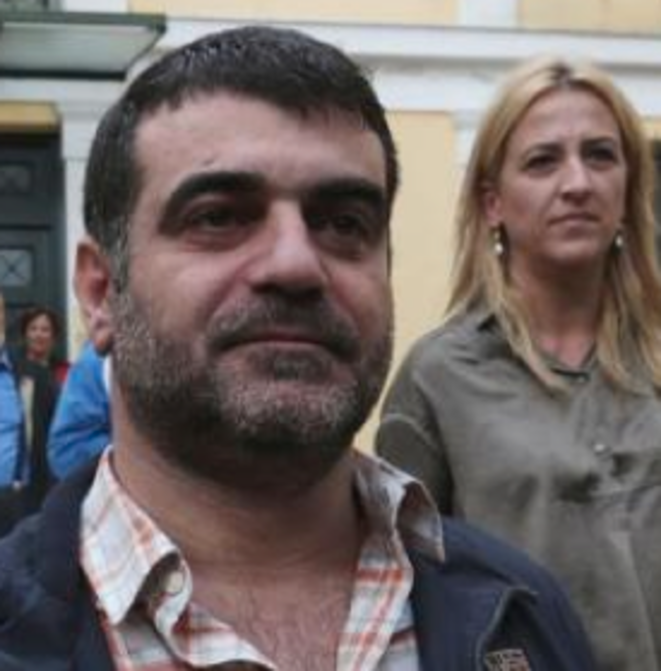 © (Reuters)
Greek journalist Kostas Vaxevanis was finally acquitted last week by an Athens court of charges of violation of privacy and data protection laws, brought after the magazine he edits, Hot Doc, published a list of the names of more than 2,000 wealthy Greek individuals and companies with secret bank accounts in Switzerland. Shortly before his acquittal, Vaxevanis was interviewed by Amélie Poinssot, when he explained why he decided to publish the list, how he received it and who is on it, and what the whole affair says about the state of journalism in Greece.
The Swiss authorities on Tuesday confirmed Mediapart's exclusive report that a former HSBC employee who exposed tens of thousands of tax-evading accounts held with the bank has been arrested in Spain pending extradition to Switzerland, where he is wanted for breaching banking secrecy.  But the extradition for trial of Hervé Falciani, 40, a former Geneva-based IT engineer for HSBC who holds dual French and Italian nationality, could lead to a far larger, wide-ranging scandal of major repercussions. For it is unknown whether he has kept hidden copies of his files of 127,000 accounts held with HSBC, which the French authorities are accused of having previously suppressed. The multi-billion-dollar question is whether the Swiss would finally allow his evidence to emerge in public.Valentine Oberti and Karl Laske report on the web of intrigue surrounding Falciani and the British bank which was last week slammed by a US Senate investigation for having served as a money-laundering conduit for "drug kingpins and rogue nations". 
HSBC Holdings PLC said it plans to axe nearly 700 jobs in France where it employs just more than 10,000 people.