Special reporters take government in Paris to task over proposed legislation that would give police more power.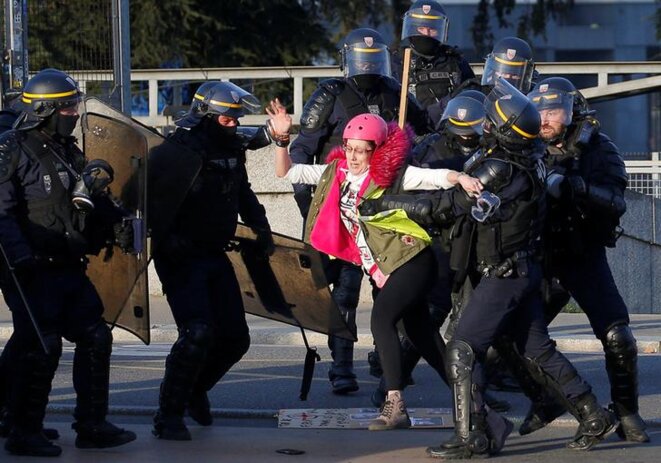 Scenes at a 'yellow vest' protest in Nantes in western France on February 16th 2019. © Reuters
The United Nations has followed the European Parliament in criticising the policing of some demonstrations staged by 'yellow vest' protestors in France. The UN's High Commissioner for Human Rights condemned what she called the "excessive use of force" used by the police on some occasions. The criticism came after interior minister Christophe Castaner's terse response to opposition MP Loïc Prud'homme after the latter was hit with a baton during a yellow vest protest last Saturday March 2nd in Bordeaux. Carine Fouteau reports.
Egyptian President Abdel Fattah al-Sisi's first official visit to France since the election this year of Emmanuel Macron is clouded by demands from NGOs that Paris should place human rights abuses at the fore of the agenda of discussions expected to centre on economic deals and counter-terrorism strategy.
President Macron, aware that France's policy on Egypt has come under fire, will raise issue when he meets Egyptian leader in Paris next week.
Liberty and security 'under threat' from bill aiming to end France's state of emergency by transferring special police powers into permanent law.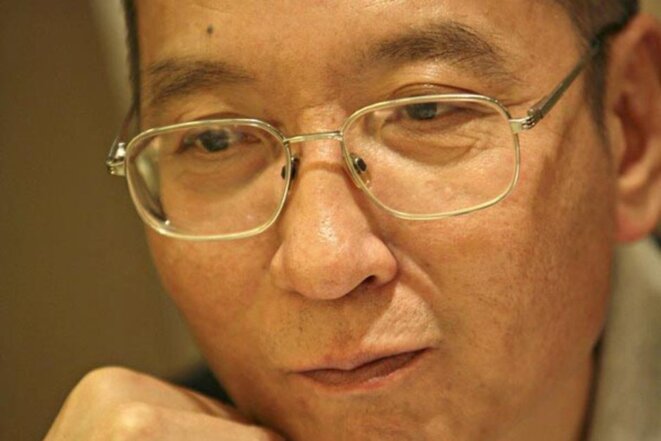 Liu Xiaobo. © Reuters
The death on July 13th of imprisoned Chinese human rights activist and Nobel Peace Prize winner Liu Xiaobo has highlighted the reticence of Western nations to clearly denounce the fierce repression meted out by the Chinese authorities against pro-democracy campaigners. Mediapart's Beijing correspondent Elodie Goulesque reports on how rights issues have fallen off the agenda of the international community in face of China's rise to the rank of the world's second superpower.
Amnesty International Secretary-General Salil Shetty, presenting the NGO's yearly report, has called on France to resist 'all that hateful rhetoric against Muslims and migrants' in the current presidential election campaign, urging that citizens 'stay true' to the 'values of human rights' on which he said the country's republic was founded.
Facebook has become one of the foremost media in Tunisia, an alternative to controlled official information; it played an important a role in the 2010 uprising that led to the Arab Spring. But while it remains a tool for mobilising people, it is also now used for the more mundane and trivial, including trolling, rumours and rants. More disturbingly, Facebook has also been be turned against human rights activists, who are sometimes treated by the authorities in the same way as apologists for terrorism. Lilia Blaise reports.
Poll for human rights group shows that after terror attacks in France, 36% of people would now support use of torture, up from 25% in 2000.
Paris confirmed contracts for Airbus Space Systems and Thalès Alenia Space to build military telecoms satellite for Egypt's defence ministry.
French legal press association says that it will ask court to strike down the sweeping powers the law gives to intelligence agencies.
French president raised rights abuses with Azerbaijan`s President Ilham Aliyev at talks on Baku's dispute with Armenia over Nagorny Karabakh.
The Council of Europe's Commissioner for Human Rights, Nils Muižnieks, on Tuesday released a report entitled 'France: persistent discrimination endangers human rights'. The Latvian appears largely unimpressed with what he saw during a fact-finding mission to France last October, and denounces increasing anti-Semitism, anti-Muslim acts and racism in general, homophobia, a rise in "hate speech", the poor treatment of asylum seekers and the "social exclusion and marginalisation of persons with disabilities". Carine Fouteau reports on the Commissioner's conclusions.
French President to stand firm against human rights abuses and corruption when he attends this weekend's annual Francophonie summit this weekend.