Related keywords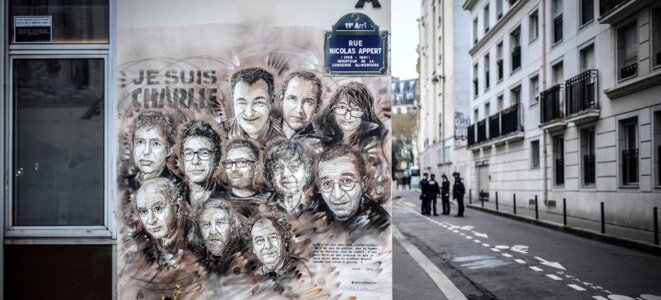 A mural close to the offices of Charlie Hebdo magazine depicting the victims of the January 2015 attack. © Stephane de Sakutin,/AFP
The trial of 14 people accused of complicity in the separate January 2015 terrorist attacks in and around the Paris offices of Charlie Hebdo magazine, against a Jewish food store, and a policewoman, opened in the French capital on Wednesday. The three perpetrators, who murdered a total of 17 people, were themselves shot dead by police. Absent from the hearings are three defendants whose fate or eventual whereabouts is unknown, while others have slipped through the net of the investigations. In this first of a two-part report, Matthieu Suc details the background and chronology of events leading to this marathon trial due to end in November.
A total of 14 defendents are to stand trial in Paris beginning next Wednesday on charges related to the murderous January 2015 terrorist shooting attacks in and around the offices of Charlie Hebdo magazine, at a kosher supermarket and upon a police officer which together claimed the lives of 17 victims.
Investigators are probing how France-based jihadist Amedy Coulibaly obtained weapons for attack that followed Charlie Hebdo massacre.
The Pew Research Center survey result is in stark contrast to the recorded doubling of acts against Muslims in the aftermath of the Paris attacks.
Interior minister Bernard Cazeneuve was first customer to re-enter the store where four Jewish hostages were shot dead by an Islamist gunman.
Veillée en hommage à Yoav Hattab, Tunis, samedi 17 janvier. © Reuters
One of the victims of the kosher supermarket shootings during the Paris attacks in January was Yoav Hattab, a 21-year-old Jew from Tunisia. His family are part of a Jewish community whose roots in the North African country go back many centuries but which has seen its numbers fall dramatically over the last 50 years. The dead man's elder brother, Avishay Hattab, has spoken at length to Mediapart's Pierre Puchot about how the family learnt of Yoav's death, at their dismay at the lack of official Tunisian government recognition of his murder, and of the difficulties in belonging to one of the last Jewish communities in the Arab world. Meanwhile an association that supports local minorities talks about the need to combat the "hatred" aimed at Jews in Tunisia. But Avishay Hattab says he is "proud" of being Tunisian and insists he has no intention of leaving a country his family has lived in for countless generations.