Keyword: illegal political funding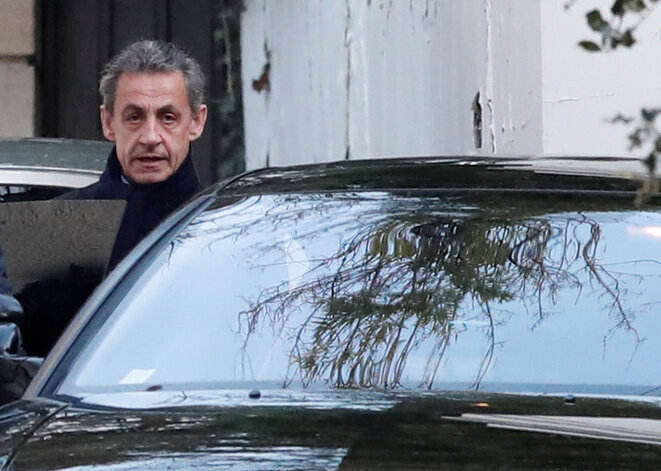 Nicolas Sarkozy leaving his Paris home Wednesday morning for a second day of questioning. © Reuters
Nicolas Sarkozy was placed under formal investigation by magistrates on Wednesday for "illicit funding of an electoral campaign", "receiving and embezzling public funds" and "passive corruption" at the end of almost 48 hours of questioning by French police investigating evidence that the former French president's 2007 presidential election campaign was partly funded by the regime of the late Libyan dictator Muammar Gaddafi. It is unprecedented in France for a former president to face prosecution for having been sponsored by a foreign power. Fabrice Arfi and Karl Laske report on the latest events and the background to the case, which followed Mediapart's first revelations in 2011.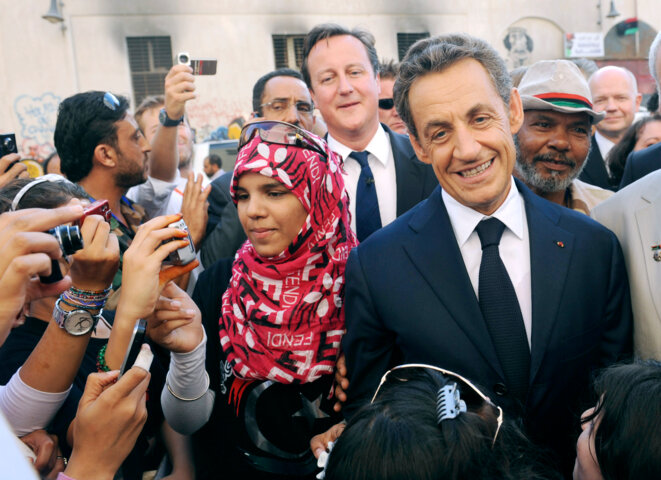 Nicolas Sarkozy and David Cameron visiting Benghazi. © Reuters
A report published this week by the UK parliament's foreign affairs committee made public its highly critical conclusions after a one-year inquiry into Britain's involvement in the 2011 military intervention in Libya which led to the overthrow of the regime of Muammar Gaddafi. The committee described the operation, which was led by France, as ill-prepared, ill-informed and without a cohesive strategy. No parliamentary inquiry into the military campaign has ever been held in France, and what exactly fuelled then-president Nicolas Sarkozy's eagerness to remove Gaddafi remains uncertain, although a number of clues point to a motive ignored by the UK committee of MPs. Fabrice Arfi reports.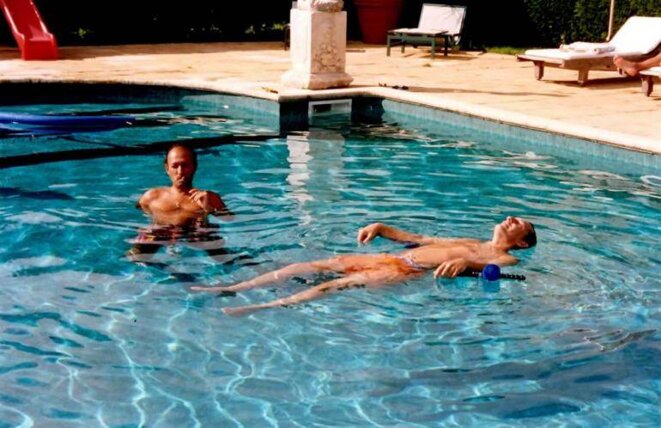 Thierry Gaubert et Nicolas Bazire © DR
At the end of an investigation that has lasted more than three years, six people, including a former minister and the current managing director of luxury goods firm LVMH, have been sent for trial for their alleged roles in a gigantic political funding scam that centred on secret cash kickbacks from French weapons sales abroad.  The case, one the biggest political corruption scandals to have emerged in France in recent decades, yet threatens to engulf the political masters of those accused - former French prime minister Édouard Balladur, his defence minister François Léotard, and Balladur's budget minister, later French president, Nicolas Sarkozy. Fabrice Arfi reports.       
Gaddafi funding of Sarkozy election campaign : a first-hand witness confirms © Mediapart
A senior aide to the late Libyan dictator Muammar Gaddafi has revealed that Gaddafi personally told him that his regime illegally funded Nicolas Sarkozy's 2007 election campaign to the tune of 20 million dollars. Moftah Missouri, who was Colonel Gaddafi's personal interpreter, who was given the rank of ambassador and who also served as a minister in the regime, made the disclosure in an interview with French state television channel France 2, to be broadcast Thursday evening. During the interview, also confirms the veracity of a document published by Mediapart in April 2012 in which Gaddafi's funding of Sarkozy's campaign is detailed. Fabrice Arfi and Karl Laske report.
This article has been censored
A ruling by the Versailles court of appeal on July 4th 2013 has ordered that Mediapart must remove from its website all articles which contain extracts from the so-called 'butler tapes' at the heart of the Bettencourt affair. The penalty for not doing so is 10,000 euros per article per day (effective from July 21st). Mediapart has appealed against the ruling.
A senior French civil servant has told a corruption investigation that former president Nicolas Sarkozy personally authorized the payment of secret commission payments from French armament contracts which are suspected of being used to illegally finance political activity. Mediapart can reveal that Patricia Laplaud, a former budget ministry financial supervisor of armaments sales gave a statement to the investigation, led by two Paris-based judges, in which she says that Sarkozy, when budget minister in 1994, ordered the secret cash transfers despite opposition from his ministerial advisors. Part of the sums were subsequently withdrawn in cash from Swiss bank accounts by Franco-Lebanese arms dealer Ziad Takieddine, who continued to serve until 2009 as an intermediary in weapons contracts organized by Sarkozy's staff. Fabrice Arfi and Karl Laske report.
Former French President Nicolas Sarkozy is targeted by a formal legal complaint in the 'Karachi Affair' corruption case involving arms sales abroad.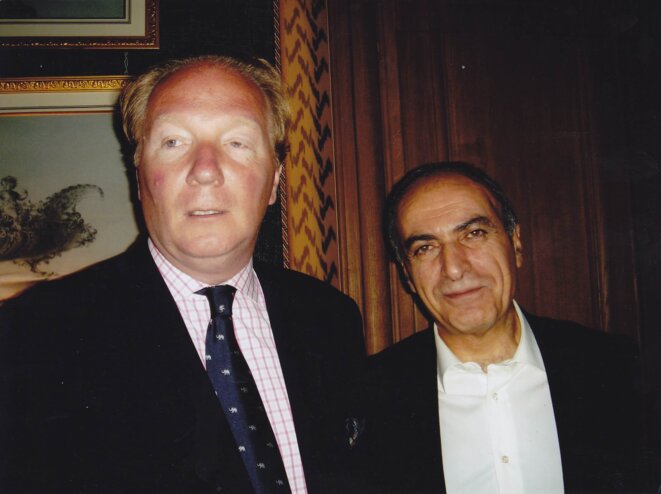 MM. Hortefeux et Takieddine, en 2005 © dr
After providing Mediapart with further information concerning allegations that President Nicolas Sarkozy's 2007 election campaign was partly funded by former Libyan dictator Muammar Gaddafi, the man at the centre of the controversy has now suddenly denounced a "crude manipulation" of his secret report detailing the alleged scam. Jean-Charles Brisard, a French expert on terrorism and terrorist financing, had earlier told Mediapart how Brice Hortefeux, (pictured with arms dealer Ziad Takieddine) a longstanding close friend and political aide of the French president and who is now vice-president of France's ruling UMP party, was the "front" in a financial network set up for the secret funding of Sarkozy's 2007 election campaign by the Gaddafi regime. The Swiss-based consultant said he had a file containing "precise amounts, names, countries and dates." Fabrice Arfi and Karl Laske report.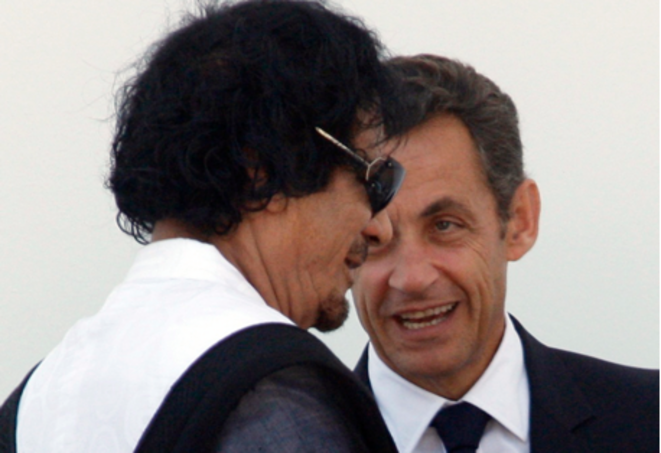 © (Reuters)
According to information contained in a confidential report prepared by a recognised French expert on terrorism and terrorist financing, President Nicolas Sarkozy's 2007 election campaign received up to 50 million euros in secret funds from the regime of the late Libyan dictator Colonel Muammar Gaddafi. The document, to which Mediapart has gained exclusive access and details of which are published here, suggests the money transited by a covert financial network, via Panama and a Swiss bank account, allegedly organized by Paris-based arms dealer Ziad Takieddine.
Fresh evidence has emerged implicating Nicolas Sarkozy's involvement in two controversial 1994 arms deals that lie at the centre of an investigation into suspected illegal political party financing via French weapons sales abroad. Mediapart has obtained access to an official document referring to Sarkozy's approval, when he was budget minister, of financial arrangements surrounding the sale to Saudi Arabia of three French frigates, a deal in which two French-imposed intermediaries were paid the equivalent of more than 200 million euros. Meanwhile, a key witnessin the investigation has said the then-budget minister had "necessarily" given his authorisation for the creation of a Luxembourg-based company set up to handle the payment of commissions paid out in a separate, simultaneous sale of French submarines to Pakistan.Fabrice Arfi and Karl Laske report.
A lawyer claimed he secretly delivered cash from African leaders to ex- president Jacques Chirac and former prime minister Dominique de Villepin.