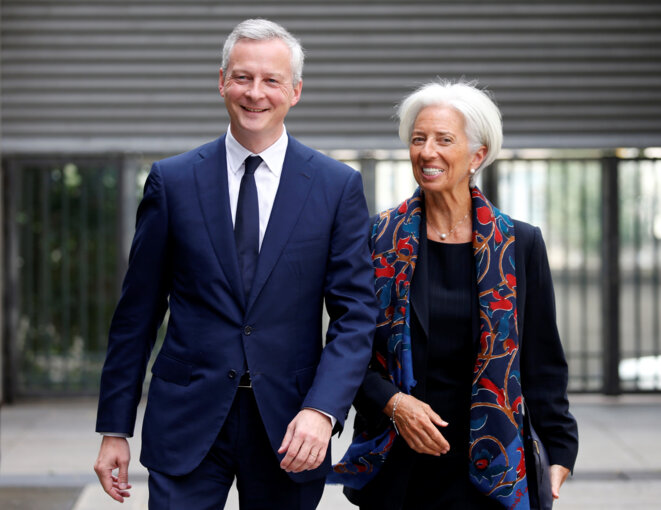 France's economy minister, Bruno Le Maire, with Christine Lagarde, managing director of the IMF. © Reuters
To the immense satisfaction of France's finance ministers, the International Monetary Fund recently lavished praise on the new French government's economic policies. Yet the IMF's comments on French policy run contrary to the organisation's own admissions over its past analytical failings, its change in economic thinking and much of its own internal research. Romaric Godin says this inevitably raises questions about whether the IMF was taking a political stance towards President Emmanuel Macron's new administration rather than giving economic analysis.
President François Hollande has just granted a full pardon to Jacqueline Sauvage, a woman who killed her husband after he had continually beaten her and sexually abused their daughters. Hubert Huertas says the decision to act having hesitated for so long over the pardon sums up Hollande's presidency. He also argues that the case illustrates the limits of French democracy and highlights the issue of judicial scandals.
On last day of her trial IMF chief insisted she did nothing wrong in authorising massive settlement to Bernard Tapie to settle dispute.
Prosecutor Jean-Claude Marin said case against ex-French economy minister over her handling of €403m Tapie arbitration award was 'weak'.
A former top French civil servant told the judges in the trial of IMF boss Christine Lagarde how he had tried to meet the then-economy minister to stop her from agreeing to an arbitration process that eventually cost French taxpayers 403 million euros. Ex-Treasury official Bruno Bézard said not only was holding the arbitration in the first place a blunder, it had been a mistake not to have appealed against its 2008 ruling in favour of tycoon Bernard Tapie. Mediapart's legal affairs correspondent Michel Deléan says it was a tough day in court for Lagarde, who denies negligence in signing off on the arbitration process while a member of President Nicolas Sarkozy's government.
Official says IMF boss should go to court over her handling of massive state payout to Bernard Tapie when she was France's finance minister.
Lagarde, 60, the IMF's managing director since 2011, unveiled her bid despite being sent for trial in France for 'negligence' in Bernard Tapie case.
The case against Christine Lagarde is linked to her role in the so-called Tapie Affair while she was France's finance minister in 2008.
Michel Sapin said on Wednesday that IMF report urging large-scale debt relief for Greece was shared by the French government.
Le Néerlandais Jeroen Dijsselbloem (de dos) et le Grec Yanis Varoufakis, en février à Athènes. © Reuters.
In this interview with Mediapart, a senior advisor to the Greek government, who has been at the heart of the past five months of negotiations between Athens and its international creditors, reveals the details of what resembles a game of liar's dice over the fate of a nation that has been brought to its economic and social knees. His account gives a rare and disturbing insight into the process which has led up to this week's make-or-break deadline for reaching a bailout deal between Greece and international lenders, without which the country faces crashing out of the euro and complete bankruptcy. He describes the extraordinary bullying of Greece's radical-left government by the creditors, including Eurogroup president Jeroen Dijsselbloem's direct threat to cause the collapse of the Hellenic banks if it failed to sign-up to a drastic austerity programme. "We went into a war thinking we had the same weapons as them", he says. "We underestimated their power".
But in its annual appraisal of French economy the Fund says it is 'concerned' about medium-term prospects without more structural reforms.
A former prostitute told a French court the former IMF boss, on trial for pimping, sodomised her as if she was 'an object for his consumption'.
Investigating magistrates say Strauss-Kahn knew he was dealing with prostitutes when taking part in sex parties in Paris, Lille and Washington.
Former French finance minister says Paris cannot use low inflation as a 'screen' to postpone the 'necessary efforts on public spending'.