Related keywords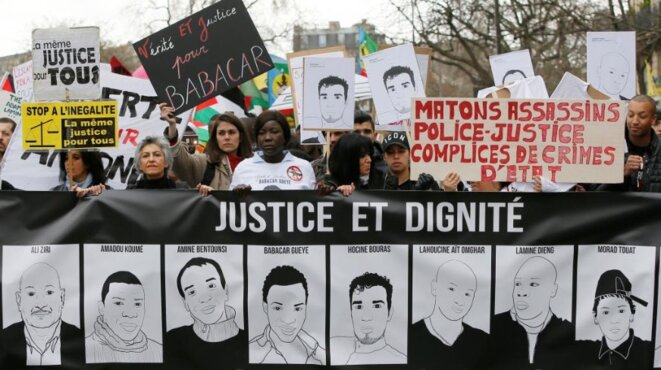 Nearly 7,000 demonstrators marched in Paris on March 19th, 2017, against police violence. © Reuters
The residents of France's working-class multi-ethnic areas abstained from the first-round elections in greater numbers than the national average. Yet if they turn out in force in Sunday's second round vote between Emmanuel Macron and Marine Le Pen they could yet have a big say in the outcome. Though fed up with being told who to vote for, many of the inhabitants come from immigrant backgrounds and already experience everyday racism they fear will only get worse if the far-right win power. However, many are also afraid Macron's liberal economic policies will make their lives even harder. Carine Fouteau assesses the mood in areas that have been largely overlooked in the French presidential campaign.
The FT reports from a neighbourhood in France's second city where poor immigrants and the poor indigenous white working class cohabit.
Interior minister wants 'renegotiation' of the Anglo-French agreement which led to closure of notorious Sangatte refugee camp in 2002.
Amidst the heated debate over the French government's plan to further reform the French pension system, a cross-party parliamentary committee will next month deliver its recommendations on remedying what one of its members describes as the "scandalous" plight of hundreds of thousands of immigrant workers who enter retirement with little rights and in conditions of dire poverty. Carine Fouteau reports on a shameful social issue that has hitherto been swept under the carpet by successive governments, and  hears from the committee's rapporteur, Alexis Bachelay, what reforms he and his colleagues are due to propose in June.