France's 101st département wants investment to strengthen the Indian Ocean territory's public services and to combat illegal immigration.
The newly appointed European Commission, whose members take up their posts on November 1st, is to include a vice-president responsible for migration and home affairs with the title of "Protecting our European Way of Life". Mediapart's publishing editor Edwy Plenel argues here that this semantic choice is a shameful concession to the continent's far-right, whereby issues of identity have overturned social demands.
Call came as UK Border Force officials detained 74 people after 8 boats were spotted off Kent coast and two vessels were intercepted in France.
Already high tensions between Paris and Rome have further escalated after Italian deputy prime minister Luigi Di Maio, leader of the anti-establishment Five-Star Movement, said the EU should 'sanction France and all countries like France that impoverish Africa and make these people leave, because Africans should be in Africa'.
Migrants blocked at the railway station at Vintimille on the French-Italian border, June 15th, 2015. © LF
The migrant issue has become a decisive test for all those on the Left who campaign for the emancipation of the people and equal rights for all. Mediapart publishing editor Edwy Plenel argues that far from protecting existing rights, any concession to the politics of rejection, to the favouring of one nationality over others or to policies based on borders and identity, will simply help the cause of the extreme right.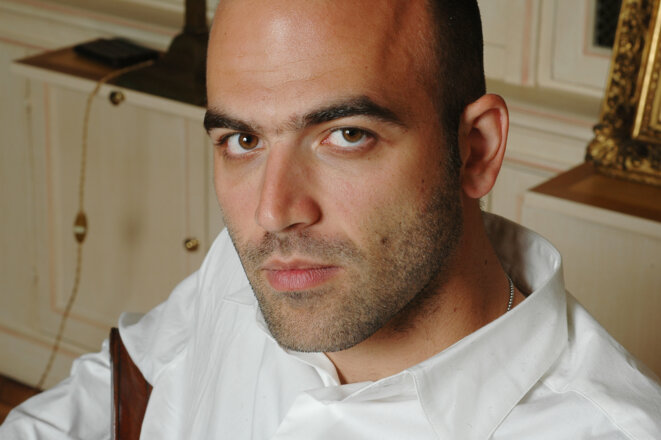 Threatened but not silenced: Roberto Saviano. © C. Hélie
Italian journalist, author and essayist Roberto Saviano is best known outside of his country for his 2006 book Gomorrah, a detailed investigation exposing the activities of the Neapolitan mafia. It earned him worldwide acclaim, both for his journalism and his considerable courage, while the Camorra crime syndicate placed a price on his head. He has lived under permanent police protection ever since. But Saviano, 38, has also become a thorn in the side of Italy's far-right interior minister (and deputy prime minister), Matteo Salvini, whose xenophobic, anti-migrant policies he regularly denounces – which alarmingly prompted Salvini to threaten to remove Saviano's police protection. In this interview with Mediapart, Saviano details his appraisal of the Italian political scene and of Salvini, and slams European Union policies on immigration which he says has fuelled the rise to power of extremists.
After France's ambassador to Washington, Gérard Araud, wrote a letter of protest to US-based TV comedian Trevor Noah over his claim that because of the black players in France's football team 'Africa won the World Cup', Noah, a black South African, has publicly replied 'I am not saying it as a way to exclude them from their Frenchness, but using it as a way to include them in my Africanness'.
One MP from ruling LREM, Jean-Michel Clément, rebelled and announced he was quitting the president's party after voting against the reform.
The French government's proposed legislation to reform immigration and asylum laws has begun its passage through parliament this week, to fierce attacks from opposition MPs of both the Left and the Right. The conservatives, whose policies under their new leader have veered towards the hard-right, claim the bill is little more than soft tinkering of current laws, while the Left denounce an unjustified clampdown on migrants' rights, a view shared by some among President Macron's ruling LREM party. Mathilde Mathieu was in parliament to witness the early exchanges of what promises to be a week of inflamed debate.
A bill of law on asylum and immigration placed before French parliament's lower house, the National Assembly, by President Emmanuel Macron's government, which includes allowing the children of failed asylum seekers to be detained before being expelled and for people to be prosecuted for helping illegal immigrants enter or stay in France, has prompted the first rebellion among MPs from his his ruling LREM party.
French presidency says that 'ways to improve the handling of migrants on the common border in Calais' will be discussed at the bilateral in UK.
Front National party leader Marine Le Pen, who opinion polls place second in voting intentions for the first-round this Sunday, has said that if elected she would introduce 'a moratorium on all legal immigration to stop this frenzy, this uncontrolled situation that is dragging us down'.
The issue of immigration control sits high on the agenda of campaigning by candidates in France's presidential elections to be held this spring, a subject that is increasingly manipulated for political gain. The latest annual immigration statistics released this week by the French interior ministry sober a sometimes hysterical debate. They show that a total of 227,500 non-EU foreign nationals were granted residence in France in 2016, a year-on-year increase of 4.6%, while the number of migrants refused entry at border crossings rose by 302% compared to 2015. Just more than 25,000 people were last year granted refugee status. Carine Fouteau reports.
A damning report commissioned by an independent evaluation body has found that schools in France exacerbate rather than reduce inequalities in society. The report, compiled from the work of more than 30 experts from different disciplines, says that the French education system has been failing many pupils for decades. In particular it singles out the failure of what are called education priority areas, a policy pursued by politicians of both the Left and Right. These special zones have been stigmatised and turned into educational ghettoes, says the report, shunned by better-off families and used mostly by children from disadvantaged backgrounds. Faïza Zerouala reports.