Head of far-right Front National said legal immigration should end and migrants without right documents should not get state health care.
Mediapart's resident singer and songwriter La Parisienne Libérée regularly contributes a critical review of current affairs in music, images and text. Here she returns to the story of Adou Ouattara, an eight-year-old Ivorian boy who was discovered on May 7th hidden in a suitcase carried by a Moroccan woman crossing the border into Spain's North African enclave of Ceuta. Adou was found after the baggage was X-rayed, and the disturbing image of the scan was later published around the world. La Parisienne Libérée takes up the story from there.
The Council of Europe's Commissioner for Human Rights, Nils Muižnieks, on Tuesday released a report entitled 'France: persistent discrimination endangers human rights'. The Latvian appears largely unimpressed with what he saw during a fact-finding mission to France last October, and denounces increasing anti-Semitism, anti-Muslim acts and racism in general, homophobia, a rise in "hate speech", the poor treatment of asylum seekers and the "social exclusion and marginalisation of persons with disabilities". Carine Fouteau reports on the Commissioner's conclusions.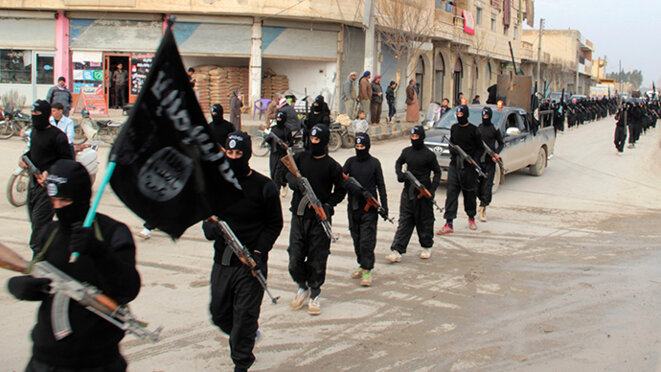 © Reuters
The shooting attacks in Paris last week claimed the lives of a total of 17 victims and ended with the deaths of the three gunmen. The outrages, perpetrated by Islamic extremists and which began with the massacre at the offices of Charlie Hebdo magazine before the separate murders of two police officers and the executions of four hostages in a Jewish supermarket, have opened a vast societal debate in France. There have been comparisons made with the 9/11 attacks in the United States, questions raised about the true significance of the national unity displayed during last Sunday's huge marches in defiance of terrorism, about the real extent of integration, and stigmatization, of the French Muslim population, and why the jihad increasingly lures some young French citizens. In this interview with Joseph Confavreux, Olivier Roy, a recognised expert in France and abroad on questions of Islam and religious fundamentalism, discusses these and related issues, and highlights the taboos that cloud an effective analysis of the events.
With tension building, Muslim leaders advised veiled women to avoid going out alone and urged members to join in national minute of silence.
Since the economic meltdown six years ago French immigration to Canada has exploded, with 34,619 new residents between 2008 and 2012.
At a meeting in Marseille, the founder of France's far-right Front National party said the virus could save France from 'submersion'.
American philosopher Justin E H Smith, who is teaching at a French university, explores the impact of immigration on France and its identity.
While the European Union is placing increased resources into blocking clandestine immigration to the continent, its member states, notably those of the south, worst-hit by the financial crisis, are mounting schemes to sell residency rights and even citizenship to wealthy non-EU foreigners in an attempt to attract millions of euros into state coffers. To qualify for most of the schemes it suffices to buy into luxury property, a deal which is notably attracting Russian, Chinese and Middle East investors. The European Commission, meanwhile, says it has no say in the cynical and apparently legal business of selling European citizenship. Ludovic Lamant reports.
The controversial new court set up at Charles de Gaulle airport began hearings this week, with the first defendant ordered to return to Senegal.
Manuel Valls is once again at the centre of controversy after calling France's immigration policy and its relationship to Islam into question.
Earlier this week the French Senate held the first of two parliamentary consultative debates to explore how to make France a more attractive destination for skilled foreign professionals and students, an issue that has long been neglected and submerged under the anti-immigration policies and political rhetoric of the government's predecessors. In a move to catch up with initiatives launched by other countries, the government plans to present a bill of law this summer to reform its immigration legislation to attempt to facilitate and encourage professional immigration. Carine Fouteau reports on how what was once a political taboo is now the subject of an open and aggressive competition for an ever-growing and increasingly-needed pool of talent worldwide.
Islam is the second religion in France yet Muslims often feel discriminated against and misunderstood. And because the French state outlaws the gathering of data on religious or ethnic grounds it is difficult to know exactly how Muslims view their faith, how many are being radicalised – or even how many Muslims there are in the country. Here Mediapart publishes the results of a major new study attempting to overcome this lack of data. It confirms that a small proportion of Muslim youths are being radicalised. But it also shows how the way in which they are depicted in society has led to an increased religious sentiment among Muslims anxious to assert their identity. Carine Fouteau reports.
Dans une étude publiée ce jeudi, l'Insee révèle que les Français d'origine étrangère s'inscrivent moins souvent que les autres sur les listes électorales, mais qu'une fois accomplies les démarches ils se prononcent tout autant. 
Mussie Zerai est un prêtre érythréen hors du commun. Les migrants qui traversent la Méditerranée ont son numéro de téléphone portable. En cas de naufrage, c'est lui qu'ils appellent au secours et qui alerte les garde-côtes italiens ou maltais. Ces dernières semaines, il reçoit aussi des SOS du désert du Sinaï où ses compatriotes sont pris en otages.