In its latest study on household income and capital, France's statistical agency INSEE notes that the median standard of living in France fell by 1.1% between 2008 and 2013, a drop not seen since records began in 1996. For the 10% worst-off families the fall was even greater, with their income falling by 3.5%. The agency writes of an "unprecedented worsening of poverty in France". Laurent Mauduit reports.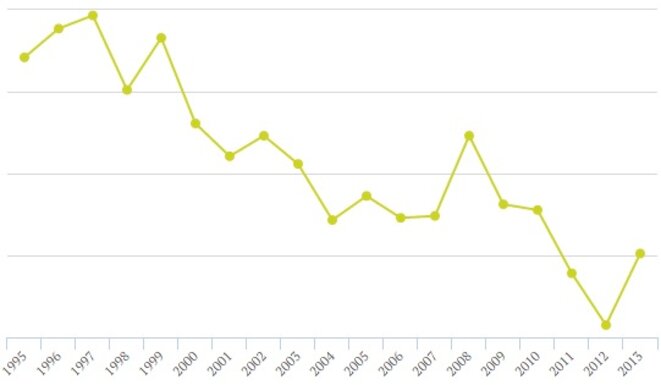 A graph indicating the rise and fall of authors' average income. © Mediapart
The yearly Paris book fair opens its doors to the public on Thursday afternoon, a popular event that was last year marked by an unprecedented demonstration by hundreds of authors protesting at their generally poor and diminishing incomes. Nicolas Chevassus-au-Louis reports on a profession which, with the multiplication of titles published and the advent of digital publishing, sees anything but a happy end ahead, and reveals data which shows that, women authors earn on average significantly less than their male counterparts.
The temporary super-tax of 75 per cent on earnings above 1 million euros introduced by the socialist government is due to end this month.
Ruling means socialist government must re-think the terms of its new 75% top income tax rate, currently applicable to individuals rather than households.