Related keywords
But Australia academics say the president's motivations have more to do with French politics and that France is 'fairly peripheral' to region.
British Foreign Secretary Boris Johnson took to Twitter to counter French President Emmanuel Macron's attempts to attract Indian students to France where, he said, 'you gain access to Europe' in a thinly veiled comparison to the situation of post-Brexit Britain.
Under deal signed by prime minister Narendra Modi and President Macron, each country will open its naval bases to warships from the other.
On his four-day French president is accompanied by ministers including defence boss Florence Parly and foreign minister Jean-Yves Le Drian.
Meeting in New Delhi on Friday, Indian defence minister Nirmala Sitharaman and he French counterpart Florence Parly agreed to increase anti-terrorism cooperation defence ties, including greater industrial and research involvement by India in French weapons sales to the country, notably in an expected second order of Dassault Rafale fighter jets.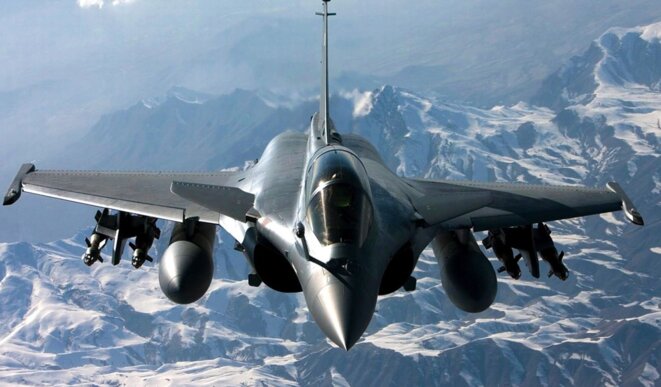 The Rafale fighter jet. © Dassault Aviation
The 8-billion-euro contract signed in New Delhi on Friday for the supply of 36 French-built Rafale fighter jets has been hailed by Paris as a major coup that underlines the technological prowess of the French aeronautical industry. But, Mediapart's India correspondent Guillaume Delacroix reports, the deal was struck after France agreed to massive discounts which virtually halve the total cost. But it also marks a new defence strategy by India, which now regards China as the principal threat to its security, and no longer Pakistan.
The defence ministers of the two countries will sign the deal in New delhi on Friday for Indias' purchase of 36 Dassault-built Rafale jets, reportedly at a cost of around 7.9 billion euros.
Extracts from more than 22,000 pages of data on six Scorpene submarines France is building for India's navy were published by an Australian daily.
President says threats will not weaken French resolve after video shows attackers training, beheading and shooting captives in IS territory.
France's president said an agreement was under discussion for India's purchase of 36 Rafale jets, along with a deal for six Areva-built reactors.
The plan was revealed at the Paris UN climate conference after creation of 121-country alliance led by France and India to up solar-sourced energy.
April deal for 36 of the French jets is hit by dispute over unit prices and degree of manufacturing to be carried out in India, say informed sources.
The reciprocal agreement between France and India will allow their nationals in either country a 24-month extension of visas post-studies.
Indian Prime Minister Narenda Modi said India had agreed to buy 36 Rafale jets which will be built in France, in a deal worth 4 billion euros.