Related keywords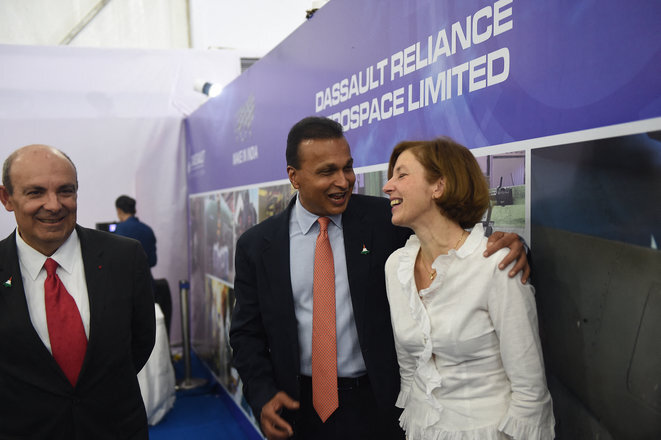 French armed forces minister Florence Parly with Reliance Group owner and chairman Anil Ambani (centre) and Éric Trappier (left), during the inauguration of the joint venture plant in Nagpur, October 27th 2017. © Money Sharma / AFP
A judicial probe into suspected corruption has been opened in France over the 7.8-billion-euro sale to India in 2016 of 36 Dassault-built Rafale fighter aircraft. In this latest of a series of investigations about the secret dealings behind the contract, Mediapart reveals how Dassault provided a remarkably generous financial gift to its local industrial partner Reliance Group, owned by Anil Ambani, a close friend of Indian Prime Minister Narendra Modi.
Sushen Gupta, the Indian business intermediary paid several million euros for his role in helping French aircraft manufacturer Dassault Aviation conclude its sale to India of 36 Rafale fighter jets, provided remunerations to a former high-ranking Indian army officer and his daughter via offshore companies, involving questionable services and invoices. The retired officer and his daughter insist nothing illegal took place. Yann Philippin reports.   
But new entry restrictions on travellers from India will be imposed to fight the spread of a contagious coronavirus variant, a French government official said.
Beginning on April 4th, Mediapart has published a series of investigations into the circumstances of the 7.8-billion-euro sale by France to India of 36 Rafale fighter jets, which is clouded by suspicions of corruption on a large scale. In this short video with English subtitles, Yann Philippin explains the key results of Mediapart's investigations into this most complex story.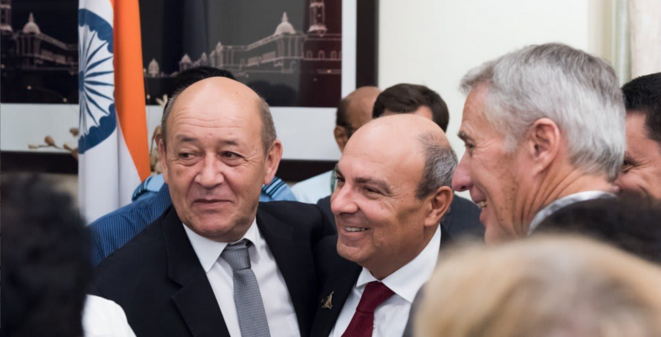 Then French defence minister Jean-Yves Le Drian (l) celebrates with Dassault CEO Dassault Aviation CEO Éric Trappier (c) the signing of the Rafale deal in September 2016. © Dassault Aviation
In this final report in a three-part investigation into the controversial sale by France to India of 36 Rafale fighter aircraft, Mediapart reveals, with hitherto unpublished documents, how an influential Indian business intermediary was secretly paid millions of euros by Rafale manufacturer Dassault Aviation and French defence electronics firm Thales. They succeeded in removing anti-corruption clauses from the fighter contract which was subsequently signed by then French defence minister, now foreign minister, Jean-Yves Le Drian. Yann Philippin reports.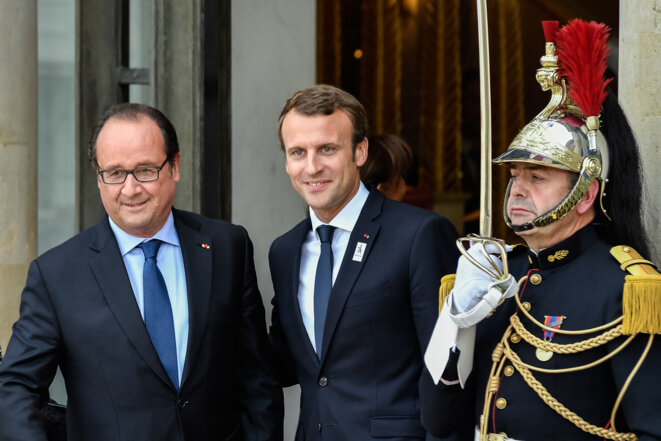 French President Emmanuel Macron and his predecessor François Hollande at the Élysée Palace in September 2017. © Julien Mattia / NurPhoto via AFP
In this second of a three-part series of investigations into the controversial sale by France to India of 36 Rafale fighter aircraft, Mediapart details how the then head of the French public prosecution services' financial crimes branch, Éliane Houlette, shelved investigations into evidence of corruption behind the deal, despite the contrary opinion of her colleagues. France's current president, Emmanuel Macron, and his predecessor, François Hollande, are cited in the allegations levelled in the case. Houlette has since justified her decision as preserving "the interests of France, the workings of institutions". Yann Philippin reports. 
The first five of 36 Rafale fighter jets ordered by India from French constructor Dassault have left France for the Asian sub-continent, accompanied by a French plane carrying 70 respirators, 100,000 test kits and 10 military health professionals to help Indian efforts to combat the Covid-19 pandemic.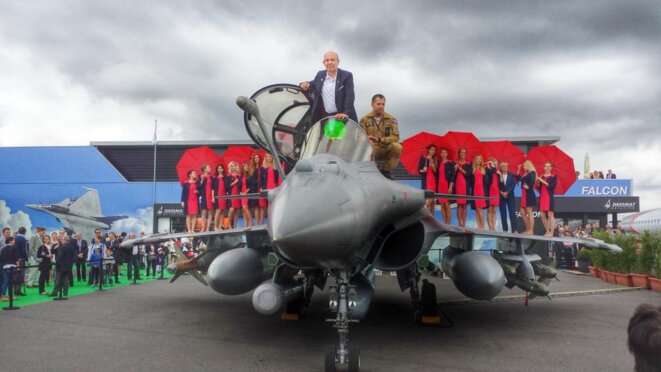 Éric Trappier, CEO of Dassault Aviation, standing on a Rafale jet fighter at the Le Bourget airshow near Paris in 2015. © Dassault
As India heads into tightly fought general elections on Thursday, outgoing Prime Minister Narendra Modi has become further engulfed in a suspected corruption scandal surrounding the sale by France to India of 36 Rafale fighter jets, built by French group Dassault Aviation, in a deal he signed in 2016. It emerged this weekend that, during negotiations over the contract, the French tax authorities extraordinarily wrote off a tax debt of more than 140 million euros owed by a French company belonging to Anil Ambani, an Indian businessman and friend of Modi's, whose company was made industrial partner in the deal in questionable circumstances. Meanwhile, anti-corruption NGO Sherpa has submitted further information to the French public prosecution services over numerous "irregularities" that implicate the different parties in the contract, worth 7.7 billion euros.
Speaking at a press briefing in Paris on Thurday, Indian defence minister Nirmala Sitharaman reiterated her government's claim that did not impose an Indian company run by a businessman close to Prime Minister Narendra Modi as local industrial partner for Dassault Aviation in the sale to New Delhi of 36 Rafale fighter planes, despite new evidence published by Mediapart suggesting that was the case.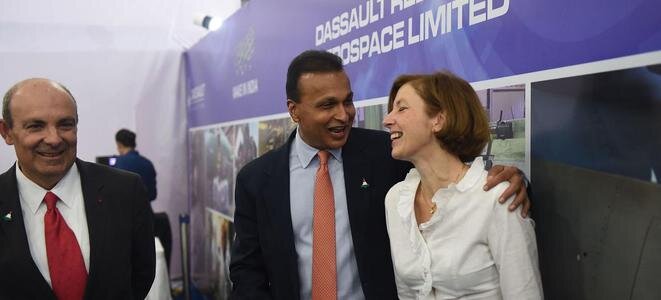 French defence minister Florence Parly with Reliance Group chairman Anil Ambani (centre) and Dassault CEO Éric Trappier (left), inaugurating the Nagpur joint venture plant, October 27th 2017. © Reliance Group
The sale to India by France of 36 Dassault Rafale jet fighters for close to 8 billion euros has become the centre of corruption allegations levelled against Indian Prime Minister Narendra Modi and his close friend, Indian businessman Anil Ambani, chairman of the Reliance Group which was handed the role of local industrial partner of Dassault to build parts for the jets despite no aeronautical expertise. The claim that Ambani was given the joint venture contract as a favour by Modi to save his struggling business is the subject of a complaint lodged this month with India's Central Bureau of Investigation. Now Mediapart has obtained a Dassault company document in which a senior executive is quoted as saying the group accepted to work with Reliance as an "imperative and obligatory" condition for securing the fighter contract. Karl Laske and Antton Rouget report.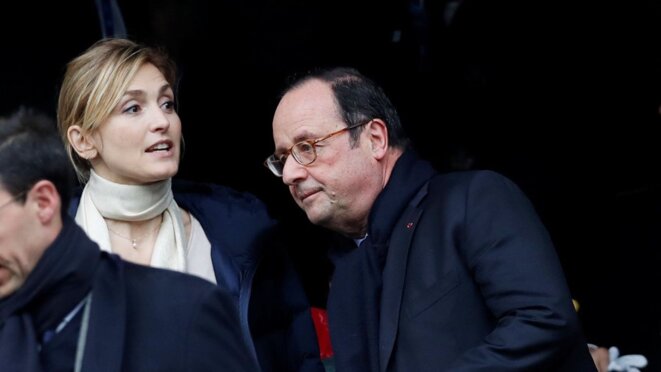 Julie Gayet and François Hollande. © Reuters
The sale to India by France of 36 Dassault Rafale jet fighters, signed during the presidency of François Hollande, is at the centre of a growing scandal in India where opposition parliamentarians have demanded a detailed investigation of the deal, alleging favouritism, mismanagement of public funds, and the endangering of national security. They are notably suspicious of the circumstances by which India's Reliance Group was assigned as Dassault's industrial partner in the jets deal. As Karl Laske and Antton Rouget report here, at the very time the deal was struck, Reliance provided funding for a film produced by Hollande's personal partner, the actress Julie Gayet.
India's ruling nationalist Hindu party, the BJP, swept to power in 2014 after a landslide victory in parliamentary elections – the first time a single party had won an outright majority in the Indian parliament in 30 years, propelling Hindu hardliner Narendra Modi as prime minister of the world's largest democracy. Joseph Confavreux turned to two young Indian philosophers, Shaj Mohan and Divya Dwivedi, for their analysis of what they call the "invention" of Hinduism, and why they argue that "being a philosopher in India can get you killed".
But Australia academics say the president's motivations have more to do with French politics and that France is 'fairly peripheral' to region.
British Foreign Secretary Boris Johnson took to Twitter to counter French President Emmanuel Macron's attempts to attract Indian students to France where, he said, 'you gain access to Europe' in a thinly veiled comparison to the situation of post-Brexit Britain.