Keyword: interior minister
Lawyers representing French interior minister Gérald Darmanin, 38, have confirmed he has been questioned 'at his own request' by magistrates investigating rape allegations filed against him by a woman who he claims he was in a consenting relationship with.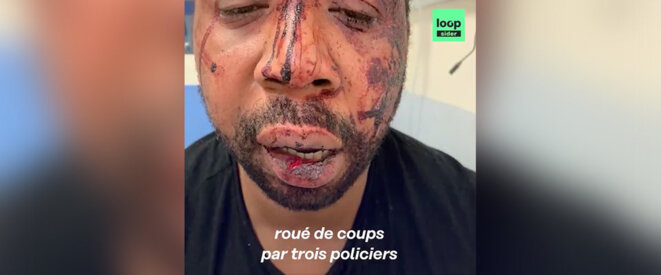 An image of Michel Zecler following the assault by three French police officers in Paris on November 21st. © Loopsider
There has been widespread outrage in France after video footage emerged of three police officers apparently gratuitously beating a black music producer in Paris, who was left with serious injuries from punches, kicks, baton blows and the explosion of a tear gas grenade in his studio last weekend. François Bonnet argues here that the events highlight how interior minister Gérald Darmanin has made a policy of flattering the most extremist fringes of the police, creating disorder amid heightened police violence. It is high time, he writes, for Darmanin to go.
French interior minister Christophe Castaner on Monday evening provided further details on the nationwide lockdown of the population announced earlier by President Emmanuel Macron, adding that 100,000 police officers would be deployed to ensure the public only left their homes for reasons that should be justified by a written statement, downloaded from an official website and signed, or face a fine of up to 135 euros. 

Qutting: interior minister Gérard Collomb in Marseille, May 24th, 2018. © REUTERS/Jean-Paul Pelissier
After ten days of open crisis at the highest echelons of state, President Emmanuel Macron was on Tuesday October 2nd, 2018, forced to accept the resignation of interior minister Gérard Collomb – just hours after refusing it. Prime minister Édouard Philippe will become interim interior minister in the short term. Coming weeks after the resignation of high-profile environment minister Nicolas Hulot, this new departure further weakens the government, as Pauline Graulle, Manuel Jardinaud and Ellen Salvi report.
Bernard Cazeneuve, who on Friday sounded cautious note on jihadist motive for attack, said on Saturday that killer must have been 'radicalised very rapidly'.
The hardline right-winger spent more than half a century at the heart of French politics in a career dogged by funding scandals.
Bernard Cazeneuve met the US tech giants in California, asking them to work directly with French authorities to erase online terror propaganda.
Bernard Cazeneuve travelled to Copenhagen on Sunday where he visited the scenes of terrorist shootings that left two dead and five wounded.
Manuel Valls says he stands by his views that few Roma could integrate into French society and a "majority" should be sent "back to the borders".