Related keywords
The future of French culture minister Françoise Nyssen has been thrown into doubt after prosecutors opened an investigation into how the publishing compnay she led before joining the government carried out building work in 2012 to substantially enlarge its offices in a listed Paris building without planning permission or informing the tax authorities, one year after it allegedly similarly enlarged its head office in Arles without planning permission.  
France's competition watchdog, the Autorité de la Concurrence, is investigating several of the country's major supermarket chains over suspicion that an alliance to pool their purchasing departments, prompted by a price war notably with retail chain Leclerc, breaches competition rules.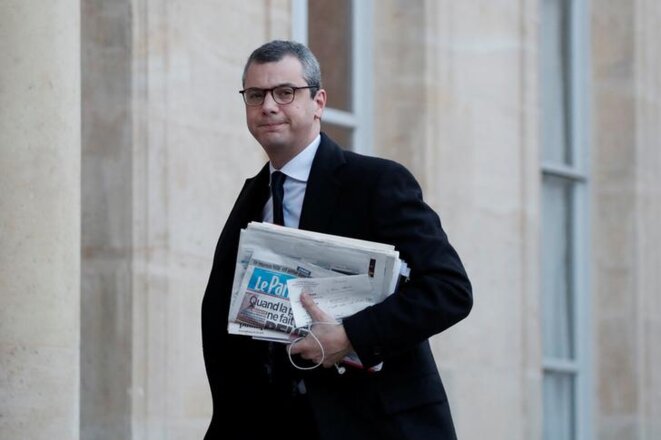 Alexis Kohler at the Elysée Palace, January 3rd 2018. © Reuters
The French prosecution services have launched an investigation into suspected corruption by President Emmanuel Macron's chief of staff Alexis Kohler, following an official complaint lodged by anti-corruption NGO Anticor. The complaint cited revelations last month by Mediapart into Kohler's role, when he was a senior civil servant, in affairs in which the interests of a shipping company owned by members of his close family were at stake. Mediapart's Martine Orange, who first broke the story, details here the background to the case that now threatens the downfall of the man described by French daily Le Monde as "the most powerful senior civil servant in France".
The French public prosecution services have opened an investigation into corruption allegations against President Emmanuel Macron's chief of staff, Alexis Kohler, which centre on suspected conflict of interest and influence peddling over his close connections with a major shipping company while serving as a senior civil servant.  
French daily Le Figaro on Thursday published what it said was a statement by Nicolas Sarkozy given to judges before they placed him under investigation over the alleged funding of his 2007 election campaign by the Libyan regime of Muammar Gaddafi, in which the former French president says he has been 'living the hell of this calumny' which he claimed was the reason he lost his 2012 re-election bid and failed to be chosen as conservative candidate in 2017.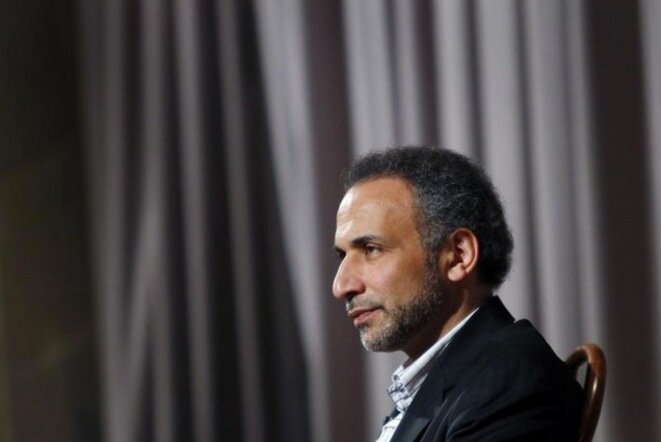 Tariq Ramadan, under investigation for rape and placed in preventive detention. © Reuters
Over the past two weeks a number of Muslim figures and organisations in France, together with anti-racist militants, have become increasingly vocal in calling for the release from preventive detention of prominent Islamic intellectual, scholar and preacher Tariq Ramadan, a professor of contemporary Islamic studies at the University of Oxford, who was earlier this month placed under investigation for two rapes. His supporters argue that he is subject to unusually harsh treatment, that his state of health has not been properly taken into account, with some also throwing doubt on the veracity of the accounts of his alleged victims. But, as Louise Fessard reports, the support leant to Ramadan has opened deep divisions among French Muslims, with questions raised over the motivations of the campaigners.
A preliminary investigation opened last month after a woman filed a lawsuit accusing budget minister Gérald Darmanin of raping her in 2009 has been dropped after no evidence was found of 'coercion, threat, surprise or violence' the Paris prosecution services announced on Friday.
French government colleagues of the budget and public accounts minister, Gérald Darmanin, have defended his right to remain in his post while awaiting the findings of an investigation into a complaint launched against him for his alleged rape in 2009 of a woman who had asked him for help in a legal case concerning her, an accusation he has denied.
The French finance ministry has launched an investigation into the legality of a sales promotion of hazlenut spread Nutella by a national retail chain which slashed prices by 70 percent, prompting fights and wild behaviour by shoppers in some stores, who witnesses said behaved 'like animals'.
France's far-right Front National party has been placed under investigation by Paris magistrates over suspicion it fraudulently placed France-based staff on the European Parliament payroll as assistants to its sitting MEPs. 
The financial crime branch of France's public prosecution services has widened the remit of a judicial investigation into suspected corruption in a sale of French helicopters to Kazakhstan to include the suspected involvement of France's intelligence services in a plan to protect a businessman close to the Kazakh president from prosecution in Belgium. The move follows revelations by Mediapart and Belgian daily Le Soir of evidence suggesting the intelligence services were manipulated by officials of the French presidency under Nicolas Sarkozy in order to seal the deal worth a total of 2 billion euros. Yann Philippin reports in collaboration with Mediapart's Belgian press partners in this investigation, Alain Lallemand (Le Soir), Thierry Denoël (Le Vif) and Mark Eeckhaut (De Standaard).
France's senior anti-terrorism prosecutor François Molins said on Friday that three men, two of whom security services have identified as 'radicalised Islamists', are to be placed under investigation for their suspected role in attempting to set off a bomb in a wealthy Paris district last Saturday, but that the reason they targeted the apartment building in the capital's 16th arrondissement remained unclear.
The chief of staff and senior bodyguard of France's far-right Front National party leader and presidential election candidate Marine Le Pen were on Wednesday questioned in police custody as part of an investigation into alleged fraudulent payments made to them by Le Pen out of European Parliament funds dedicated to remunerating parliamentary assistants. Le Pen's chief of staff, Catherine Griset, was later placed under formal investigation. The case, which mirrors the scandal surrounding conservative presidential candidate François Fillon, now threatens to become more than a severe embarrassment to Le Pen, one of the frontrunners in the election, whose campaign hinges on her image as an anti-establishment alternative to a corrupt political class.
François Fillon, the conservative candidate in this spring's French presidential elections and the subject of a preliminary investigation by prosecutors into alleged fake jobs given to his family, said in a newspaper interview he will continue his campaign 'until victory', appearing to renege on his previous pledge to quit if ever the probe were to place him under formal investigation.