After complaints by human rights groups, prosecutors launched probe into alleged fraudulent access to personal data and personal correspondence.
The controversial business figure faces corruption probe over a huge payout he received to settle a long-running legal battle with French state.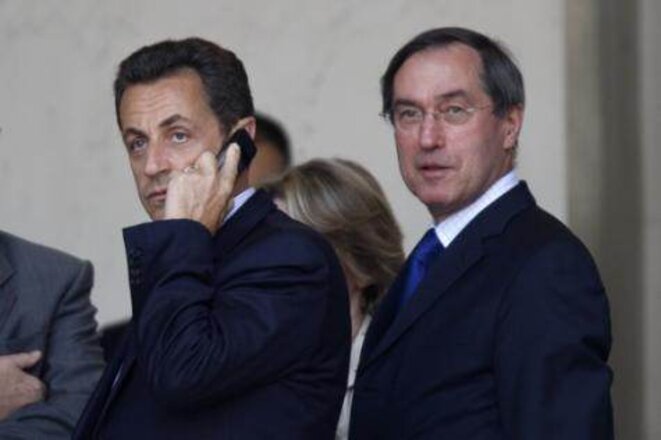 © Reuters
Amid the escalating revelations in a series of graft scandals rocking the French political establishment, a net is now closing in on former French interior minister Claude Guéant, a longstanding close aide to former president Nicolas Sarkozy. Guéant is one of the key figures under investigation in a judicial probe into the suspected illegal funding of Sarkozy's 2007 presidential election campaign by the late Libyan dictator Muammar Gaddafi. In a separate judicial investigation into the suspected fraudulent payment in 2008 of 403 million euros to business tycoon Bernard Tapie, a friend of Sarkozy, Guéant's name is cited in several witness statements as a central figure to secret meetings held to organise the payout. But in what appeared as an almost anecdotal revelation compared to the implications of those investigations, it emerged this week that Guéant, 68, received a secret monthly tax-free gift of 10,000 euros paid in cash while he served as chief-of-staff to Sarkozy when the latter was interior minister. The Paris public prosecutor's office announced on Friday the opening of an investigation into the cash handed to Guéant, estimated to total 240,000 euros,  and which was paid from a fund destined for special police operations. Louise Fessard reports.
Three others are being investigated for group violence and a fourth for complicity in group violence over death of left-wing activist Clément Méric.
After its French subsidiary was put under investigation, Swiss-based UBS bank faces probe over allegedly helping clients open undeclared accounts.
On Friday the French arm of Swiss bank UBS was placed under formal investigation by judges carrying out a wide-ranging probe into allegations that it has enabled wealthy French nationals to evade paying tax in France on sums deposited in undeclared Swiss bank accounts. Mediapart has meanwhile seen evidence which suggests that, contrary to the bank's claims that any unlawful activities were carried out by a few individuals, some senior executives at the French subsidiary oversaw an organised system to record the opening of undeclared accounts. Dan Israel reports.
French branch of Swiss bank faces allegations it helped try to persuade rich French clients to open undeclared accounts in Switzerland.
Arms dealer Ziad Takieddine had been detained on suspicion that he was making plans to flee the country by trying to buy a diplomatic passport.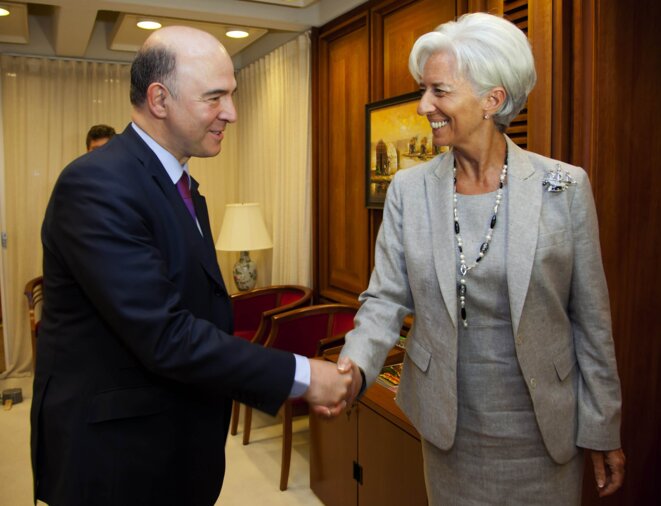 Christine Lagarde et Pierre Moscovici © Reuters
French magistrates on Friday designated International Monetary Fund chief Christine Lagarde as an 'assisted witness' in their investigation into the conditions of a payout, when she was French finance minister, of more than 400 million euros to controversial tycoon Bernard Tapie. Mediapart has learnt from several well-placed sources the reasons why the judges backed off from placing her under formal investigation, a move originally favoured by two of the three magistrates leading the investigation. These are said to include an extraordinary last-minute public statement in support of Lagarde by French finance minister Pierre Moscovici (pictured top left with Lagarde), and a reported change to her previous account that she managed the Tapie case without interference from the presidential office.
IMF chief Lagarde escapes being formally placed under investigation over her role in a controversial 400M-euro payout to tycoon Bernard Tapie.
French magistrates have opened an investigation into alleged illegal solicitation of clients and money laundering by the HSBC bank.
Lawyer overseeing case against former president for alleged abuse of frailty of Liliane Bettencourt denies reports he recommends dropping charges.
The long-running judicial investigations into suspected criminal activity surrounding the affairs of L'Oréal heiress Liliane Bettencourt, centred on money-laundering, illegal political funding, fraud, tax evasion, influence peddling and profiteering from the billionaire's frail mental condition, finally came to a close on March 28th, exactly one week after former president Nicolas Sarkozy was placed under investigation in the case on the basis of "serious or concordant" evidence that he "abused" Bettencourt's diminished mental faculties. Michel Deléan reports on the winding up of an investigation that will in all probability lead to one of the most spectacular corruption trials in recent French history, set against a backdrop of high-society drama and deep political intrigue.
Jean-Louis Gentil is targeted by death threats over his investigation into suspected illegal financing of Nicolas Sarkozy's 2007 election campaign.
Nicolas Sarkozy's wife Carla Bruni tells French radio it is 'unthinkable' that he could have abused the frailty of a woman who was his mother's age.