French President Emmanuel Macron is to make a two-day visit to Iraq, beginning on Saturday, when he will attend a meeting of officials from neighbouring countries aimed at reducing tensions in the region and visit the self-ruled Kurdish region and several religious sites.  
The three French nationals and an Iraqi were abducted in Baghdad on January 20th at a time of heightened tensions.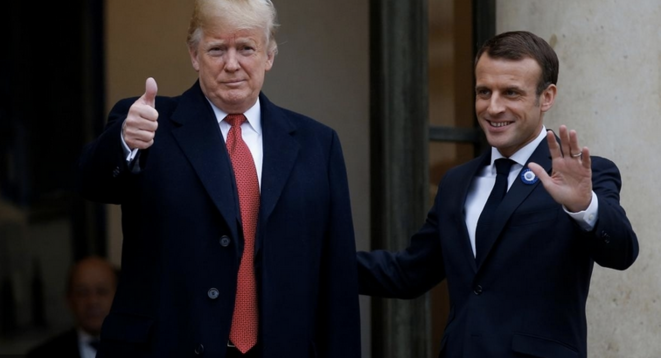 Donald Trump and Emmanuel Macron. © Reuters
Carried out on the orders of Donald Trump, the assassination of General Qasem Soleimani, a top Iranian military commander, is one step further towards the abyss of war. Though the future is never written in advance, how can one avoid the thought that the America government has put the world in peril by behaving as a rogue state, trampling on international law, asks Mediapart's publishing editor Edwy Plenel. France, he argues, would do itself great honour by saying so loudly and clearly.
David De Pas, coordinator of France's 12 anti-terrorism examining magistrates, said that it would be "better to know that these people are in the care of the judiciary" in France "than let them roam free".
French foreign minister Jean-Ives Le Drian on Wednesday travelled for talks with the Iraqi authorities on setting up a judicial framework to allow for the trials of jihadists detained in Syria, where Kurdish captors said they can longer ensure guarding them in face of the Turkish offensive in the north of the country.
Reports say Iraqi government wants $1m for each jihadist transferred from Syria and $2m each for those whose sentences are commuted.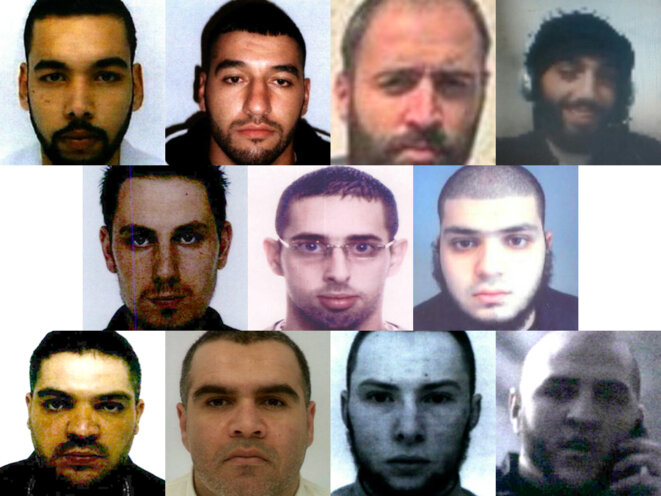 From left to right and from the top, 11 of the 12 condemned to death: Yassine Sakkam, Fodil Tahar Aouidate, Karam El Harchaoui, Bilel Kabaoui, then Kevin Gonot, Léonard Lopez, Mohamed Berriri, and finally Mustapha Merzoughi, Salim Machou and Brahim Nejara. © DR
Twelve former residents in France – eleven of them French citizens, one a Tunisian – have now been sentenced to death in Iraq for having been a member of Islamic State. But whatever charges they face, the way in which Iraqi justice is being carried out in relation to the jihadists has raised major concerns, including among many French lawyers. As Mediapart has revealed, the ides of trying these French citizens and residents in Iraq was conceived in Paris where officials want the process to be carried out "without visible involvement by France". Matthieu Suc reports.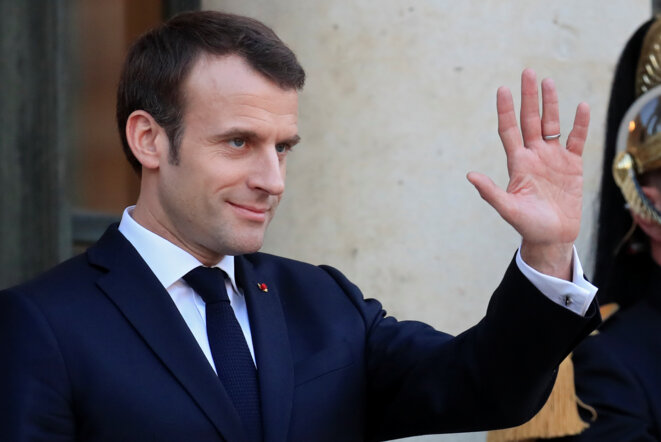 President Emmanuel Macron on February 27th 2019. © Reuters/Gonzalo Fuentes
Speaking during a recent debate with local councillors President Emmanuel Macron insisted: "No programme for a return of jihadists has today been drawn up." Yet, as Mediapart can reveal, officials at the ministries of Defence, Foreign Affairs, Interior and Justice have in fact been working since the autumn of 2018 on plans for the return of French jihadists held by Kurds in Syria. Matthieu Suc reports on the French government's change of heart.
Iraqi president Barham Saleh said the 13 were handed over by Syrian Kurdish forces last month.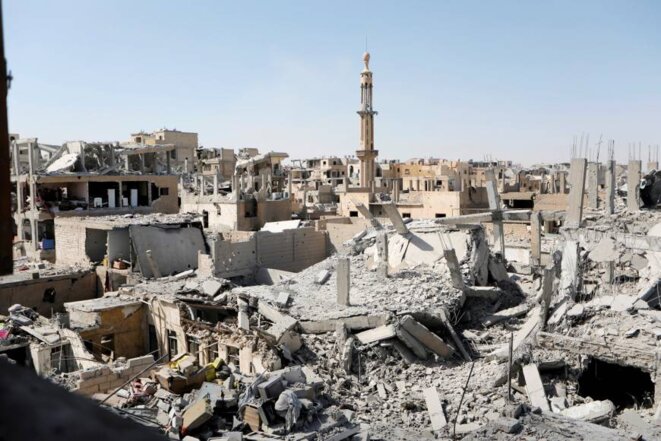 Ruins in the Syrian city of Raqqa, once a bastion of Islamic State. © Reuters
Following the military rout of the Islamic State (IS) group in Syria and Iraq, large numbers of French jihadists were forecast to return home. But in fact, those who have made the journey back represent relatively few of the estimated 700 who joined the ranks of IS in the Middle East. Since 2016, just 64 men and women jihadists have returned – and only seven so far this year. One principal reason is the logistical difficulties for those fleeing the zone and the high fees demanded by people smugglers. But the situation presents a potential security threat in that those who escape by their own means can become invisible to intelligence services.   Matthieu Suc reports.
Mélina Boughedir, who left her home in France with her four children in 2015 to follow her husband to Iraq, was sentenced to life by Iraqi court.

This sinkhole at Khasfa, close to Mosul in northern Iraq, is believed to contain the remains of around 4,000 victims of IS. © Jérémy André
Many thousands of people disappeared without trace during the occupation of large parts of Iraq by the Islamic State (IS) group between 2013 and 2017, most of them feared buried in hundreds of mass graves around the country which remain unexcavated. But among the lost, whose families continue to seek news of their fate, are also former captives of the jihadists, who are now detained in Iraqi prisons suspected of being members of IS. The increasingly desperate families of the vanished are demanding action to establish the truth about what happened to their relatives, and the mounting anger has become an issue in this weekend's parliamentary elections in the country. Jérémy André reports from the city of Mosul in northern Iraq.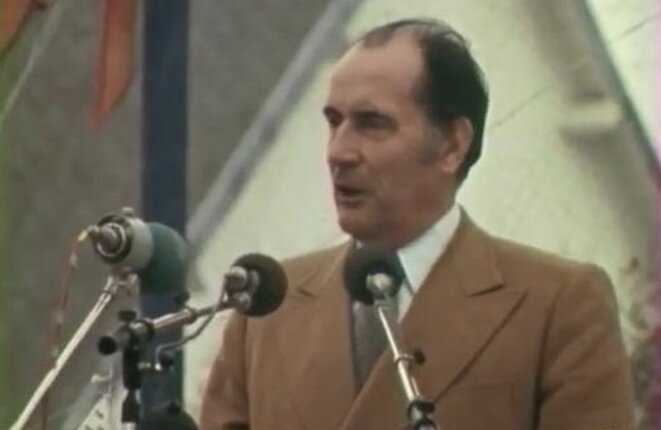 François Mitterrand in 1974.
In 1974, the Ba'ath party regime in power in Iraq approved a payment of 1 million dollars to fund the presidential election campaign that year of the late French socialist leader François Mitterrand, according to a document from the intelligence services of the former West Germany, the BND, obtained by Mediapart and German weekly Der Spiegel. The document refers to an intercepted message sent by Baghdad to its embassy in Paris. While it is not known whether Mitterrand's campaign ever benefited from the reportedly earmarked funds, the BND document raises further questions about the extent of Iraq's established close and secret relations with French political parties of Left and Right over several decades. Amélie Poinssot reports.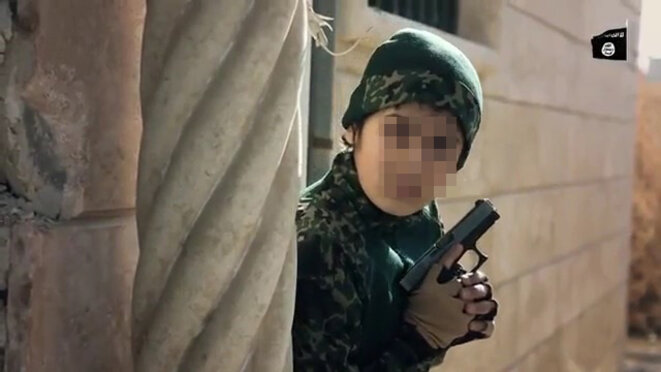 Image from an Islamic State propaganda video broadcast in December 2016. © DR
A jihadist from Toulouse in south-west France who fought in Syria has claimed that Islamic State has been planning attacks to be carried out by children in Europe. Though only one suspicious case has been found among the 70 or so minors who have returned to France from the Syria and Iraq battle zones so far, the French authorities are taking the threat seriously. According to Mediapart's information, children aged as young as 13 could be placed in custody when they arrive in France from that region. Matthieu Suc reports.