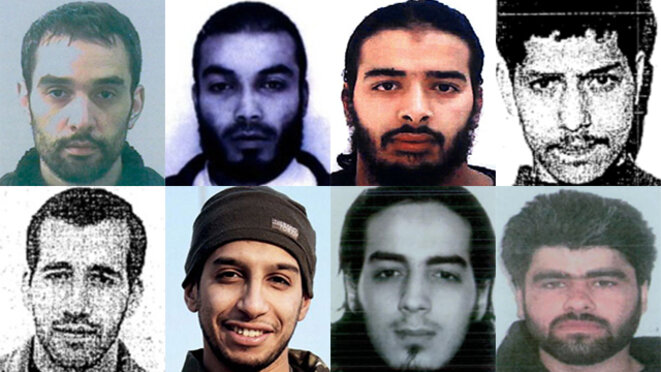 Eight of the terrorists behind attacks against Europe. From left to right and from top to bottom: Oussama Atar, Boubakeur el-Hakim, Salim Benghalem, Samir Nouad, Abdelnacer Benyoucef, Abdelhamid Abaaoud, Najim Laachraoui and Ahmad Alkhald. © DR
Jihadi veterans have been seeking to cause disarray among European intelligence agencies with hoax attacks that distract from real ones and attempts to infiltrate public agencies and companies. As a result security official are having huge difficulties in trying to measure the true scale of the terrorist threat that faces us. In the last of this lengthy series of investigations on Islamic State's intelligence operations, Matthieu Suc reports on the dangers still posed by jihadist agents operating within Europe despite Islamic State's major reverses in Iraq and Syria.
Soldier from 13th regiment of paratroopers was the first French casualty since the anti-Islamic State 'Operation Chammal' was launched in 2014.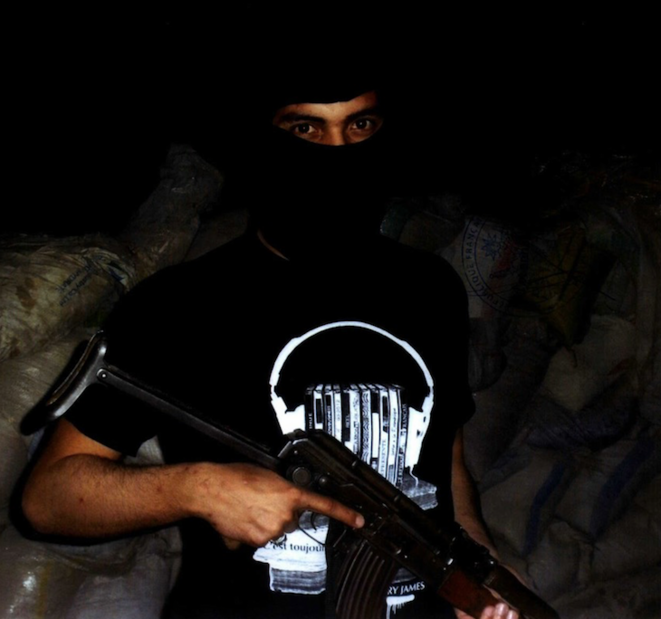 The French sniper who was the bodyguard of chief interrogator Abu Ubaida al-Maghribi. © DR
The Islamic State employs the techniques of Western secret services to track down potential informers. This includes using CIA-inspired interrogation methods and agent provocateurs, and carrying out background checks on prisoners and new recruits from Europe. But as Matthieu Suc reports in this second article on the jihadist organisation's secret services, this does not mean they are always immune from double agents.
On visit to Baghdad foreign minister Jean-Yves Le Drian said France would help reconstruction and reconciliation efforts in Iraq.
Interior minister Gérard Collomb says all the militants back from war zones in Iraq and Syria are subject to investigation by public prosecutors.
Man, who had photographs of and interviews with Kurdish militia fighters on him, has appeared in court on suspicion of aiding a terrorist group.
Hollande spoke as he met French soldiers in Iraq who are part of a US-led 60-member coalition carrying out air strikes against Islamic State.
In last New Year message of presidency, Hollande also paid tribute to those killed in terror attacks this year, including the 86 who died in Nice.
Report says Rafale fighter planes took off from the Charles de Gaulle carrier to take part in an attack on Islamic State's Iraq stronghold Mosul.
Figures show little let-up in numbers joining Islamic State despite bombing of IS strongholds and crackdown by authorities within France.
The claim made in jihadist group's magazine Dabiq raised speculation the two men may have been suicide bombers who targeted Stade de France.
Two raids against IS targets in Syria and Iraq were launched from the Charles de Gaulle which arrived in the eastern Mediterranean on Monday.
Attacks come as US defence secretary urges European allies to join forces to defeat IS and French police raid 128 addresses overnight.
While massive numbers of refugees continue to arrive in Europe, there is a perception among many in France that the country is something of a 'promised land' for asylum seekers, a dream destination about to be overwhelmed by the influx. But in reality, the self-proclaimed "land of human rights" figures way down the wish-list of those currently seeking to settle in Europe, even among francophone refugees. In this analysis of the crisis, which on Sunday saw Germany closing its southern borders, Mediapart's specialist writer on migratory issues, Carine Fouteau, examines why the majority of refugees are now spurning France.
The families were the first of up to 1,000 refugees from Syria and Iraq expected to be given asylum in France this week.