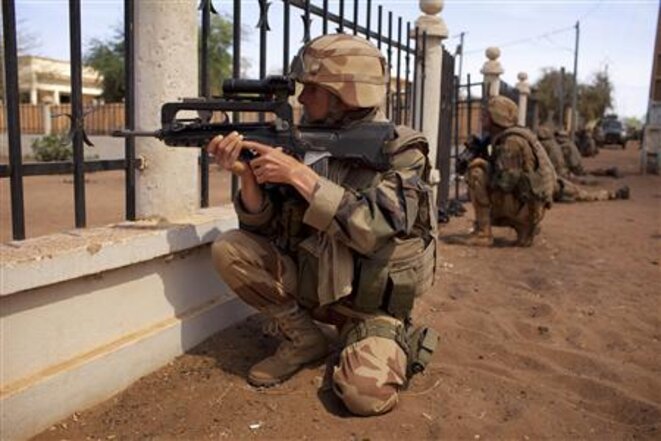 © Reuters
The French government last week announced major cuts in defence spending which include the axing next year of 7,500 jobs in its armed forces, the subsequent closure of several military bases, the scrapping of an artillery regiment and the decommissioning of several warships. "The sovereignty of our country depends as much on tackling our public accounts as on our defence," said defence minister Jean-Yves Le Drian as he detailed the cull on October 15th. But the minister is also under intense pressure over the massive, budget-busting spending of ongoing French military operations abroad, principally in West and Central Africa, and now also against Islamic State militants in Iraq. Lénaïg Bredoux reports on the opaque funding of the campaigns, including the indirect contribution of the French education ministry, and Le Drian's controversial and urgent plans to set up public-private partnerships to finance French defence procurement through leasing deals.
President Hollande lends support to Turkish plan that would 'protect displaced people' fleeing Islamic State in Syria.
Denial comes after US website claimed French intelligence officer had joined terrior group and was target of US air strikes.
Up to 150 young French women and girls have joined groups such as Islamic State, often driven by discrimination back home.
Iraqi Prime Minister Haider al-Abadisaid said attacks were prepared by IS in Iraq, but French and US officials were unaware of a threat.
The French Prime Minister said French action against IS will go on despite Algerian Islamist group's threat to kill a French hostage.
President Hollande's office announced Rafale jets had hit and destroyed a jihadist target in north-east Iraq on Friday.
The international gathering at the French foreign ministry promised to give Iraq 'appropriate military assistance' in fighting the jihadist group.
Conference on Iraq may be welcome break from domestic woes ahead of high-profile press conference and parliamentary confidence vote.
French judges have opened probe into claims that staff at Erbil in Kurdish-controlled Iraq were charging large sums for appointments and visas.
During visit to Baghdad, François Hollande said he underlined France's readiness to provide even more military assistance to Iraq.
Foreign minister calls for international mobilization against militants from Islamic State group whom he described as a 'transnational danger'.
French president's trip to Baghdad on Friday aimed at underlining his support for fight against Islamic State ahead of Monday talks.
The group of about 40 arrived from Iraqi Kurdistan ahead of a further several hundred Christian refugees expected over the coming weeks.
Statement from President Hollande's office says move is in response to the 'urgent need' expressed by the authorities in Kurdistan.