Related keywords
Mélina Boughedir, who left her home in France with her four children in 2015 to follow her husband to Iraq, was sentenced to life by Iraqi court.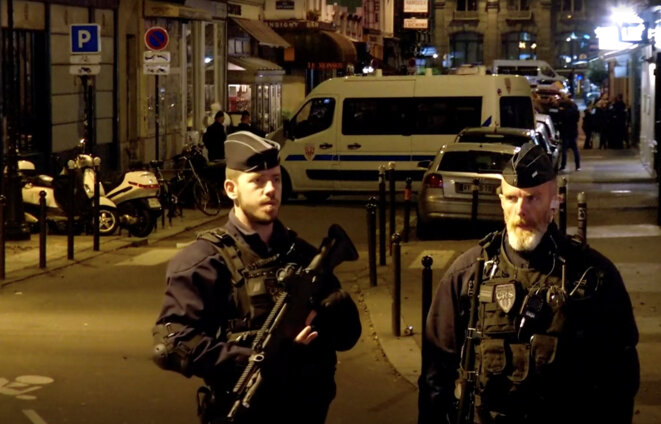 Police stand guard on the rue Monsigny after the attack on Saturday evening. © Reuters TV
One person was killed and four others wounded after a French national of Chechen origin went on a knifing rampage in central Paris on Saturday evening, in a terrorist attack claimed by the Islamic State group (IS). Khamzat Azimov, born in Chechnya in 1997, was shot dead by police minutes after he began stabbing passers-by on a street near to the Garnier Opera house. Mediapart terrorism specialist Matthieu Suc analyses here the reasons behind the changing strategy of IS-sponsored attacks in Europe, and in France in particular where they have claimed the lives of 246 people since 2014.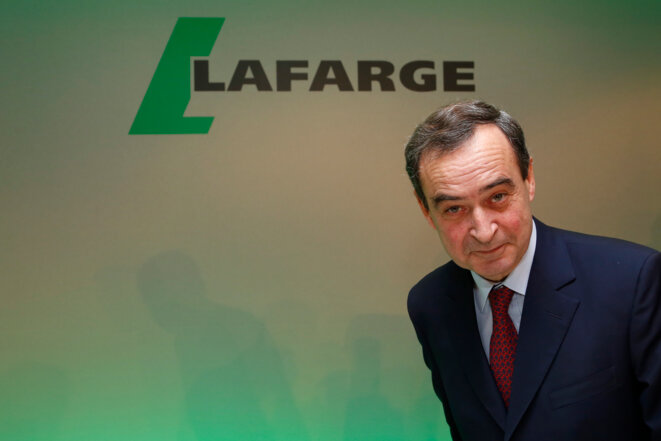 Bruno Lafont when he was CEO of Lafarge, on February 18th, 2015. © Reuters
An intercepted telephone call involving the former boss of French cement firm Lafarge, which is accused of funding terrorist group Islamic State to keep its Syrian cement plant in production, shows the extend of the "worry" that has gripped the company, which has since become a Franco-Swiss multinational. Just how far – and to whom – will the current judicial investigation extend? Fabrice Arfi reports.
A shooting spree on Friday morning in and around the town of Carcassonne in south-west France, when three people were killed and another 16 wounded, and which ended in a hostage-taking at a supermarket when the lone 25-year-old gunman was shot dead by police, has been claimed in the name of the Islamic State group.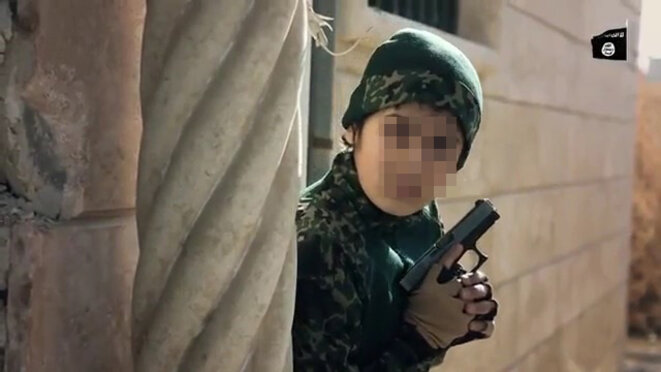 Image from an Islamic State propaganda video broadcast in December 2016. © DR
A jihadist from Toulouse in south-west France who fought in Syria has claimed that Islamic State has been planning attacks to be carried out by children in Europe. Though only one suspicious case has been found among the 70 or so minors who have returned to France from the Syria and Iraq battle zones so far, the French authorities are taking the threat seriously. According to Mediapart's information, children aged as young as 13 could be placed in custody when they arrive in France from that region. Matthieu Suc reports.
One showed the decapitated body of Islamic State victim James Foley, which the far-right leader later deleted from her Twitter feed.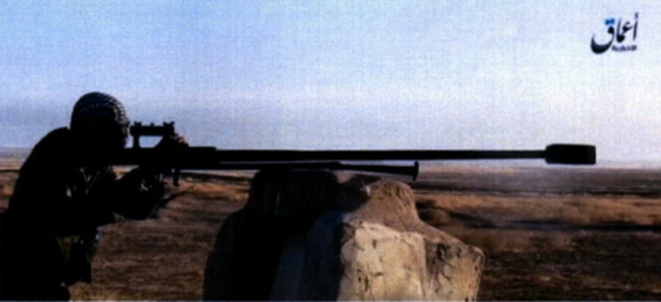 An Islamic State propaganda photo of one of its sharpshooters. © DR
In the wake of the military defeats of the Islamic State group in the Middle East, a total of about 100 French nationals, including jihadist fighters, women and children, are now detained in Iraq and in Kurd-controlled territory in Syria. Their situation represents a dilemma for the French government, which is tempted to leave them in the hands of their captors and their justice systems, but which is under pressure from lawyers acting for their families who argue that to do so is unlawful and inhumane. Michel Deléan and Matthieu Suc report on the debate, and hear the arguments, which include security concerns, for and against their return.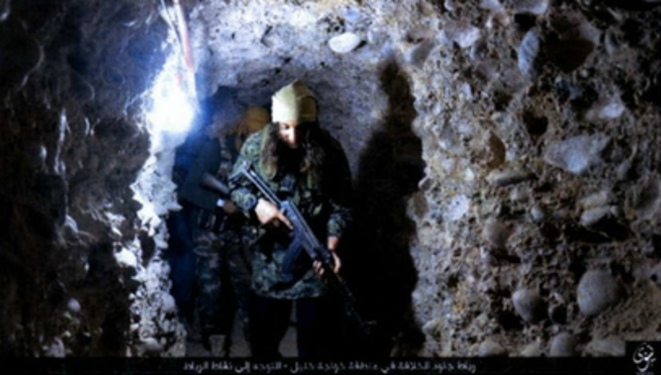 A jihadist in a tunnel underneath the former Islamic State-held city of Mosul.
The Islamic State terrorist organisation has been quietly preparing for the loss of its self-styled Caliphate for several months. France's security services now fear that its fighters might be moved to other areas of jihadist conflict or into Europe. In particular they have have raised concerns over the role of the terrorist's mysterious 'Emigration and Logistics Committee' based in Turkey, the Lebanon and Jordan, amid fears it may be used to send French and other European jihadists back to their country of origin. Matthieu Suc reports.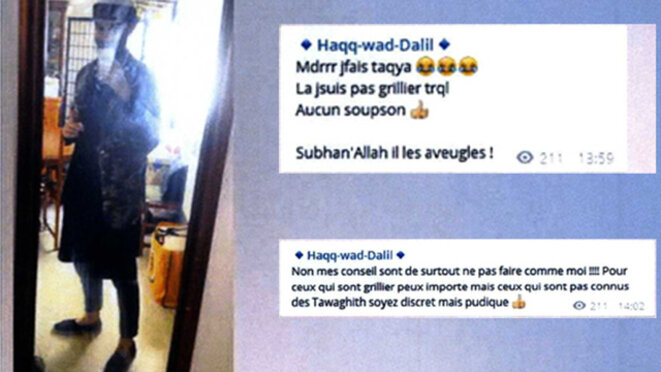 One of Adel Kermiche's online messages before he killed Father Jacques Hamel in Normandy in July 2016. © Document Mediapart
Local police intelligence officers became aware of the growing threatening online messages of one of the two jihadists who killed Catholic priest Father Jacques Hamel in Normandy in July 2016 five days before the attack, but the information was not passed on to the national French intelligence agency, Mediapart can reveal. When the police intelligence unit later discovered this delay they doctored the files in a bid to make it look as if their original discovery was only made on the day of the attack itself. The French prosecution services have now opened an investigation into the affair. As Matthieu Suc reports, this claim of a blunder and attempted cover-up will raise fresh questions over the effectiveness of France's counter-terrorism operations.
In June prosecutors launched an investigation into LafargeHolcim's Syrian operations and its possible 'financing of a terrorist enterprise'.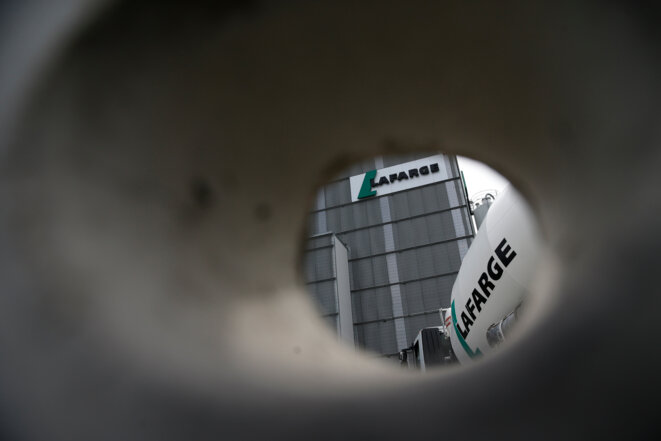 A Lafarge lorry photographed in the Paris region in April 2014. © Reuters
Two former executives at giant French cement manufacturers Lafarge and the head of its security – a former election candidate for Marine Le Pen's far-right Front National – have been formally placed under investigation for alleged "financing of terrorism". It follows an investigation by French prosecutors into links between the French group – now merged with a Swiss firm – and jihadist groups such as Islamic State. In 2013 and 2014 the cement group maintained its activities in zones in Syria which were at the time controlled by IS and other armed factions. Fabrice Arfi, Michel Deléan and Julien Antoine report.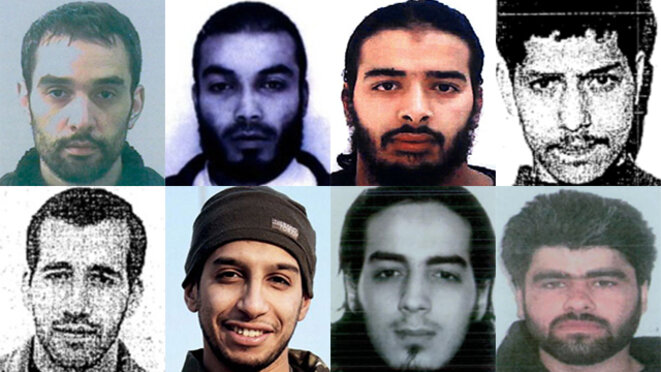 Eight of the terrorists behind attacks against Europe. From left to right and from top to bottom: Oussama Atar, Boubakeur el-Hakim, Salim Benghalem, Samir Nouad, Abdelnacer Benyoucef, Abdelhamid Abaaoud, Najim Laachraoui and Ahmad Alkhald. © DR
Jihadi veterans have been seeking to cause disarray among European intelligence agencies with hoax attacks that distract from real ones and attempts to infiltrate public agencies and companies. As a result security official are having huge difficulties in trying to measure the true scale of the terrorist threat that faces us. In the last of this lengthy series of investigations on Islamic State's intelligence operations, Matthieu Suc reports on the dangers still posed by jihadist agents operating within Europe despite Islamic State's major reverses in Iraq and Syria.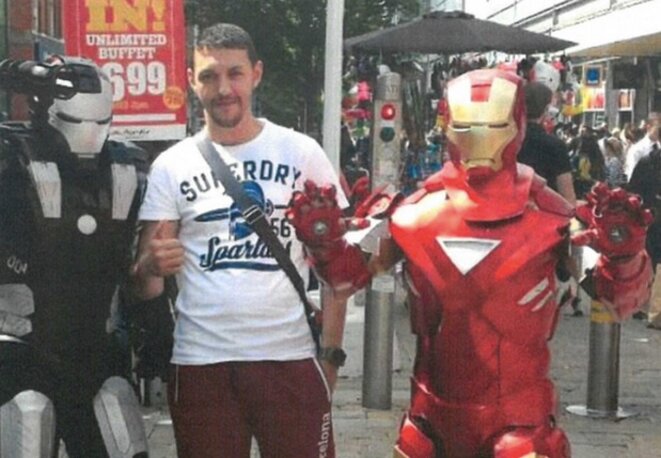 IS jihadist Mohamed Abrini posing as a tourist during a reconnaissance mission in Britain. © DR
This third Mediapart investigation into the workings of the Islamic State group's secretive "Amniyat" branch – in effect its intelligence and foreign operations unit –details the often quite sophisticated, and sometimes very amateurish, methods it employs. Here Matthieu Suc charts the development of the IS terrorist operations against European countries, its preparations for the massacres of civilians in Paris and Brussels, and the reconnaissance it carried out for attacks in the Netherlands and in Britain.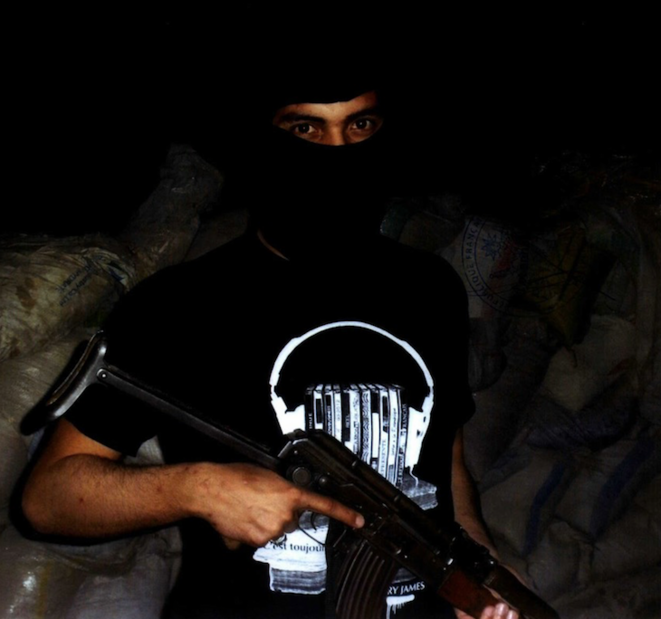 The French sniper who was the bodyguard of chief interrogator Abu Ubaida al-Maghribi. © DR
The Islamic State employs the techniques of Western secret services to track down potential informers. This includes using CIA-inspired interrogation methods and agent provocateurs, and carrying out background checks on prisoners and new recruits from Europe. But as Matthieu Suc reports in this second article on the jihadist organisation's secret services, this does not mean they are always immune from double agents.