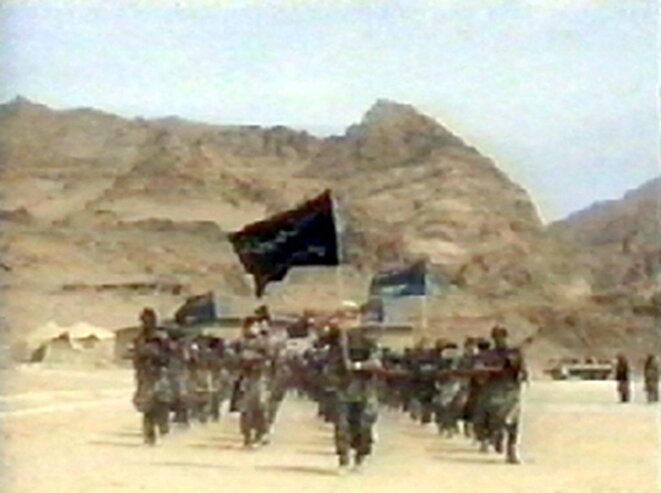 Screen grab from June 19th 2001 showing members of Al Qaeda marching at a training camp in Afghanistan. © HO/AFP
The Taliban's return to power in Kabul has raised fears about the potential knock-on effect that their victory will have in other parts of the world. French intelligence services believe that here the main danger is likely to come from the morale boost it will give to terrorists or potential terrorists already based in France. Matthieu Suc has spoken to members of the intelligence community to assess the potential threats following recent events in Afghanistan.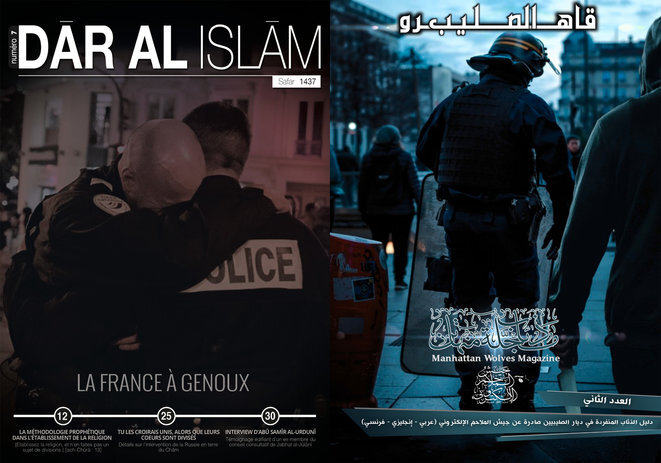 Jihadist propaganda publications often target the French police. © DR
The murder of a policewoman at Rambouillet, south west of Paris, on Friday April 23rd brought to 12 the number of members of the police and security forces who have been killed in terrorist attacks in France since 2015. Overall, attacks targeting police officers have grown in number over that period. This "French exception"  is a phenomenon which has become more prevalent since the collapse of Islamic State's self-styled 'Caliphate' in the Middle East. Matthieu Suc reports.
Human rights experts from the UN have urged 57 countries, including Britain and France, to repatriate the wives and children of jihadists.
The marathon trial of 14 people accused of being accomplices to the terrorist killings of 17 people in separate attacks in early January 2015 on the offices of Charlie Hebdo magazine and a Jewish food store, and the shooting of a policewoman, opened in Paris on Wednesday and is due to run into November.
French defence minister Florence Parly has announced an operation led by French forces this week killed Abdelmalek Droukdel, leader of al-Qaeda in North Africa, and that last month a senior Islamic State group commander in Mali had also been captured.
Several ceremonies were held in Paris on Wednesday to mark the anniversary of the terrorist attacks in and around the capital on the evening of November 13th 2015, when 130 people died in a wave of shootings and bombings carried out by jihadists from the so-called Islamic State group.
Marine Le Pen, the leader of the far-right Rassemblement national party (formerly the Front national), has been sent for trial for posting images of atrocities carried out by the so-called Islamic State group, under the charge of spreading "violent messages that incite terrorism or pornography or seriously harm human dignity", which carries a maximum three-year jail sentence.
A group of 12 children of deceased French jihadists was flown home on Monday from north-east Syria where they were held by Kurdish forces, the latest step in efforts to resolve the problem posed by the huge numbers of foreign jihadists and their families stranded in Syrian camps after the military defeat of the so-called Islamic State group.
Reports say Iraqi government wants $1m for each jihadist transferred from Syria and $2m each for those whose sentences are commuted.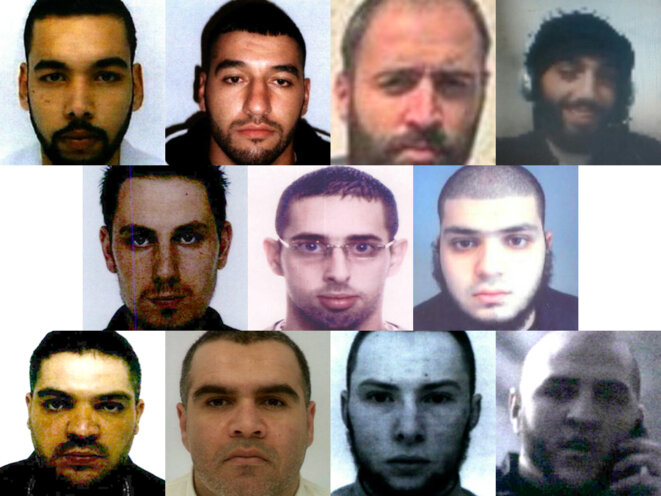 From left to right and from the top, 11 of the 12 condemned to death: Yassine Sakkam, Fodil Tahar Aouidate, Karam El Harchaoui, Bilel Kabaoui, then Kevin Gonot, Léonard Lopez, Mohamed Berriri, and finally Mustapha Merzoughi, Salim Machou and Brahim Nejara. © DR
Twelve former residents in France – eleven of them French citizens, one a Tunisian – have now been sentenced to death in Iraq for having been a member of Islamic State. But whatever charges they face, the way in which Iraqi justice is being carried out in relation to the jihadists has raised major concerns, including among many French lawyers. As Mediapart has revealed, the ides of trying these French citizens and residents in Iraq was conceived in Paris where officials want the process to be carried out "without visible involvement by France". Matthieu Suc reports.
IS has not claimed responsibility for bombing in which 13 people were lightly wounded by a device that exploded outside a city centre bakery.
An Iraqi court has sentenced to death three French men who it found guilty of having joined the ranks of the so-called Islamic State (IS) group in Syria, where they were among 12 French citizens captured by US-backed forces and transferred to Iraq.
The grandparents of a three-year-old boy and his sister aged four, who were wounded and captured with their French mother after the fall of the Islamic State stronghold of Baghouz and who are currently stranded in a detention camp in north-east Syria, have begun legal action against the French state before the European Court of Human Rights for refusing to repatriate the three. 
France has announced the repatriation of five children aged up to five years who were placed in internement camps in Syria after their French parents, who had joined the Islamic State group, are reported to have died or gone missing in fighting, and thanked Kurdish-led forces 'for their cooperation, which made this outcome possible'.