Related keywords
France has announced the repatriation of five children aged up to five years who were placed in internement camps in Syria after their French parents, who had joined the Islamic State group, are reported to have died or gone missing in fighting, and thanked Kurdish-led forces 'for their cooperation, which made this outcome possible'. 
Children, a girl aged five and a two-year-old boy, are in the care of a Kurdish militia in north-eastern Syria, according to family lawyer.
The leader of the far-right Rassemblement National could face trial for tweeting pictures of atrocities committed by the Islamic State group.
Iraqi president Barham Saleh said the 13 were handed over by Syrian Kurdish forces last month.
Fabien Clain, 41, aka 'brother Omar', a veteran leading member of the so-called Islamic State group, who claimed its responsibility for the November 2015 terrorist attacks in Paris that left 130 people dead, has been killed in a coalition air strike in Syria which also wounded his brother Jean-Michel, according to French media reports.
President Macron apparently spoke to President Trump in advance to try convince him not to remove US troops from Syria.
A knife-wielding 36-year-old man described by France's interior minister as suffering from 'serious psychiatric problems' was shot dead by police on Thursday after murdering his mother and sister and severely wounding another woman in the town of Trappes, south-west of Paris, in an attack which the Islamic State group claimed responsibility for.
Mélina Boughedir, who left her home in France with her four children in 2015 to follow her husband to Iraq, was sentenced to life by Iraqi court.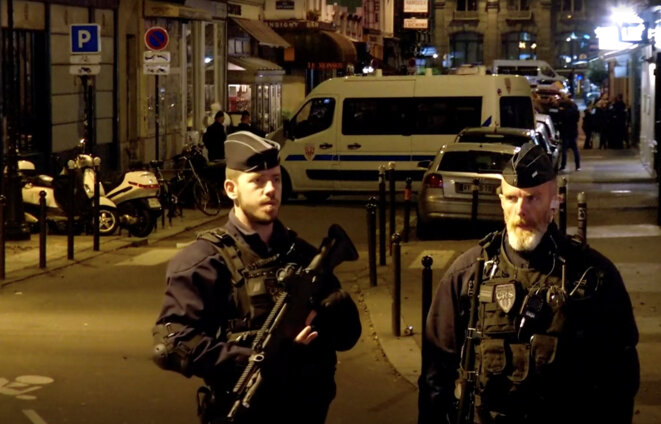 Police stand guard on the rue Monsigny after the attack on Saturday evening. © Reuters TV
One person was killed and four others wounded after a French national of Chechen origin went on a knifing rampage in central Paris on Saturday evening, in a terrorist attack claimed by the Islamic State group (IS). Khamzat Azimov, born in Chechnya in 1997, was shot dead by police minutes after he began stabbing passers-by on a street near to the Garnier Opera house. Mediapart terrorism specialist Matthieu Suc analyses here the reasons behind the changing strategy of IS-sponsored attacks in Europe, and in France in particular where they have claimed the lives of 246 people since 2014.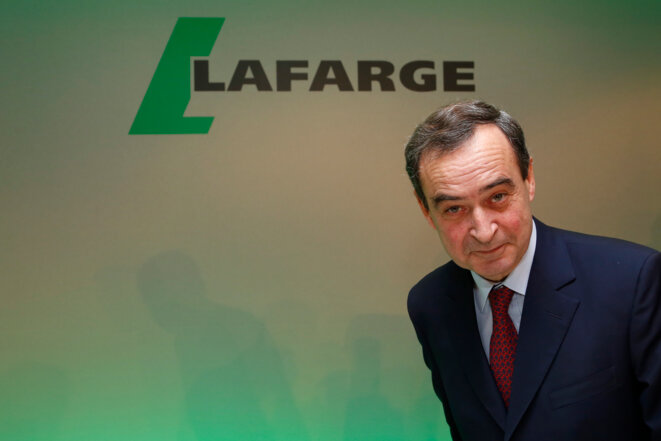 Bruno Lafont when he was CEO of Lafarge, on February 18th, 2015. © Reuters
An intercepted telephone call involving the former boss of French cement firm Lafarge, which is accused of funding terrorist group Islamic State to keep its Syrian cement plant in production, shows the extend of the "worry" that has gripped the company, which has since become a Franco-Swiss multinational. Just how far – and to whom – will the current judicial investigation extend? Fabrice Arfi reports.
A shooting spree on Friday morning in and around the town of Carcassonne in south-west France, when three people were killed and another 16 wounded, and which ended in a hostage-taking at a supermarket when the lone 25-year-old gunman was shot dead by police, has been claimed in the name of the Islamic State group.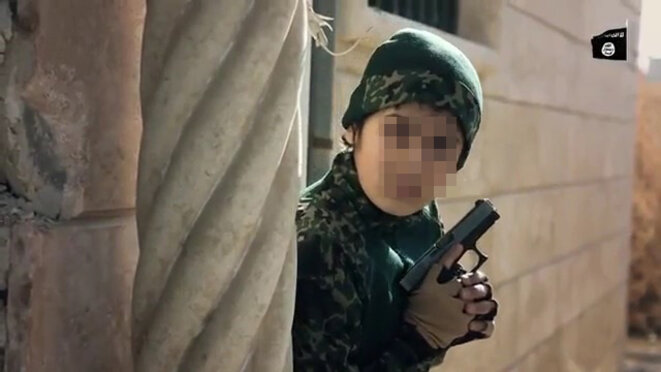 Image from an Islamic State propaganda video broadcast in December 2016. © DR
A jihadist from Toulouse in south-west France who fought in Syria has claimed that Islamic State has been planning attacks to be carried out by children in Europe. Though only one suspicious case has been found among the 70 or so minors who have returned to France from the Syria and Iraq battle zones so far, the French authorities are taking the threat seriously. According to Mediapart's information, children aged as young as 13 could be placed in custody when they arrive in France from that region. Matthieu Suc reports.
One showed the decapitated body of Islamic State victim James Foley, which the far-right leader later deleted from her Twitter feed.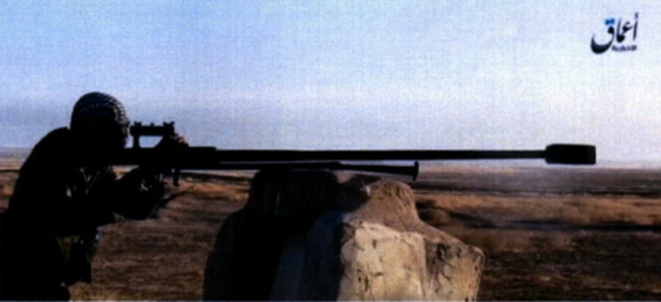 An Islamic State propaganda photo of one of its sharpshooters. © DR
In the wake of the military defeats of the Islamic State group in the Middle East, a total of about 100 French nationals, including jihadist fighters, women and children, are now detained in Iraq and in Kurd-controlled territory in Syria. Their situation represents a dilemma for the French government, which is tempted to leave them in the hands of their captors and their justice systems, but which is under pressure from lawyers acting for their families who argue that to do so is unlawful and inhumane. Michel Deléan and Matthieu Suc report on the debate, and hear the arguments, which include security concerns, for and against their return.