Keyword: Islamic State group
Members of the Islamic State group's Afghan branch, IS-K, paraded after being taken prisoner by government forces in Afghanistan in 2017. © Zabihullah Ghazi / ANADOLU AGENCY via AFP
The US military has said its airstrike on Sunday on a vehicle in Kabul has prevented a new attack on the capital's airport by the Afghan branch of the so-called Islamic State (IS) group who claimed responsibility for last Thursday's suicide bombing there which left an estimated 170 people dead. But just who are the Afghan IS branch, known as the IS-K? Jean-Pierre Perrin details their history, beginning in 2014 when Pakistani jihadists crossed into Afghanistan and soon became a rival for the Taliban.
A woman and her children in the Al-Hawl refugee camp in north-east Syria, close to the border with Turkey, in May 2021. © Photo Delil Souleiman / AFP
At the end of July, two French women and their children were returned to France by Turkey after spending years in Syria among the ranks of the so-called Islamic State group. After their arrival, they were placed under investigation and put into preventive detention. Under a cooperation agreement between Paris and Ankara, more are due to arrive this month and will face the same procedure. Céline Martelet reports on the path of the women former jihadists, and the fate of their children.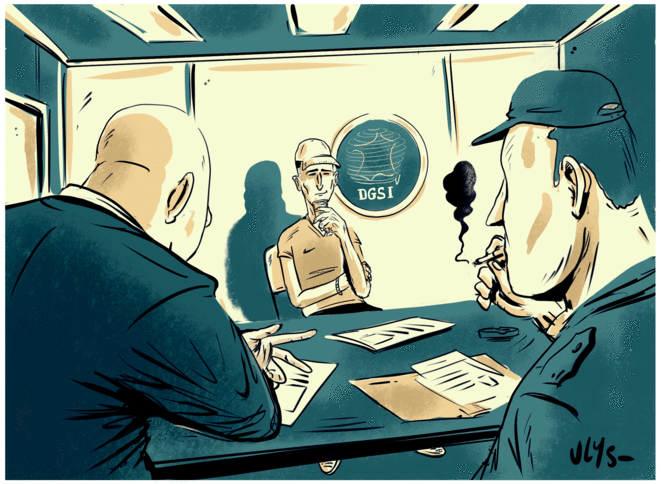 Abominor: "Snitching is not my thing, I'm a man." © Ulys
Over several years, the French intelligence services gained vital information about the activities of the so-called Islamic State group thanks to a man who infiltrated its terrorist network. A Muslim who became a spy by chance, he risked his life by befriending jihadists, and notably helped to foil two planned terror attacks. Matthieu Suc reveals the story of an unsung hero, codenamed Abominor.

David De Pas, coordinator of France's 12 anti-terrorism examining magistrates, said that it would be "better to know that these people are in the care of the judiciary" in France "than let them roam free".
Cherif Chekat, 29, the chief suspect in the shooting attack on the streets of Strasbourg, eastern France, which left five people dead and another 12 wounded, and who was shot dead by police shortly afterwards, had left a recent pledge of allegiance to the so-called Islamic State group on a computer memory stick, judicial officials have confirmed.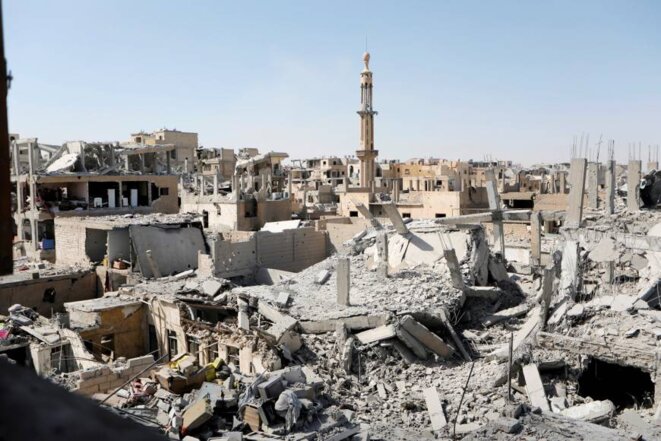 Ruins in the Syrian city of Raqqa, once a bastion of Islamic State. © Reuters
Following the military rout of the Islamic State (IS) group in Syria and Iraq, large numbers of French jihadists were forecast to return home. But in fact, those who have made the journey back represent relatively few of the estimated 700 who joined the ranks of IS in the Middle East. Since 2016, just 64 men and women jihadists have returned – and only seven so far this year. One principal reason is the logistical difficulties for those fleeing the zone and the high fees demanded by people smugglers. But the situation presents a potential security threat in that those who escape by their own means can become invisible to intelligence services.   Matthieu Suc reports.
The knifeman who killed one man and wounded four other people in a rampage in a central Paris street on Saturday evening, and who was subsequently shot dead by police, has been named as Khamzat Azimov, born in Chechnya in 1997 and given French nationality in 2010.

This sinkhole at Khasfa, close to Mosul in northern Iraq, is believed to contain the remains of around 4,000 victims of IS. © Jérémy André
Many thousands of people disappeared without trace during the occupation of large parts of Iraq by the Islamic State (IS) group between 2013 and 2017, most of them feared buried in hundreds of mass graves around the country which remain unexcavated. But among the lost, whose families continue to seek news of their fate, are also former captives of the jihadists, who are now detained in Iraqi prisons suspected of being members of IS. The increasingly desperate families of the vanished are demanding action to establish the truth about what happened to their relatives, and the mounting anger has become an issue in this weekend's parliamentary elections in the country. Jérémy André reports from the city of Mosul in northern Iraq.
A confidential French justice ministry report, revealed by daily Le Monde, based on a study of court cases involving women returning to France from Syria where they had joined the ranks of the Islamic State group, has found that a majority held active roles within the organisation, and that only one third of those who joined the jihadists did so accompanying their families.   
A woman police officer, together with her son and daughter, were among six people arrested for questioning over the murders in 2016 of a policeman and his partner, who worked in police adminstration, at their home west of Paris by a man who claimed he was acting in the name of the Islamic State group.
Thomas Barnouin, 36, linked to a French jihadist cell that included Toulouse terrorist Mohamed Merah, is reported to have been captured about ten days ago in Hassakeh, north-eastern Syria, with two other French members of the Islamic State group.
Salah Abdeslam, detained in France for his suspected role in the November 13th 2015 Paris terrorist attacks which left 130 people dead and hundreds more wounded, was due to stand trial this week in Brussels in a separate case in whicjh he is charged with the attempted murder of Belgian police officers.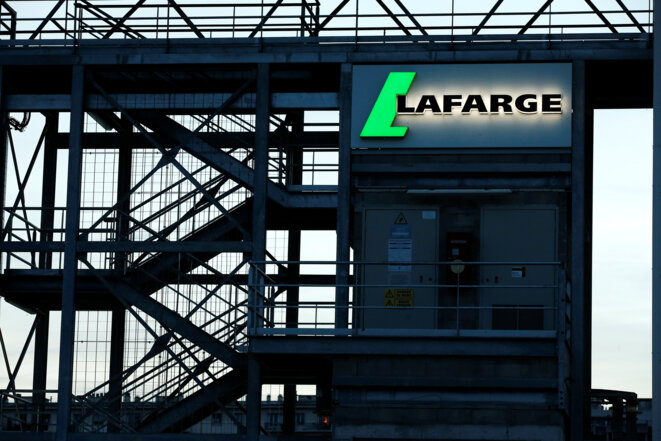 A Lafarge industrial plant in Paris. © Reuters
A French investigation into alleged payments to jihadist groups, including Islamic State, by French cement-making giant Lafarge in order to ensure the functioning of one of its plants in Syria is focussing on a fund of more than 15 million dollars set aside by the company for its operations in the war-torn country, according to documents obtained by Mediapart. Fabrice Arfi reports.

French defence minister Florence Parly has warned that the fight against the so-called Islamic State group, which has lost most of the territory it once controlled in Iraq and Syria, is far from over as it is re-organising itself into an underground terrorist network.