Marchers estimated to number 13,500 marched in Paris on Sunday following several recent incidents of Islamophobia in France, including an arson and shooting attack against a mosque in south-west France, while a number of leftwing parties did not take part arguing that organisers opposed the country's constitutional principles regarding secularity.
President Emmanuel Macron on Wednesday warned against a stigmatisation of the Muslim population in France and the shortcut of associating the Islamic religion with terrorism, as was illustrated in a string of recent events that have caused outrage and heated debate across the country. It was a tardy reaction by Macron who, Mediapart co-editor Carine Fouteau writes in this op-ed, has left the door open to precisely the problem he now identifies. It is his responsibility to strengthen the barriers against hatred, alongside the fight against terrorism.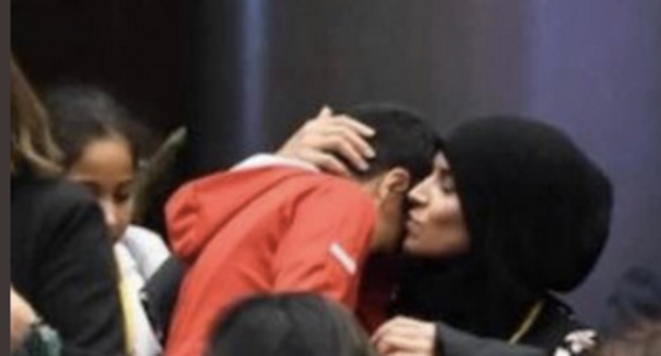 The distressing scene at a meeting of the Bourgogne-Franche-Comté regional council on Friday.
At a regional council meeting in Burgundy on Friday, a councillor from France's far-right Rassemblement National party (formerly the Front National) demanded that a woman in the public gallery should remove her headscarf or leave. She was accompanying a visiting group of primary school children, which included her son who burst into tears over the humiliation of his mother. A photo of the incident immediately caused outrage as it circulated on social media, and has since developed into a major political controversy, dividing members of government and highlighting the blurring of the boundaries of France's secular rules and their misuse as a weapon for Islamophobia.
What the French interior ministry calls a 'proccupying' rise in anti-Semitic acts since 2016 appears to be prompting a flight of Jews from some areas around Paris with a predominently Muslim population, while Muslim representatives say talk of a 'new anti-Semitism' is a nonsense that ignores Islamophobia among Jewish communities. 
Since last Friday, following an attack on firefighters and police by a group of youths on a housing estate in Ajaccio, the capital of the French Mediterranean island of Corsica, vigilante mobs chanting anti-Arab and anti-Muslim slogans have reigned terror on the neighbourhood, seeking out the perpetrators and ransacking a Muslim prayer room where they attempted to burn copies of the Koran. Despite an official ban on public demonstrations until January 4th in an effort to reduce the tensions, several hundred marchers on Sunday again tried to occupy the estate which is home to a large North African population. Rachida El Azzouzi and Ellen Salvi report on the events this weekend and why, as the mayor of Ajaccio admits, they came as no surprise.
Growing number of French Muslims are heading to United Arab Emirates and elsewhere in Middle East to escape 'discrimination and stigmatisation'.
The Council of Europe's Commissioner for Human Rights, Nils Muižnieks, on Tuesday released a report entitled 'France: persistent discrimination endangers human rights'. The Latvian appears largely unimpressed with what he saw during a fact-finding mission to France last October, and denounces increasing anti-Semitism, anti-Muslim acts and racism in general, homophobia, a rise in "hate speech", the poor treatment of asylum seekers and the "social exclusion and marginalisation of persons with disabilities". Carine Fouteau reports on the Commissioner's conclusions.
The 47-year-old father was attacked at his home by a knife-wielding neighbour, the National Observatory Against Islamophobia said.
Right and Left denounce sacking of right-wing polemicist Eric Zemmour by French TV channel i-Télé for reported Islamophobic comments.
Auchan chain has now withdrawn toy assault rifle decorated with a crescent moon and star, symbols that are generally associated with Islam.