Related keywords
A French police study has concluded that joint French-Israeli nationals, many of who are based in Israel, played a significant role in organised crime in France in 2018, according to a report by The Times of Israel.
Three Franco-Israelis allegedly built replica of Jean-Yves Le Drian's Paris office to aid scam say Israeli police.
Former Israeli prime minister Ehud Olmert held a meeting in Paris on Friday with Palestinian Authority chairman Mahmoud Abbas when the two men, who have previously met dozens of times, were in France on separate trips.
Romain Franck, 23, an employee with the French consulate in Jerusalem, was one of nine people arrested for their involvement in an alleged arms trafficking ring, in which the Frenchman is accused of using his consular vehicle to transport a total of 70 handguns and two assault rifles to the West Bank.
The French president said the US move went against international law and 'all the resolutions of the UN Security Council'.
A visit to Paris on Sunday by Israeli Prime Minister Benjamin Netanyahu, when he will join in a commemoration of the 1942 arrest in the French capital for deportation of an estimated 13,000 Jews, has been criticised in France by Jewish organisations and others as handing his government an unwelcome political platform.
Delegates from 70 nations are expected to reaffirm support in Paris for a two-state solution to the decades-old conflict.
Figures continue a trend that has seen tens of thousands quit the country after a series of attacks targeting France's Jewish community.
Israel condemned France's decision to issue an official notification urging businesses to identify goods produced in settlements.
France has joined the US in condemning controversial proposed legislation to be submitted to the Israeli parliament which would allow settlers in the occupied West Bank to stay in homes built on private Palestinian land, warning 'it would once again jeopardize a two-state solution'.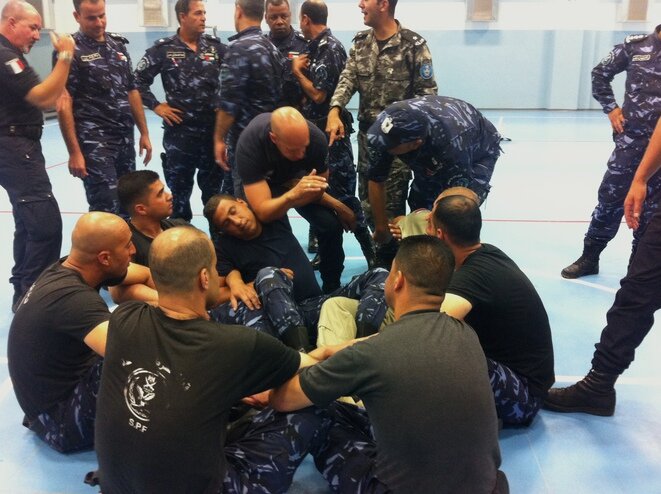 French CRS officers training Palestinian police. © Chloé Demoulin
For the past ten years, a European Union-funded mission in the West Bank is training the Palestinian police in modern policing methods. With police instructors from EU member states, the EUPOL COPPS mission is aimed at building an effective police force ahead of the possible creation of a Palestinian state. But the challenges are vast, and the programme's future is uncertain. Mediapart correspondent Chloé Demoulin reports from the West Bank mission, beginning with the unusual scene of a lesson by French riot police on how to disperse a peaceful sit-in.
Spokesman for Israeli premier Benjamin Netanyahu denies claims that Arnaud Mimran, accused of a major fraud, paid him the money in 2009.
US secretary of state John Kerry and UN chief Ban ki-Moon were among those who attended conference aiming for peace process talks by year's end.
Israeli PM suggested to Manuel Valls a 'different' French initiative of face-to-face talks with Palestinian president Mahmoud Abbas in Paris.