Related keywords
Defence minister said it was 'undeniable' Libya is in crisis because in 2011 someone put their own interests ahead of those of Libyan people.
Italian Deputy Prime Minister Matteo Salvini has called on France to stop turning back migrants who succeed in crossing into the country from Italy at the Rivierra town of Ventimiglia, adding that French President Emmanuel Macron 'is the first who should show solidarity and sensibility by reopening the border'.
The youth arms of France's Rassemblement national (National Rally) party, formerly called the Front National, and its far-right Italian ally, the League, staged a joint demonstration near the French-Italian border on Sunday to demand tough measures against what they said was the 'overwhelming' of Europe by migrants.
Migrant girls, mostly from sub-Saharan Africa, attempting to cross into France from Italy are being exploited by would-be smugglers offering to drive them across the on the countries' common Riviera border in exchange for sex acts, says a report by the Italian branch of the charity Save the Children.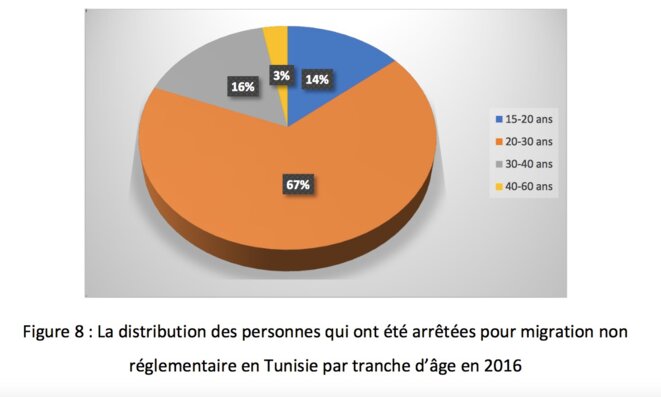 A 2017 report showing the breakdown in ages of Tunisians seeking to leave the country clandestinely. © dr
Migration has fashioned Tunisia for over two decades, most notably after the uprising that sparked the Arab Spring in 2011, when tens of thousands left a country riddled with unemployment and inequality once old restrictions were lifted. Now Tunisia finds itself in a double bind. It is resisting pressure to house migrants from other African countries trying to reach Europe via its territory, even as a new exodus of its own citizens gathers pace, prompted by economic, political and social distress. Rachida El Azzouzi reports.
On eve of EU migration policy summit, French president says he favours financial penalties on EU states that refuse to accept migrants.
A report published by NGO Oxfam says its interviews with migrant children trying to cross from Italy to France on the Riviera border found complaints of being 'physically and verbally abused, and detained overnight in cells without food, water or blankets and with no access to an official guardian', and also claims that some children had the soles of their shoes cut off before being sent back to Italy.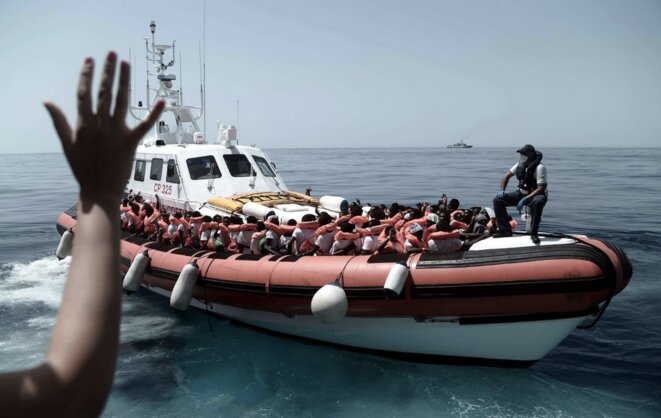 Some of the migrants rescued by the Aquarius were transferred to Italian coastguard ships in a convoy heading for Spain. © Karpov / SOS Méditerranée
The odyssey of the migrant rescue ship Aquarius offers a new example of the violence of Europe-wide immigration policies, and not only those of the far-right in power in Italy, writes  Mediapart co-editor Carine Fouteau. For the migrants onboard the Aquarius, who will eventually arrive in a state of exhaustion in Spain, the ship's long and deviated route for a safe haven is yet further confirmation that they and others like them are simply considered as a burden by European countries – if, that is, they manage to arrive alive on the continent's shores.  
After earlier doubt, Italian Prime Minister Giuseppe Conte has maintained his lunch meeting in Paris on Friday with French President Emmanuel Macron, as the two leaders appeared to calm a high-profile diplomatic row over sharp criticism from Paris over Rome's decision to refuse sanctuary to migrants saved at sea by an NGO. 
Italian economy minister Giovanni Tria cancelled planned talks in Paris on Wednesday with his French counterpart while in Rome France's ambassador was summoned to a meeting with the foreign ministry amid the row sparked by President Emmanuel Macron's sharp criticism of Italy's decision to refuse entry to migrants aboard an NGO sea rescue ship.
Italy has accused France of 'hypocrisy' after French President Emmanuel Macron blasted Rome for 'cynicism and irresponsibility' in disallowing a humanitrian organisation's ship from disembarking at an Italian port the more than 600 migrants it has rescued at sea.
Italian prosecutors have opened an investigation into incident when French customs officers turned up at Italian town to confront a migrant.

French customs say they followed regulations and were ready to clarify any legal and operational procedures to avoid future incidents.
Deal, which aims to create a world leader in naval industry, ends dispute after France had unexpectedly blocked a takeover by an Italian firm.