Related keywords
The middleman Alexandre Djouhri has been released on bail by a court in London pending proceedings to extradite him to France. Examining magistrates in Paris investigating claims that Libyan regime money was used to finance Nicolas Sarkozy's 2007 election campaign want to question Djouhri over crucial documents found at his Swiss home. Mediapart understands these show that the middleman did indeed oversee the payment of half a million euros of Libyan origin to President Sarkozy's most trusted lieutenant, Claude Guéant. Karl Laske and Fabrice Arfi report.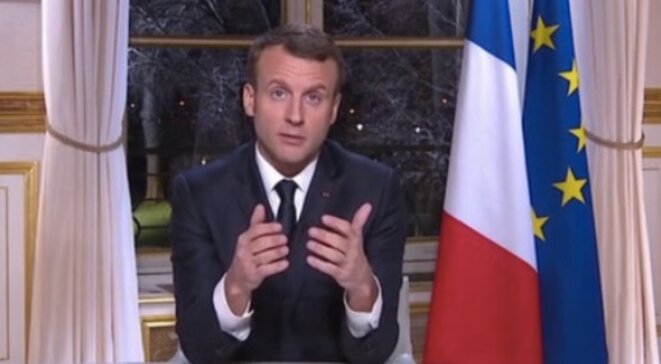 Addressing the nation: Presisdent Emmanuel Macron on December 31st, 2017.
"I did it in 2017....I will do it in 2018". On Sunday December 31st, President Emmanuel Macron delivered his first New Year goodwill message to the French people. Just 12 months ago no one imagined that he would be the occupant of the Élysée. Even last summer, when he had been elected, no one thought he would be in a strong position. Yet here he is, and his political situation looks robust. But it is a little too early for the new president to get out the bunting just yet. For Hubert Huertas argues that President Macron is about to face his biggest political 'opponent' – himself.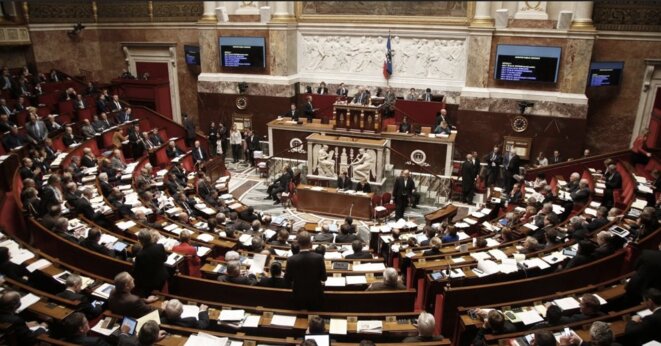 Elections take place this month for France's National Assembly. © Reuters
Through the havoc it wreaked on the established political system, the recent French presidential election showed the hunger that exists for democratic renewal. But if the Parliamentary elections later this month give Emmanuel Macron's government an absolute majority it would be a retrograde step to presidential supremacy and a compliant Parliament, argues Mediapart's publishing editor and co-founder Edwy Plenel. That is why, he says, we need a pluralist National Assembly encompassing a diverse, democratic, social and environmental opposition.
The charismatic former president's declining health continues to dominate French front pages a week after being admitted for a lung infection.
Bernadette Chirac, 83, was admitted for fatigue to the Pitié-Salpêtrière hospital where her former French president husband, also 83, is being treated for pneumonia.
Chirac, 83, who suffered a minor stroke in 2005, was flown to Paris overnight Saturday from a sojourn in Morocco and admitted to the Pitié-Salpêtrière hospital to be treated for a lung infection.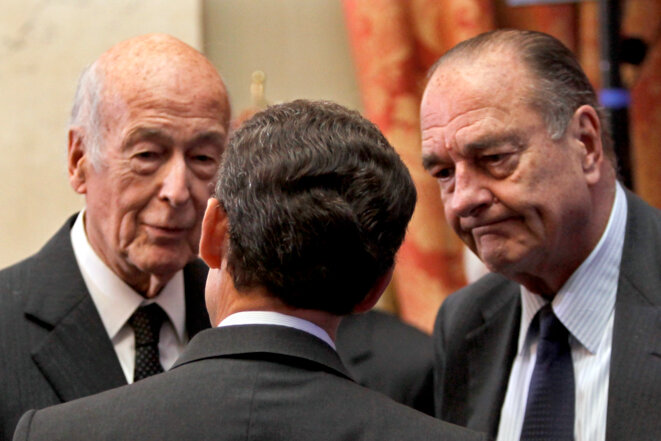 France's three surviving presidents (left to right): Valéry Giscard d'Estaing, Nicolas Sarkozy and Jacques Chirac. © Reuters
Mediapart has gained access to a detailed account of the annual payments made to former French presidents and prime ministers in a lifelong system of perks and privileges that beggars belief. With items ranging from newspaper and dry-cleaning costs to the payment of staff, offices and vehicles, the country's three surviving former heads of state cost the taxpayer a yearly 6.2 million euros. Former prime ministers, meanwhile, receive tens of thousands of euros annually for staff and vehicles, including one who left office 25 years ago. Mathilde Mathieu reports.
Chirac, 83, who served two terms as French president and who suffered a stroke in 2005, had felt weak for several days, his daughter said.
The hardline right-winger spent more than half a century at the heart of French politics in a career dogged by funding scandals.
The leaked transcripts and reports on the phone taps carried out by the National Security Agency on three French presidents concern the current head of state, socialist François Hollande, and his right-wing predecessors Nicolas Sarkozy and Jacques Chirac. The documents obtained by WikiLeaks and revealed here by Mediapart reveal the different priorities at the time of the three French heads of state, as well as their different styles. Hollande and his then-prime minister, Jean-Marc Ayrault, were discussing the Greek crisis, Sarkozy hoped to save the world from the financial crisis and Jacques Chirac was handing out detailed orders to his foreign minister. Lénaïg Bredoux and Ellen Salvi from Mediapart and Julian Assange of WikiLeaks report on what the presidents said.
The United States has eavesdropped on at least three French presidents and a whole raft of senior officials and politicians in France for at least six years, according to secret documents obtained by WikiLeaks and revealed here by Mediapart. The top secret reports from America's National Security Agency (NSA) show that the phones of presidents François Hollande, Nicolas Sarkozy and Jacques Chirac were all tapped. But they also show that the espionage carried out on a supposedly key ally of Washington's went even further and deeper, and that senior diplomats, top civil servants and politicians also routinely had their phones tapped. The documents seen by Mediapart reveal proof of the spying on the French state that took place from 2006 to 2012 but there is no reason to suggest that this espionage did not start before 2006 and has not continued since. The revelations are certain to spark a major diplomatic row and highlight once again the uncontrolled and aggressive nature of American spying on friends and foes alike, as first revealed by NSA whistleblower Edward Snowden in 2013. Mediapart's Fabrice Arfi and Jérôme Hourdeaux and Julian Assange of WikiLeaks report.
Despite a criminal conviction and failures as a prime minister, polls show Bordeaux mayor is country's most respected politician in office.
Ministers want numbers of volunteers in system, seen as civilian successor to military service phased out in 1996, to go from 35,000 to 100,000.
Fort de Bregancon, which is on a tiny island on the Mediterranean coast, has been popular with French leaders since the days of Charles de Gaulle.