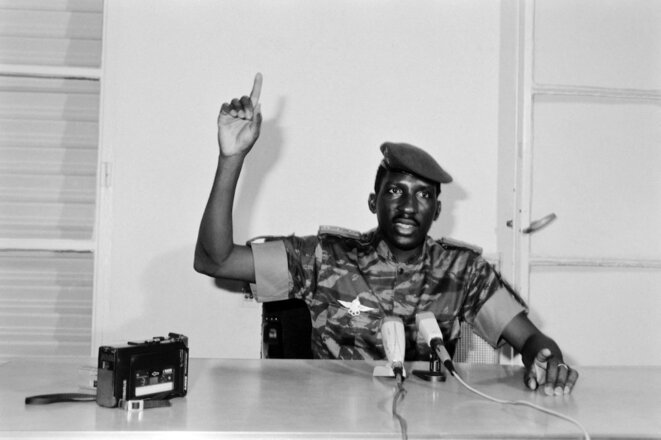 Burkina Faso president Thomas Sankara in August 1986. © Eric Congo / AFP
In 1987 Burkina Faso's president Thomas Sankara, a revolutionary leader, hero of the pan-Africa movement and fierce opponent of imperialism, was gunned down in a coup d'État. Now, 34 years later, the trial of his alleged assassins is shortly to begin in the capital Ouagadougou. As Rémi Carayol reports, the circumstances of the murder are well known. But what we still do not know is who gave the orders for Sankara's assassination, which brought his Burkina Faso revolution to a bloody end. Nor do we know the role, if any, of foreign powers - including the former colonial power France - in his demise.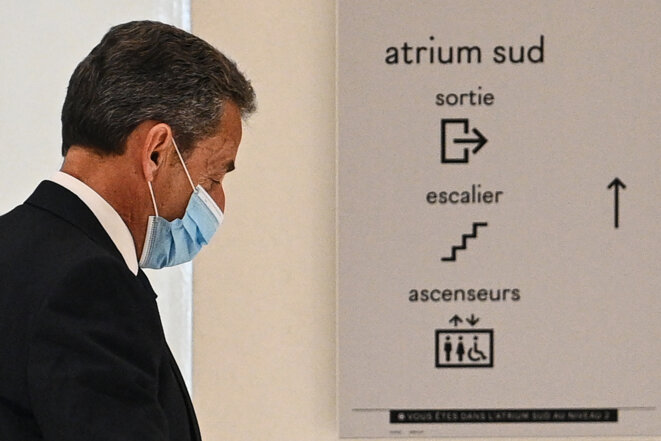 Nicolas Sarkozy arriving at the court in Paris on Monday 1st March 2021. © Anne-Christine POUJOULAT / AFP
The significance of the conviction of former president Nicolas Sarkozy in the 'Paul Bismuth' phone tap affair goes wider than one case, says Mediapart's Fabrice Arfi. It highlights the extent to which France is a country is riddled with corruption.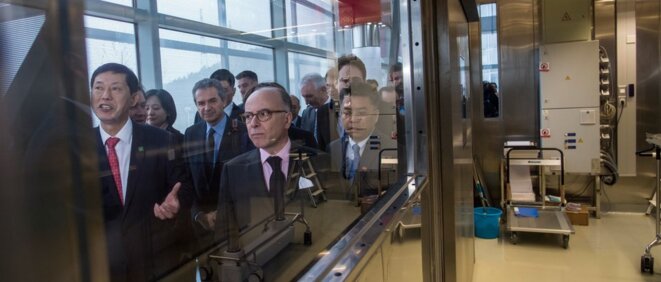 French prime minister Bernard Cazeneuve during the inauguration of the laboratory at Wuhan, February 23rd 2017. © AFP/Johannes Eisele
The maximum-level biosafety laboratory at the Wuhan Institute of Virology was the first of its kind to be built in China, and has been the centre of huge speculation since the start of the Covid-19 pandemic which originated in that city. The laboratory, which is equipped to handle Class 4 pathogens (P4) including dangerous viruses such as Ebola, was built with the help of French experts and under the guidance of French billionaire businessman Alain Mérieux, despite strong objections by health and defence officials in Paris. Since the laboratory's inauguration by prime minister Bernard Cazeneuve in 2017, however, France has had no supervisory role in the running of the facility and planned cooperation between French researchers and the laboratory has come to a grinding halt. Karl Laske and Jacques Massey report.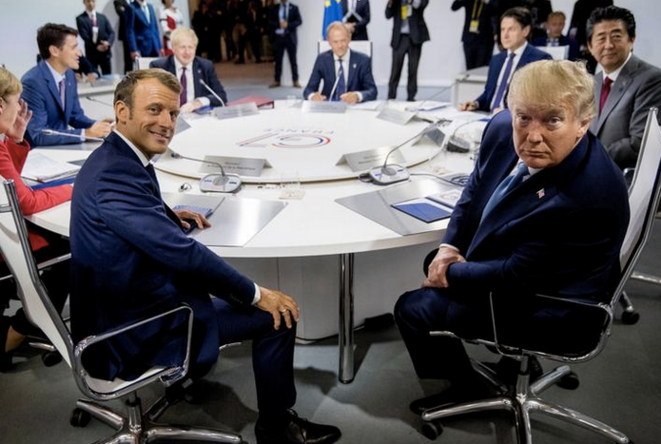 Emmanuel Macron and Donald Trump during the G7 at Biarritz, south-west France, August 25th 2019. © Andrew Harnik/Pool via REUTERS
The reaction to Donald Trump's behaviour and the attempts at impeachment highlights the vitality of democratic culture in the United States when faced with executive abuse of power. In contrast, argues Mediapart publishing editor Edwy Plenel, France is served by a low-intensity democracy that has been undermined by the country's system of presidential monarchy.
Around 30 foreign leaders, including Russian president Vladimir Putin, gathered on Monday in the French capital for ex-president's funeral.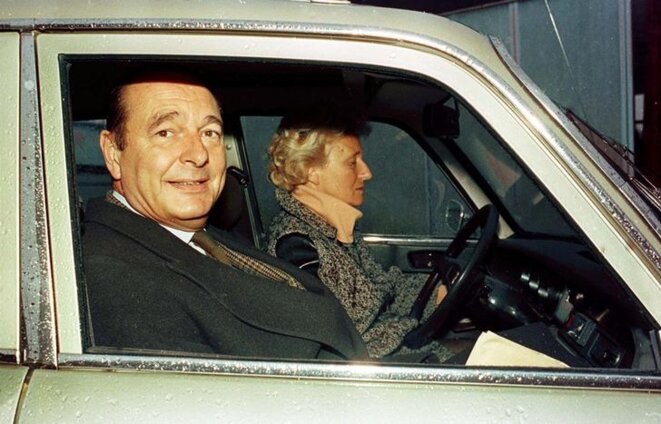 Jacques and Bernadette Chirac on a visit to Sarran in the Corrèze in central France in 1993. © Reuters
The former French president Jacques Chirac died on September 26th, at the age of 86. Chirac, who was head of state from 1995 to 2007, and who had previously been prime minister of France and mayor of Paris, leaves behind him 40 years of political combat. But his political legacy is a modest one, the leftover of a career built upon the sole ambition of gaining and clinging on to power. That came at the cost of incessant political trench warfare, alliances and counter-alliances, betrayals and scandals, while blithely shifting positions to court popularity. Mediapart charts the key episodes that mark the political life of a man obsessed with power.
Emmanuel Macron says the late president 'protected France from hate' while Vladimir Putin praised him as a 'wise and far-sighted statesman'.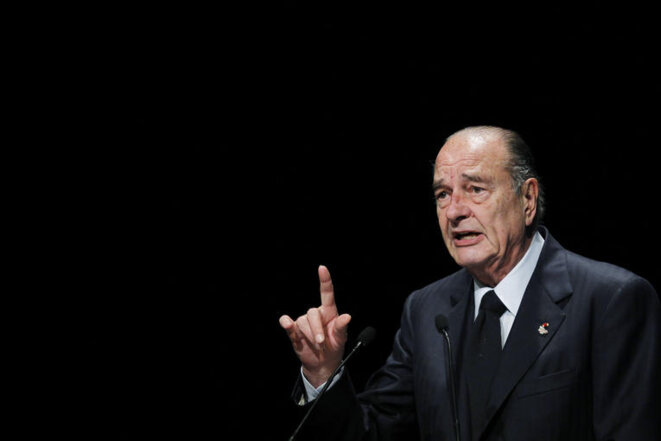 Jacques Chirac in December 2010. © Reuters
Former French president Jacques Chirac, the Gaullist conservative who served two terms as head of state and twice as prime minister, who was for 18 years mayor of Paris and who was convicted of corruption after leaving office, has died at the age of 86. Graham Tearse reports.
Head of state 1995-2007, he was first French president to acknowledge country's role in Holocaust and led international opposition to Iraq war.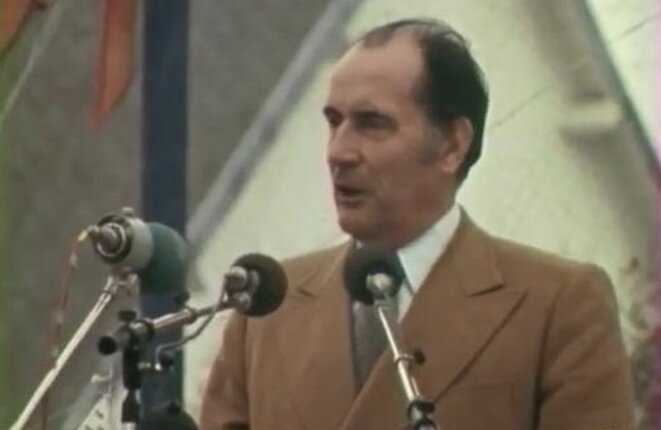 François Mitterrand in 1974.
In 1974, the Ba'ath party regime in power in Iraq approved a payment of 1 million dollars to fund the presidential election campaign that year of the late French socialist leader François Mitterrand, according to a document from the intelligence services of the former West Germany, the BND, obtained by Mediapart and German weekly Der Spiegel. The document refers to an intercepted message sent by Baghdad to its embassy in Paris. While it is not known whether Mitterrand's campaign ever benefited from the reportedly earmarked funds, the BND document raises further questions about the extent of Iraq's established close and secret relations with French political parties of Left and Right over several decades. Amélie Poinssot reports.
The middleman Alexandre Djouhri has been released on bail by a court in London pending proceedings to extradite him to France. Examining magistrates in Paris investigating claims that Libyan regime money was used to finance Nicolas Sarkozy's 2007 election campaign want to question Djouhri over crucial documents found at his Swiss home. Mediapart understands these show that the middleman did indeed oversee the payment of half a million euros of Libyan origin to President Sarkozy's most trusted lieutenant, Claude Guéant. Karl Laske and Fabrice Arfi report.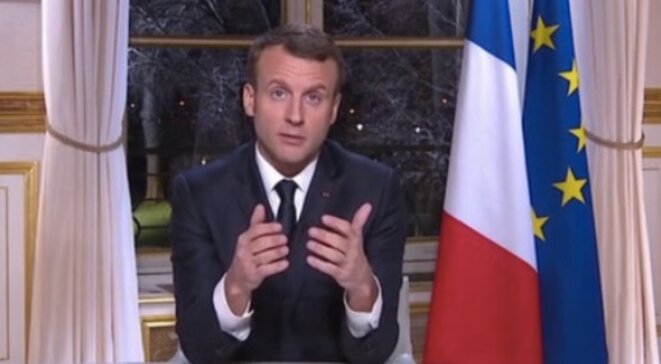 Addressing the nation: Presisdent Emmanuel Macron on December 31st, 2017.
"I did it in 2017....I will do it in 2018". On Sunday December 31st, President Emmanuel Macron delivered his first New Year goodwill message to the French people. Just 12 months ago no one imagined that he would be the occupant of the Élysée. Even last summer, when he had been elected, no one thought he would be in a strong position. Yet here he is, and his political situation looks robust. But it is a little too early for the new president to get out the bunting just yet. For Hubert Huertas argues that President Macron is about to face his biggest political 'opponent' – himself.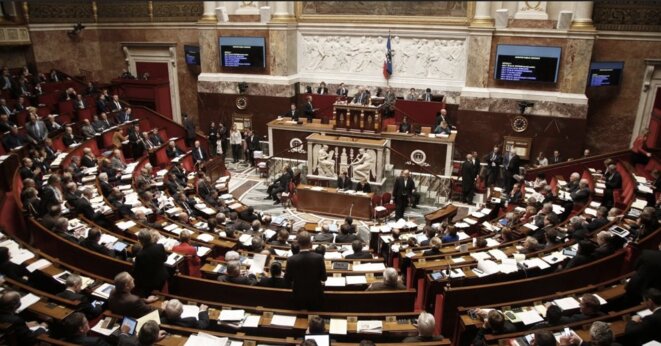 Elections take place this month for France's National Assembly. © Reuters
Through the havoc it wreaked on the established political system, the recent French presidential election showed the hunger that exists for democratic renewal. But if the Parliamentary elections later this month give Emmanuel Macron's government an absolute majority it would be a retrograde step to presidential supremacy and a compliant Parliament, argues Mediapart's publishing editor and co-founder Edwy Plenel. That is why, he says, we need a pluralist National Assembly encompassing a diverse, democratic, social and environmental opposition.
The charismatic former president's declining health continues to dominate French front pages a week after being admitted for a lung infection.