Related keywords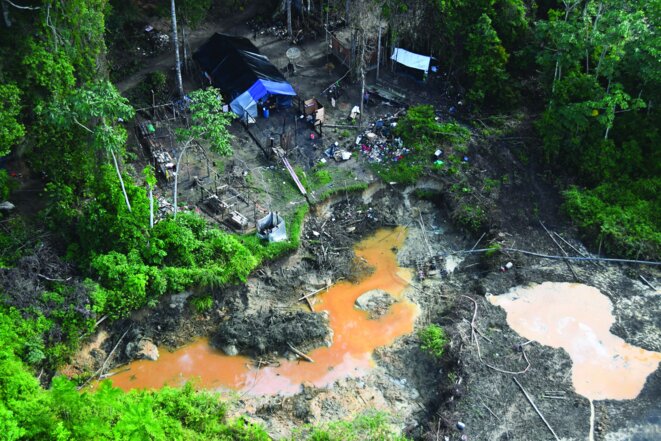 An unauthorised gold-prospecting site in operation in 2017 in French Guiana. © Parc Amazonien de Guyane
For many years, French leaders have liked to pose on the international scene as potential saviours of the Amazon, as we have just witnessed at the recent G7 summit in Biarritz with the diplomatic spat between President Emmanuel Macron and Brazilian president Jair Bolsonaro over forest fires. President François Mitterrand started the trend back at the Earth Summit in Rio de Janeiro in 1992. But alongside the diplomatic posturing there is also the reality of what is happening in French Guiana, an overseas region of France that lies just to the north-east of the Amazon rainforest. As Marion Briswalter reports from Cayenne in Guiana, what is happening on the ground in this French corner of South America reflects less well on Paris's stewardship of the environment.
Presidents Donald Trump and Emmanuel Macron at the G7 summit in Biarritz, August 26th 2019. © Reuters
In 2018 President Emmanuel Macron experienced a catastrophic period in domestic politics after the summer break. In 2019 the French head of state has tried to hit the ground running by placing himself firmly at the centre of the international stage. His hosting of the G7 summit in Biarritz in south-west France was greeted with unanimous approval by the French press which hailed it a success. Yet as Mediapart's Ellen Salvi reports, nothing in the substance of the issues tackled at the international gathering has changed.
Comment came after he was asked about recent, insulting comments that Bolsanaro and a colleague made about French president and his wife.
The crisis of wildfires raging in the Amazon is to be the subject of emergency talks at this weekend's G7 summit in south-west France, while President Emmanuel Macron has announced he is withdrawing support for the Mercosur free-trade deal between the EU and South American nations, accusing his Brazilian counterpart Jair Bolsonaro of 'lying' about his commitments on combating the climate emergency.