Related keywords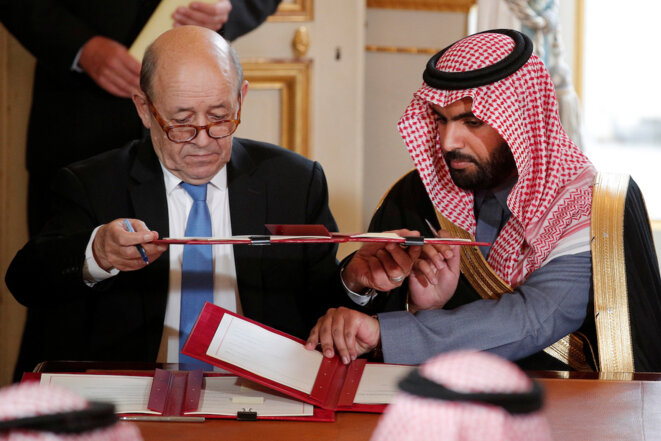 Yves Le Drian and Crown Prince Mohammed bin Salman in April 2018. © Reuters
On November 12th, 2018, Jean-Yves Le Drian insisted on French television that he was not aware of evidence supplied by Turkey regarding the murder of journalist Jamal Khashoggi by Saudi killers. Yet no fewer than seven French diplomats and intelligence agents have contradicted this claim by France's foreign minister. Thomas Cantaloube, Lucie Delaporte, René Backmann, Nicolas Cheviron, Matthieu Suc and Rachida El Azzouzi investigate.
French president was asked if France would stop weapons sales to Riyadh after it admitted journalist Jamal Khashoggi was killed in its consulate.
French President Emmanuel Macron, speaking on Friday during a visit to Armenia, said he was still waiting for more facts about the fate of dissident Saudi journalist Jamal Khashoggi, who disappeared after entering Saudi Arabia's consulate in Istanbul earlier this month, before deciding on France's response.