The trial in Saudi Arabia of 11 men accused of murdering journalist Jamal Khashoggi in November 2018 ended on December 23rd with the death sentence pronounced against five of the defendants. "These verdicts are the antithesis of justice: the hit men are sentenced to death, potentially permanently silencing key witnesses, but the apparent masterminds walk free," said UN Special Rapporteur on extrajudicial executions, Agnès Callamard. In this opinion article, Mediapart Middle East specialist René Backmann denounces the lack of reaction to the verdicts from France, which the very same day loaded three armed vessels, the first in a deal for 39, onto a freighter bound for Saudi Arabia.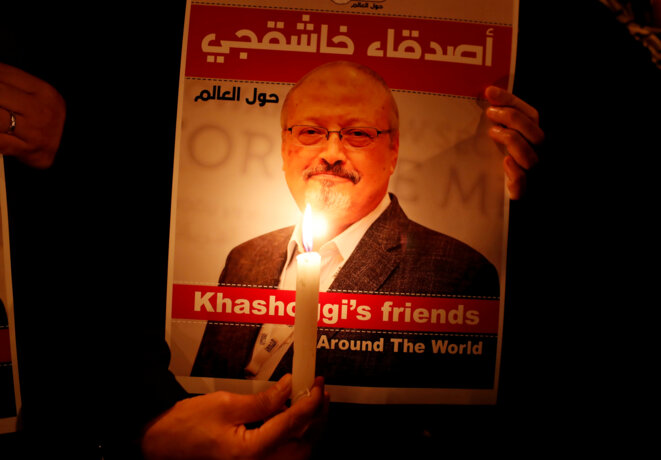 A scene at a homage to Jamal Khashoggi held outside the Saudi consulate in Istanbul, October 25th 2018. © Reuters
In a 100-page report published last week on her investigation into the murder of Saudi journalist Jamal Khashoggi, the United Nations Special Rapporteur on extrajudicial executions, Agnès Callamard, concluded that "Mr Khashoggi has been the victim of a deliberate, premeditated execution, an extrajudicial killing for which the state of Saudi Arabia is responsible under international human rights law", and recommended that Saudi Arabia's ruler, Crown Prince Mohammed bin Salman, should be investigated for his responsibility in the crime. In this interview with Mediapart, she details her investigation and its findings, and and calls on states to take a "serious" stand on press freedom.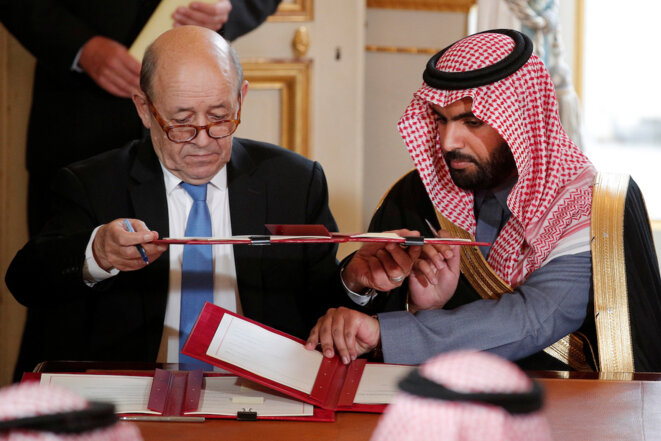 Yves Le Drian and Crown Prince Mohammed bin Salman in April 2018. © Reuters
On November 12th, 2018, Jean-Yves Le Drian insisted on French television that he was not aware of evidence supplied by Turkey regarding the murder of journalist Jamal Khashoggi by Saudi killers. Yet no fewer than seven French diplomats and intelligence agents have contradicted this claim by France's foreign minister. Thomas Cantaloube, Lucie Delaporte, René Backmann, Nicolas Cheviron, Matthieu Suc and Rachida El Azzouzi investigate.
French president was asked if France would stop weapons sales to Riyadh after it admitted journalist Jamal Khashoggi was killed in its consulate.
French President Emmanuel Macron, speaking on Friday during a visit to Armenia, said he was still waiting for more facts about the fate of dissident Saudi journalist Jamal Khashoggi, who disappeared after entering Saudi Arabia's consulate in Istanbul earlier this month, before deciding on France's response.