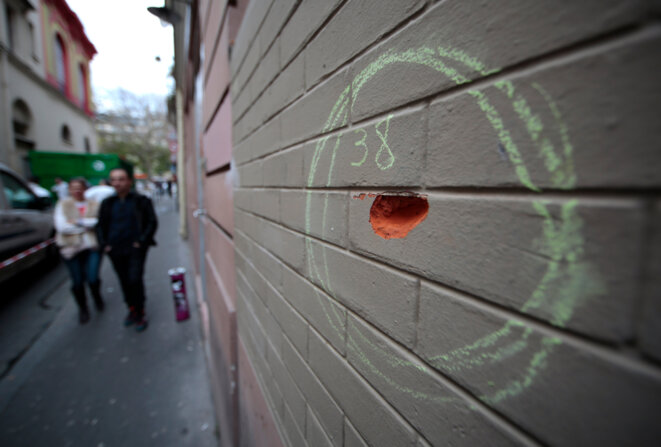 A bullet impact on a wall close to the Bataclan theatre. © Reuters
Of the 130 people killed by gunmen and suicide bombers during the November 13th terrorist attacks in Paris, the single worst toll was at the siege of the Bataclan theatre and music hall which left 90 people dead. It has since emerged that the Bataclan was already the target of a jihadist plot in 2010, while France's justice minister has dismissed any connection between that and the massacre in November. Mediapart has obtained access to a Belgian police report sent to their French colleagues in 2011 which clearly identifies the close links between the main suspect in the 2010 plot and the French jihadist who fronted the Islamic State group's video claiming responsibility for the November attacks.
Members of the airline's CGT union, mostly groundstaff, are called on to strike on January 28th against the company's plans of layoffs and outsourcing.
The January terrorist attacks in which 11 people died at the satirical weekly's offices has left uncertain future for divided and fatigued survivors.
The men, aged 25 and 33, are suspected of involvement in terrorist activity with Amedy Coulibaly, who shot dead four hostages in the January attacks.
In the first drop since August 2014,  the number of people without work fell 19,100 to 3,481,600, down 0.5 percent month on month.
French consumer prices in January fell year-on-year by 0.4%, with energy costs dropping 7.1% and prices of manufactured goods down 1.4%.
In the latest edition of its French-language magazine, Islamic State presents Hayat Boumeddiene, 26, as being present with the group in Syria.
Official figures for January show a 0.3% month-on-month rise in number of jobless, bringing the total of registered unemployed to 3.316 million.