Keyword: Jean-Christophe Cambadélis
Traditionally, incumbent French presidents do not take part in primary elections when standing for re-election and are simply anointed as their party's natural candidate. And up to now France's socialist president François Hollande has insisted he saw no need for such a contest on the Left ahead of next year's presidential election. However, out of the blue the Socialist Party has just announced plans for a primary election in January 2017 in which Hollande will take part. Hubert Huertas considers whether the surprise move will give Hollande's dwindling re-election prospects new hope - or will simply finish off his chances altogether.
Polls show French president's recent high-profile TV appearance failed to convince voters and Left looks set to falter against Right and far-right.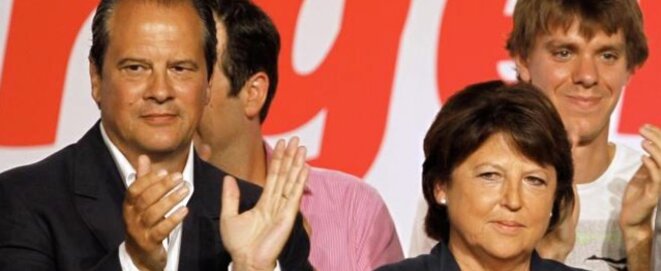 Martine Aubry on the warpath, seen here with current party boss Jean-Christophe Cambadélis.
The former first secretary of the French Socialist Party (PS), Martine Aubry, has launched a ferocious attack on the policies of President François Hollande and his prime minister Manuel Valls. Her trenchant comments in an article in Le Monde – seen by some as a call by Hollande to ditch his prime minister - in turn led to bitter criticism of her stance from government loyalists. It remains unclear where Aubry's initiative will lead. But as Mediapart's Stéphane Alliès reports, it looks as if support for the socialist government could now be in a minority within the Socialist Party itself.
A broad-brush policy statement put forward by Hollande loyalists ahead of party's annual congress has won more than 60 percent of the vote.
The first round of voting in France's 'départementales' or county elections on Sunday threw up some important results. While it did not do as well as opinion polls had predicted, failing to become France's 'leading party', the far-right National Front still picked up around 25% of the vote. Meanwhile the ruling Socialist Party only attracted just over 21% support in an election in which it has traditionally performed well. A third noteworthy outcome was the victory of the alliance between the centre-right UDI and the right-wing UMP, led by Nicolas Sarkozy. Here Mediapart journalists examine the political situation ahead of next Sunday's second and decisive round. First Stéphane Alliès argues that leaders of the Socialist Party, and in particular the prime minister Manuel Valls, are deluding themselves in thinking that the party "held up" well in the vote. Then Ellen Salvi analyses the performance of the centre-right, where the victory of the UDI-UMP alliance has rather overshadowed any success on the part of former president Sarkozy.
Jean-Christophe Cambadelis, 63, a one-time political opponent of President Hollande, has to tackle growing dissent from the far-left of party.
During the second part of his government reshuffle this week, President François Hollande did not just change his ministerial team and a key member of his private office – he also reshuffled the Socialist Party, forcing its widely-criticised first secretary Harlem Désir to quit. But to general astonishment Désir was immediately offered the post of junior minister for European Affairs. Political opponents and some allies described this as a bleak moment for French relations with Europe, with one senior figure even calling it an "insult". Meanwhile the manner in which the president abruptly removed the party's leader has caused consternation among some members. Stéphane Alliès and Ludovic Lamant report.