Keyword: Jean-Claude Juncker
Address by European Commission president cancelled to 'give priority' to a hearing on the 'gilets jaunes' protests that have swept across France.
France is outraged by proposed cuts in farm aid after the European Commission unveiled its post-Brexit finance plan.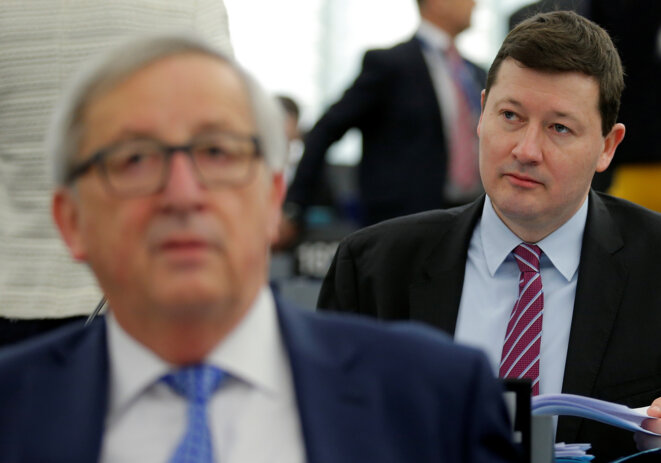 Martin Selmayr (right) with European Commission president Jean-Claude Juncker at the European parliament on March 13th. © Reuters/Vincent Kessler
The highly questionable circumstances of the appointment of German conservative Martin Selmayr as secretary-general of the European Commission, a move initiated by commission president Jean-Claude Juncker for whom Selmayr until then served as chief of staff, has been met with outrage within the European Parliament, which on Wednesday adopted a motion describing the promotion as "coup-like" and "which possibly even overstretched the limits of the law". But it pulled back from demanding Selmayr's resignation, thereby avoiding a serious institutional crisis. Meanwhile, the commission, accused of blatant cronyism, has refused to compromise and insists Europe's new top civil servant will remain in the post. Mediapart Brussels correspondent Ludovic Lamant reports.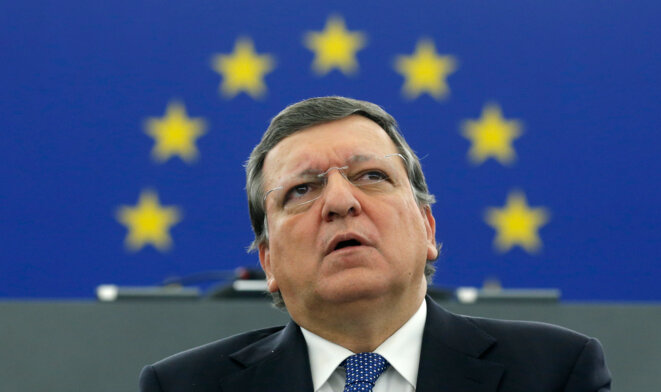 Under fire: ex Commission boss José Manuel Barroso. © Reuters
The recent decision by former European Commission president José Manuel Barroso to join Wall Street bank Goldman Sachs as an advisor caused outrage across much of Europe. Apart from, that is, at the heart of the Brussels institution itself where Barroso's successor Jean-Claude Juncker has only just, and grudgingly, criticised the move. However, disgruntled EU staff feel Barroso's appointment further tarnishes the EU's image and are examining ways to sanction their former boss. Ludovic Lamant reports.

A London taxi driver celebrates the Brexit victory. © Reuters
The British 'no' vote in the referendum on the European Union marks the victory of the extreme right, represented by the repugnant Nigel Farage and his UKIP party. In that sense it is a tragedy. But this 'no' vote also signs the death warrant of a European Union that has turned away from its citizens. Now the whole European project needs to be rebuilt and Mediapart's editor François Bonnet wonders whether that isn't good news...
Officials fear leaving Paris unpunished for persistently failing to curb its budget deficit may make it harder for euro to weather a future crisis.
Paris, Berlin and Rome want new EU law to ban 'aggressive tax planning' in move seen as an attack on current practices in Luxembourg.
MEPs gasped when ex-finance minister told commissioner confirmation hearing that Paris had never broken EU budget rules.
Leaked memo says former finance minister Pierre Moscovici's powers in EU Commission will be shared with Latvian hardliner.
Pierre Moscovici en marge d'un Eurogroupe à Bruxelles, en mars 2014, sous l'oeil de Mario Draghi (BCE). ©CE.
France's Pierre Moscovici has been named as the new European Union commissioner for economic and monetary affairs in Brussels. At first glance it appears a clear-cut triumph for President François Hollande who has installed his former finance minister in a key economic post at the heart of the EU despite German opposition. It is also a sign that the new European Commission president Claude Juncker wants to display his independence from German chancellor Angela Merkel. But as Ludovic Lamant reports, Juncker has also shaken up the Commission's structure and placed two economic hawks alongside the French commissioner. Some observers believe their main role is to stop the French "social democrat" being too soft on member countries struggling to cut their deficits – and in particular France.
Former French finance minister Pierre Moscovici will take up the important economic and monetary affairs portfolio despite some German misgivings.
The European Commission's incoming president, centre-right politician Jean-Claude Juncker, caused surprise this summer when he pledged his support for a continent-wide minimum wage. Juncker, who will take up his post in November, has not yet detailed the potentially complicated practical framework for applying the minimum wage, a move which runs against the tide of the blanket austerity policies until now championed by Brussels. While Juncker faces numerous obstacles to succeed with the scheme, not least from European treaty texts, the idea that raising low incomes would be beneficial to economies appears to be gaining support even from the most unexpected quarters. Mediapart's Brussels correspondent Ludovic Lamant reports on the arguments for and against, and in just what form a pan-European minimum wage might finally see the light of day.
Future European Commission President Jean-Claude Juncker, due to take up his functions this autumn, already faces an immediate problem as he composes his list of 28 European commissioners. For out of the 23 nominations so far officialised, only four are women. That represents five less than the outgoing commission, whose female contingent have now co-signed an open letter to Juncker demanding he find at least ten women. As Mediapart's Brussels correspondent Ludavic Lamant reports, there is increasing uproar over the issue, notably among members of the European Parliament to who Juncker must submit his final list of commissioners for approval.
President François Hollande has played a background role in saga over who should be Commission president as UK and Germany slug it out.