Keyword: Jean-Jacques Urvoas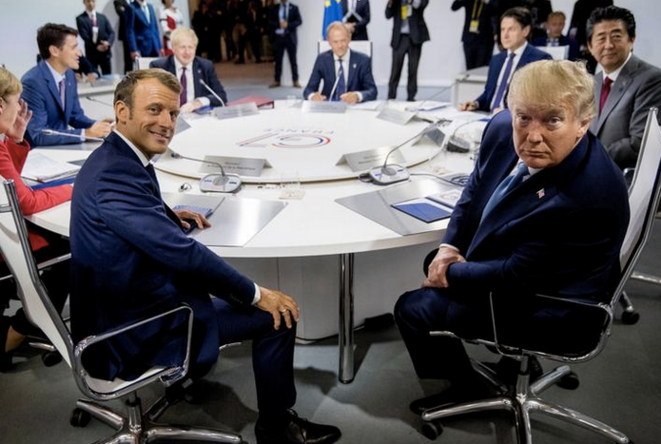 Emmanuel Macron and Donald Trump during the G7 at Biarritz, south-west France, August 25th 2019. © Andrew Harnik/Pool via REUTERS
The reaction to Donald Trump's behaviour and the attempts at impeachment highlights the vitality of democratic culture in the United States when faced with executive abuse of power. In contrast, argues Mediapart publishing editor Edwy Plenel, France is served by a low-intensity democracy that has been undermined by the country's system of presidential monarchy.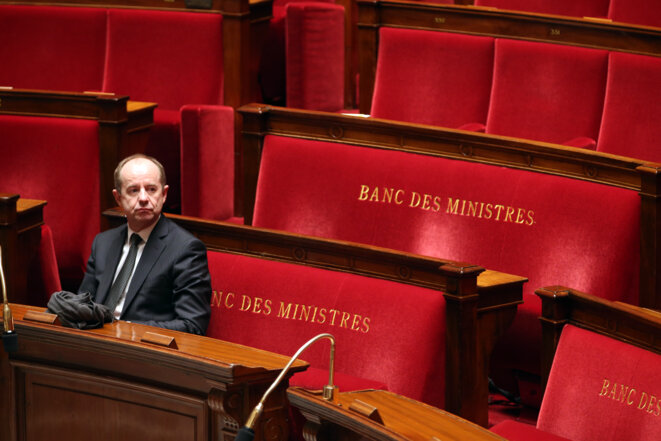 Jean-Jacques Urvoas inside France's National Assembly when he was justice minister. © Reuters
Earlier this month it was revealed that a French justice minister, Jean-Jacques Urvoas, passed on to a Member of Parliament confidential information about a police investigation targeting the MP for suspected tax fraud, money laundering and influence peddling. Mediapart investigative journalist Fabrice Arfi sets out here why the case is just the latest demonstration of the intolerable lack of independence of France's prosecution services.
The French National Assembly has approved a last-minute government amendment to legal reforms which would mean couples divorcing by mutual consent would not need to get the approval of a judge. The aim is to reduce the large backlog of cases in France's family court system. But as Michaël Hajdenberg reports, the plan has met with opposition from groups who fear it will harm the interests of children and victims of domestic abuse.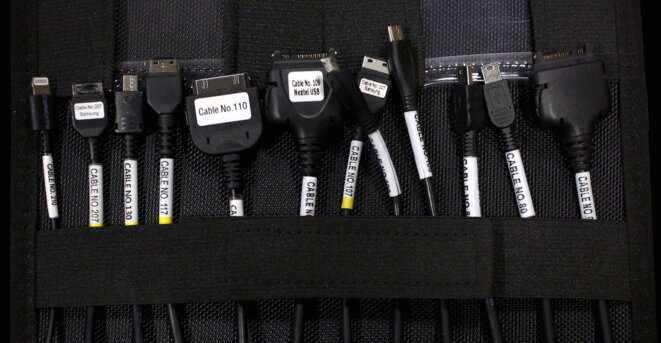 Cables from the Israeli company Cellebrite that will be used to gather data from different telephones. © Reuters.
In recent months politicians and some senior legal figures in France have spoken out against the practice of encryption to protect people's data, emails and mobile phone calls, claiming it hampers investigations into crime and above all terrorism. Mediapart can reveal that a policy to force companies to leave so-called "backdoors" in their software to enable the security forces to bypass encryption was close to being adopted by the French government. But the data privacy watchdog in France warns that such measures would put people's computer security at even greater risk at a time of an increasing number of cyber threats. Jérôme Hourdeaux reports.

Gone: left-wing justice minister Christiane Taubira.
Justice minister Christiane Taubira quit the French government on Wednesday January 27th over her opposition to controversial plans to strip dual nationals of their French citizenship if they are convicted of terrorism. To the last this iconic figure on the left of French politics showed her flamboyance, Tweeting that "sometimes resisting means going" and later declaring: "I leave the government over a major political disagreement." As Mediapart's political correspondent Lénaïg Bredoux reports, her replacement as justice minister by Jean-Jacques Urvoas, a close ally of prime minister Manuel Valls, is the final step by this government towards the liberal and security-based political line that President François Hollande has been seeking.
Last month, just before Mediapart broke the WikiLeaks revelations about US spying on France, a last-minute amendment was discreetly made to the French government's highly-controversial snooping bill shortly before it was due to become law. The change would have given the country's secret services complete freedom to spy on any individual who was not "French or a person habitually residing in the country". A French Parliamentary committee accepted the amendment, though the eventual outcry when details of it later emerged forced the government to remove the measure. However, argues Mediapart's editor-in-chief Edwy Plenel, in an article written before the WikiLeaks spying disclosures, the episode shows just how much the French government kowtows to the anti-democratic tendencies of a whole panoply of non-elected technocrats and officials - France's 'state within a state' or 'deep state'.