Keyword: Jean-Louis Borloo
Related keywords
Report lists 19 programmes to boost presence of state in low-income areas, including a 'leaders' academy' modelled on Paris's elite ENA college.
The managing director of the International Monetary Fund, Christine Lagarde, has appeared before a special court in Paris charged with negligence over her handling of a controversial arbitration process that paid out millions of euros of French taxpayers' money. Addressing a court reserved for government ministers, the former French economy minister denied wrongdoing but suggested she herself may have been "exploited" by others in relation to the 403 million euro award made to French tycoon Bernard Tapie in 2008. Mediapart's legal affairs correspondent Michel Deléan reports.
The ex-minister and founder of the centrist UDI party Jean-Louis Borloo is to give up political life because of ill health.
The pro-EU centre-right alliance, which is to be called the Alternative, hopes to capitalise on frustration with President François Hollande.
Former fierce rivals François Bayrou and Jean-Louis Borloo create 'L'Alternative' movement to fight municipal and European elections next year.
Antoine Frérot, chief executive of Veolia, the world's biggest water utility by sales, faces a boardroom coup orchestrated by EDF boss Henri Proglio.
The newly-formed French government has lost almost all of its centre-right ministers, notably the leaders of the two centrist movements that have, until now, supported President Nicolas Sarkozy through thick and thin. Marine Turchi reports on how the president has turned his back on building a broad ruling majority.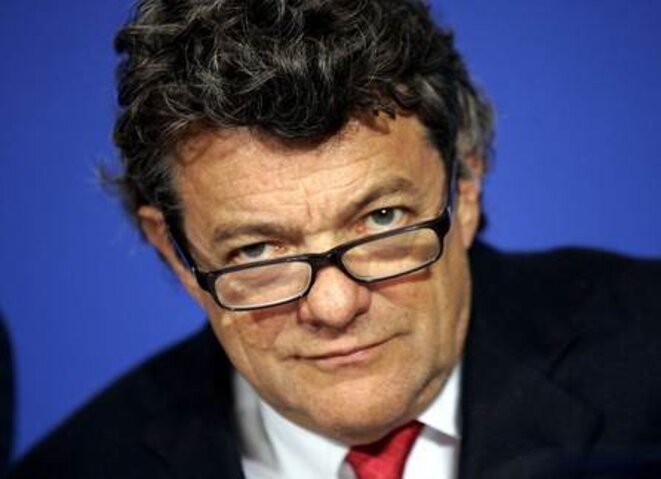 Going up or out? Jean-Louis Borloo. © dr
After months of speculation, French Prime Minister François Fillon has been re-appointed to his post, leaving outgoing environment and energy minister Jean-Louis Borloo, once tipped to replace Fillon, out of the new government and a bitterly disappointed man. Martine Orange investigates the surprising networks and friendships of Borloo, and how he once made a small fortune out of busted businesses.
No control: President Nicolas Sarkozy. © Reuters
French President Nicolas Sarkozy has re-appointed François Fillon as prime minister, and the long-awaited ministerial reshuffle has happened. The president hopes it will turn a political page on a volatile social crisis and the scandals rocking his presidency. But, argues Mediapart's Laurent Mauduit, the stage-managed media rumours surrounding the future government and an abscence of political debate before its composition speak volumes about the president's attachment to democracy as well as the extent of a crisis within his own political camp.