Keyword: Jean-Luc Mélenchon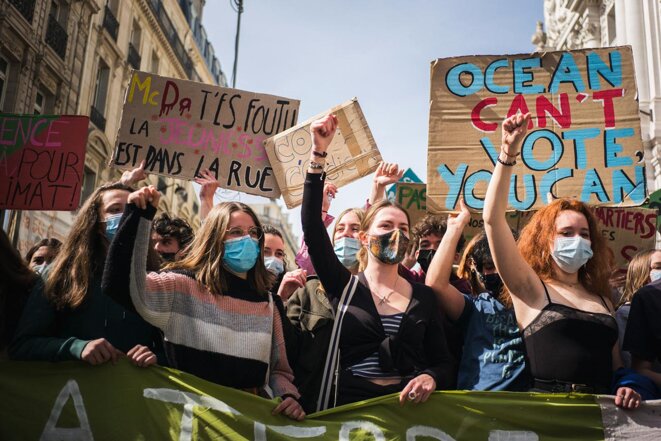 Demonstrators at the March for the Climate in Paris, March 28th 2021. © Photo Thomas Dévényi / Hans Lucas via AFP
As the 2022 presidential election edges closer there are signs that the swathe of young people who have become radicalised over the climate in France since 2018 are now starting to take a closer interest in politics and the need to vote. But as Mathieu Dejean explains in this analysis, the fragmentation on the Left ahead of next April's poll leaves many young 'climate generation' voters distinctly unimpressed.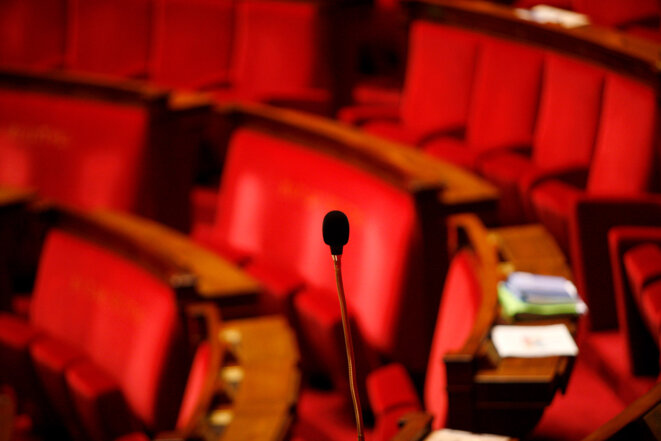 The National Assembly. © Photo Sébastien Calvet / Mediapart
Various factions on the Left are already focussing on the Parliamentary elections in June 2022, in apparent acceptance that they are unlikely to perform well at the presidential election that takes place two months earlier. Opinion polls currently suggest that the battle to be the next French head of state in April 2022 will primarily be between the incumbent president Emmanuel Macron, the far-right and, just possibly, the traditional Right. The subsequent Parliamentary elections, to be held over two rounds on June 12th and June 19th, will meanwhile determine the political influence of the various parties on the Left in the National Assembly. Mathieu Dejean and Pauline Graulle report on the potential horse-trading among the Left ahead of those legislative elections and the impact this may have, too, on the race for the presidency itself.
Speaking in a radio interview, Jean-Luc Mélenchon, leader of the radical-left La France insoumise (France unbowed) party warned that a 'serious incident or a murder' would occur at the height of next year's presidential election campaign, citing tragic events during previous campaigns and seemingly suggesting they are part of a recurrent plot to change the outcome of the vote.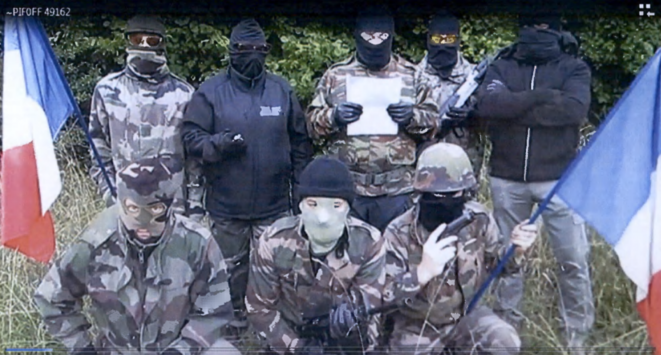 A screengrab showing the ultra-right group Les Barjols. © Document Mediapart
A report by prosecutors in Paris warns about the return of a terrorist threat from the ultra-right, Mediapart can reveal. Based on an analysis of seven separate investigations into allegations of terrorist conspiracies, the report details the groups' professionalism, their ability to arm themselves and the varied profiles of the activists, some of whom are highly-integrated members of society. Matthieu Suc and Marine Turchi report.
Melenchon, of the radical left La France Insoumise party, says he will run for the presidency for the third time he he won enough public support.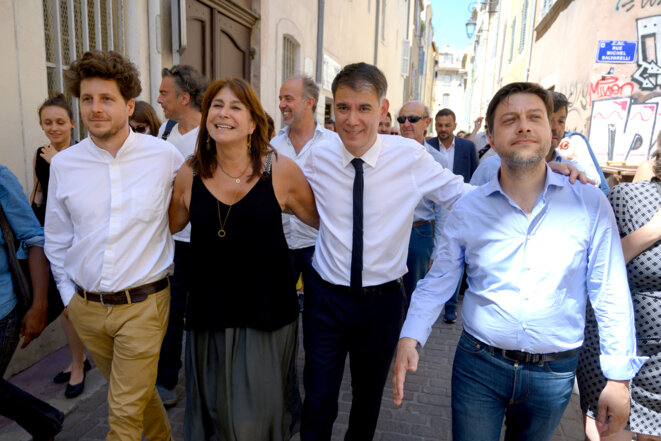 Michèle Rubirola, who was later elected mayor of Marseille, with the Socialist Party's Olivier Faure, centre right, and the green EELV's Julien Bayou, left, in Marseille on June 28th 2020. © Christophe SIMON / AFP
The dust has barely settled from France's delayed municipal elections, held in late June, but already elements of the French Left are on manoeuvre ahead of the presidential election in 2022. At the moment there are two main groups on the Left, the radical left La France Insoumise, led by Jean-Luc Mélenchon, and an alignment based around the Greens, who did well in the local elections, and the once-mighty Socialist Party. But as Pauline Graulle reports, the political landscape is still very fluid.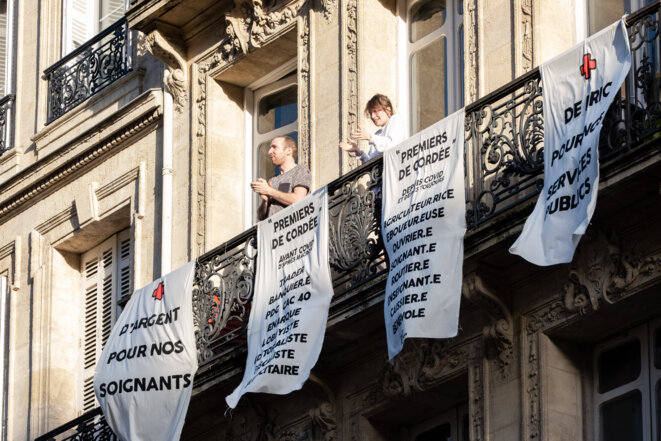 People in Bordeaux, south-west France, applauding health sector workers from their balconies on May 6th 2020. © AFP/Hans Lucas
The ongoing Coronavirus health crisis facing France is leading to unprecedented political change. Large sections of society are on the march: taking charge of their own professions themselves and setting up numerous support structures and initiatives. And as François Bonnet argues in this op-ed article, this sudden land grab of some very political arenas by new groups has left society's traditional  institutions and political forces flat-footed.
Jean-Luc Mélenchon was filmed shouting 'I am the Republic!' at a police officer and shoving him, and with colleagues he then tried to break into the party HQ.
The trial of Jean-Luc Mélenchon, 68, leader of the leftist La France Insoumise (France Unbowed) party, began on Thursday in which he and five other party members are accused of intimidating police and public prosecution officials during a 2018 search of his home and party offices conducted as part of an investrigation into alleged election funding irregularities.
Police last week searched the home of Jean-Luc Mélenchon, leader of Frances radical-left La France Insoumise party, and also the homes of several of his close entourage, as part of an investigation into suspected financial fraud during Mélenchon's 2017 presidential election campaign. Mélenchon's furious reaction to the raids, which included his party's headquarters, have erupted into a public slanging match with the prosecution services and also the media, who he has denounced as serving a political plot against him. Fabrice Arfi, Michel Deléan and Antton Rouget report on the searches last week, when 12,000 euros in cash was discovered at the home of a former close aide of Mélenchon's.
Jean-Luc Mélenchon, leader of the France Insoumise (France Unbowed) party, who has led opposition to President Emmanuel Macron's economic policies, was questioned for several hours at the headquarters of anti-corruption police investigating allegations he used EU funds for European Parliament assistants to pay staff for work carried out in France and irregularities in his 2017 presidential campaign accounts.
French police raided the home and offices of radical-left La France Insoumise (France unbowed) party leader Jean-Luc Mélenchon on Tuesday as part of an investigation into suspected misuse of European Parliament funds and funding irregularities in Mélenchon's 2017 presidential campaign, prompting the 67-year-old to denounce an 'enormous operation by a politicised police force'.
In an interview with The Guardian before travelling to Liverpool to speak at a fringe event at the Labour Party conference, the radical-left France Insoumise party leader Jean-Luc Mélenchon says he wants to invite Jeremy Corbyn to join an international club of like-minded movements amid a new 'era of the people'.
Police out in force in Paris for demonstration over reforms following the recent May Day disturbance.