Keyword: Jean-Luc Mélenchon
The 'far leftist' Jean-Luc Mélenchon who rails against capitalism is now the de facto leader of the opposition, reports The Washington Post.

Facing problems: President Emmanuel Macron.
The first series of the Macron show has come to an end. Now, as the political world returns after the summer break, the show threatens to become more of a (grim) reality TV series. President Macron is confronted by three main issues: his economic policy is right-wing, many of his key measures are unpopular and he lacks heavyweight communicators in his party's ranks. As a result the new head of state seems set to change his communication strategy and get more involved in the fray. Mediapart's editor François Bonnet reports.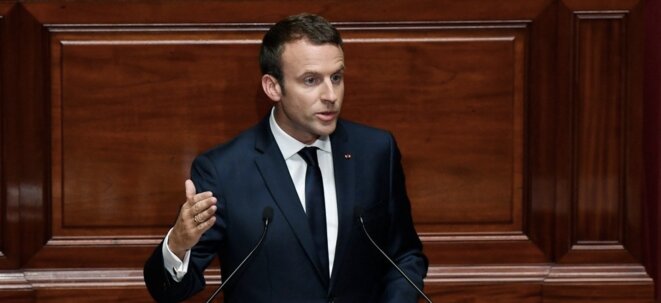 President Emmanuel Macron addressing the special Congress at Versailles, July 3rd, 2017. © Capture d'écran France 2
In a high-profile and highly-unusual speech before both chambers of the French Parliament in the sumptuous surroundings of Versailles on Monday July 3rd, President Emmanuel Macron claimed to be setting the "course" for his presidency. But, says Ellen Salvi, it turned out to be an hour-and-a-half of messages that had already been delivered during his election campaign and he announced little more than a promise of some institutional reforms.
Poll of Mélenchon's 'Unbowed France' movement shows 36.% plan to cast blank ballot, 29.1% will not vote and 34.8% will back Macron.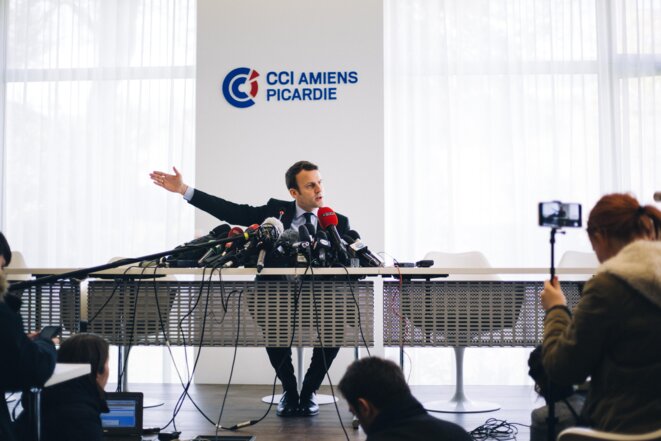 Emmanuel Macron at the Chamber of Commerce in Amiens, April 26th, 2017. © Nicolas Serve / Hans Lucas
Emmanuel Macron's appeals for a unified front against the far right's Marine Le Pen in the run-off for the presidential election have been hit by a major handicap – himself. The former merchant banker and civil servant's CV, image and policies repel many on both the Left and Right. In response he has sought to offer pledges for those who did not vote for him in the first round. But in essence, says Mathieu Magnaudeix, the centrist candidate is holding to his policy line and is aiming for a major and rapid realignment of French politics if he is elected.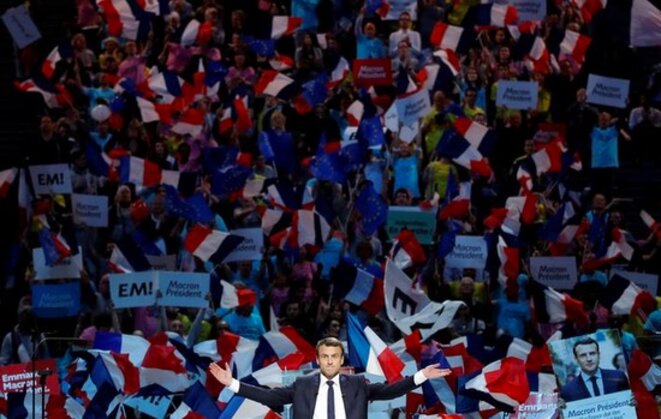 Emmanuel Macron just a few days before the first round of the election. © Reuters
The elimination of the candidates for the two main parties of government, centrist Emmanuel Macron coming top and the spectacular breakthrough by radical left Jean-Luc Mélenchon and his Unbowed France movement constitute a political upheaval without precedent since 1958. After Sunday's first-round French presidential election vote, each political camp is now talking about a complete realignment of the political battlefield, and everything needs to be rebuilt. This is excellent news, argues Mediapart's editor François Bonnet.
With just days to go before the first round of the French presidential elections, radical-left candidate Jean-Luc Mélenchon is mounting a serious challenge to the frontrunners, with opinion polls this week placing him neck-and-neck against conservative candidate François Fillon, and ever closer to the far-right's Marine Le Pen and centrist Emmanuel Macron, the longstanding favourites now losing ground. Christophe Gueugneau followed the firebrand's last major meeting this week, when Mélenchon, who wants to install a Sixth Republic with stronger powers for parliament, a system of regular referenda, and a renegotiation of EU treaties, attempted to reassure voters that he is not the anti-democratic revolutionary his detractors claim him to be.
In the 'banlieues', the urban rings of high-rise, run-down housing estates where about seven percent of the French population lives, many are disillusioned with five years of Socialist Party rule, an electorate which radical-left presidential candidate Jean-Luc Mélenchon, gaining ground in opinion polls just days before the first-round vote, is tapping in to.
Sophia Chikirou, the French presidential election campaign communications director for radical-left candidate Jean-Luc Mélenchon, spent three months last year as a volunteer with the campaign team of Democrat presidential nominee contender Bernie Sanders, when she learnt how to offset a low budget with use of social media, the internet and hi-tech.  
In an interview with a weekly news magazine, socialist French president François Hollande attacked radical-left presidential candidate Jean-Luc Mélenchon, currently on the rise in opinion surveys, for campaigning on 'generalisations and lies', while also lending thinly-veiled support for maverick centrist Emmanuel Macron. 
The decision by United States president Donald Trump to launch air strikes against the regime in Syria in response to the use of chemical weapons has created waves in France's election campaign. Most of the presidential candidates have been critical of the unilateral American action. Two notable exceptions are Socialist Party candidate Benoît Hamon and, to a lesser extent, the independent candidate and favourite Emmanuel Macron. Lénaïg Bredoux reports on how the candidates for the Elysée have reacted to the Syrian crisis.
Poll gives independent candidate 23.5% of the vote, his lowest score in a month, and equal with far-right's Marine Le Pen.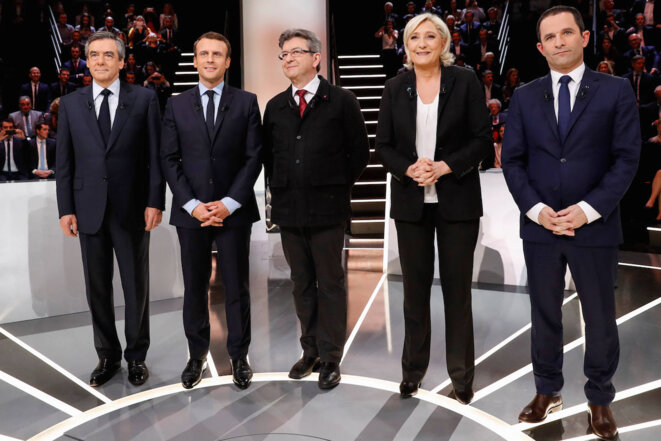 The five main candidates at a televised debate on TF1 on 20th March, 2017. © REUTERS
The chatter about the French presidential election focuses on the likely high abstention rate, the record number of undecided voters, a possible last-minute surge by the Right and whether one can trust the polls. In particular, just under three weeks from the first round of voting, the talk is of how unpredictable and hard to forecast this 2017 election is. But, Hubert Huertas, argues it is no more unpredictable than usual. It is just that when it comes to the mood of voters, the rules have changed.
Presidential candidate without a party overtakes official socialist candidate Benoît Hamon in polls and vows to make second round of election.
The radical left politician said he had gathered the requisite 500 endorsements from Parliamentarians and mayors to stand in contest.