Keyword: Jean-Luc Mélenchon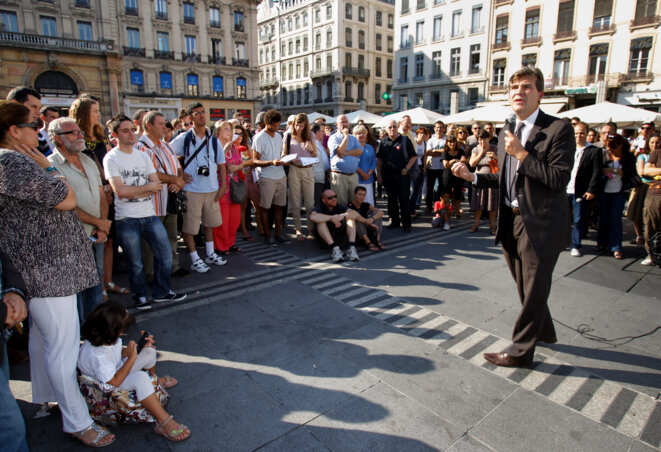 Heading for the Elysée? Arnaud Montebourg on the campaign trail back in 2011. © Reuters
He remains one of the most fascinating and colourful figures in French politics. Arnaud Montebourg was a high-profile figure in the government of President François Hollande, who as economy minister had a very public spat with a US business boss. In August 2014 he quit after disagreeing with the government's policies and went off to work in commerce. In the last 18 months Montebourg has kept a low public profile but has been assiduously meeting key figures and thinkers on the French Left. So is he, as many believe, discreetly preparing a bid for the French presidency in 2017? Lénaïg Bredoux reports.
Sections of the Left in France greeted Syriza's triumph in the Greek elections on Sunday with great enthusiasm, with some hailing it as an "historic moment". But the success of the Greek party, which unites various left-wing groups, has also highlighted the continuing divisions on the Left in France and its own failure to create a lasting electoral coalition. At the same time the challenges facing the new Syriza government, which is seeking to end austerity and renegotiate its debt burden with the EU and international bodies, underline the problems facing any left-wing administration in Europe. A key question is whether France's own socialist president, François Hollande, will now seize the opportunity to change economic direction and push the EU and Germany to back more growth-oriented policies. First, Mediapart's Stéphane Alliès, in Paris, examines how the French Left will react to the Greek results, then Brussels correspondent Ludovic Lamant wonders whether any truly left-wing policies can be carried out by national governments under current eurozone rules.
Jean-Luc Mélenchon Tweets attack after German leader asked France for more budget tightening; German minister strikes softer tone.
Fiery Parti de Gauche co-president Jean-Luc Mélenchon, 63, insists the move is a strategic one and that he will remain in politics.
Demonstrators showed anger over President Holande's 'pro-business' measures with slogans such as 'When you are leftist you support employees'.
Socialist Party boss Harlem Désir mocks radical left politician Jean Luc-Mélenchon, referring to his recent trips to Latin American countries.
Jean-Luc Mélenchon puts his weight, height and shoe size in his declaration of assets after President Hollande's call to clean up French politics.
The BBC reports from Hénin-Beaumont where France's Far Right and Radical Left leaders are locked into winner-takes-all parliamentary election battle.
Mélenchon lays down June election challenge to far-right leader Le Pen for a parliamentary seat in a former mining town near Lille.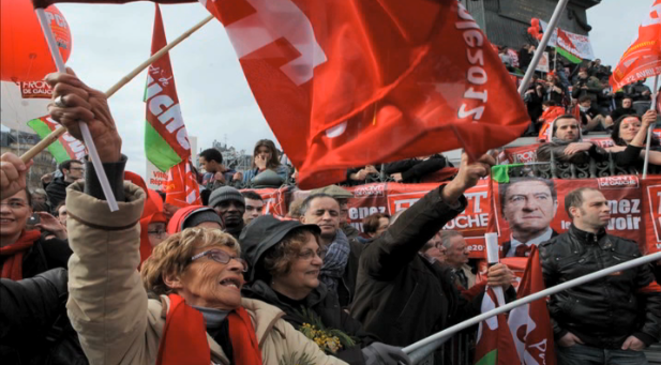 Vidéo accessible dans l'article. © (P.A.)
Photographer Patrick Artinian is following the French presidential election campaign trail for Mediapart, with a series of photo and video reportages with soundtracks of the candidates, their supporters, meetings and milestone events which will continue all the way to the final vote on May 6th. Here he follows a triumphant weekend for radical-left candidate Jean-Luc Mélenchon  the man representing the Front de Gauche (Front of the Left), a coalition of parties sitting on the left of the Socialist Party, and which includes the Communist Party and his own Party of the Left. It ends with a mass rally at the Place de la Bastille in Paris (pictured), where Mélenchon delivered a rousing speech before a crowd in excess of 100,000 people, calling for a 'civic insurrection'.
Tens of thousands march through Paris to the site of the Bastille in support of firebrand leftist presidential candidate Jean-Luc Mélenchon.