Keyword: Jean-Luc Schaffhauser
Related keywords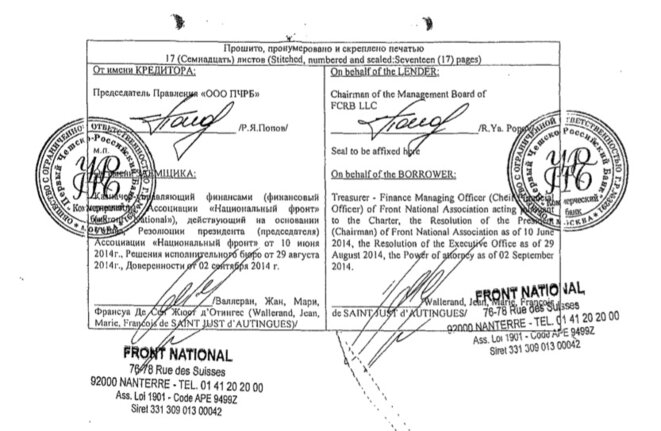 The Russian loan contract signed by the head of the bank Roman Popov and Front National treasurer Wallerand de Saint-Just. © Document Mediapart
Mediapart has obtained a copy of the contract for the 9 million euro loan that a Russian bank gave to France's far-right Front National (FN) in 2014. The document answers some of the questions in this murky affair but many remain. The bank later went bankrupt, its former director is wanted for alleged misappropriation of funds, the FN's loan has been sold on at least twice, and it is still not clear to whom it has to be repaid. Marine Turchi and Agathe Duparc report.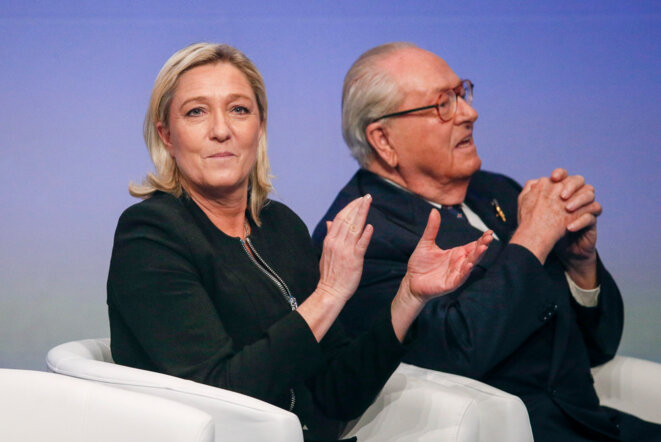 Marine et Jean-Marie Le Pen, au congrès du FN, le 29 novembre 2014. © Reuters
Mediapart has already revealed how France's Front National received a direct loan of 9 million euros from the First Czech Russian Bank, while Jean-Marie Le Pen's election funding association borrowed 2 million euros to Vernonsia Holdings Ltd. Now in an interview with Mediapart the party's founder and honorary life president has confirmed the existence of a third Russian loan to the far-right movement. Le Pen also said that his funding association had borrowed a total of "20 million euros". Karl Laske and Marine Turchi report.
Mediapart recently revealed how earlier this year Marine Le Pen's far-right Front National party obtained a loan of 9 million euros from a Russian bank. The man who helped broker the deal was French far-right MEP Jean-Luc Schaffhauser, who has confirmed that he received 140,000 euros for his consultancy work. Questions have now been raised in the European Parliament about whether Schaffhauser has officially declared either the income or his extra-curricular activities, with the parliament's president Martin Schultz promising to investigate the issue. More broadly, reports Ludovic Lamant, there is growing unease in Brussels and Strasbourg about what are feared to be concerted efforts by Russia to buy influence in a number of European political parties.