Keyword: Jean-Marie Le Pen
Jean-Marie Le Pen, who founded the country's Front National party now renamed and led by his estranged daughter Marine, has been admitted to hospital for reported exhaustion one week before his 90th birthday and just hours before he was due to stand trial accused of inciting homophobia.
Jean-Marie Le Pen seeks to overturn his expulsion from the far-right party he founded, the Front National, which is now led by daughter Marine.
In 'explosive' book, former advisor says ex-president asked him to meet Front National's Jean-Marie Le Pen in name of those 'common values'.
Marine Le Pen's party moves annual gathering from usual spot by a statue of Joan of Arc - where her father Jean-Marie now plans his own rally. 
Jean-Marie Le Pen, 87, was convicted of contesting crimes against humanity with remark that WWII extermination gas chambers were "a detail" of history.
Front National founder threatens creation of rival movement if she refuses to make room for ultra-conservatives within party she now leads.
The far-right FN party founder, 87, is under investigation over revelations, as reported by Mediapart, that he holds a secret foreign bank account.
Founder of far-right Front National, who was kicked out last month after row with daughter Marine, unveils 'Blue-White-Red rally' party.
The decision on Thursday follows months of feuding between the anti-Semitic provocateur and his daughter who replaced him as party leader.
Though the vote has no legal value, it could undermine Le Pen's efforts to cling on as honorary president of far-right party he founded.
Le Pen's attempt to remove her father by postal ballot as honorary president of the Front National party she leads is anulled by a French court.
Judges order the far-right party to 'restore' Le Pen's position as honorary president two months after he was ousted by daughter Marine.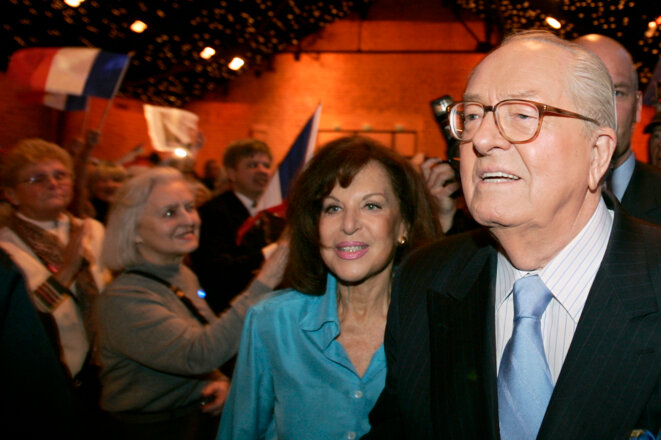 Jean-Marie et Jany Le Pen le 21 janvier 2007. © Reuters
Jany Le Pen, wife of the founder of France's far-right Front National party, Jean-Marie Le Pen, has held a secret bank account in Switzerland, according to information obtained by Mediapart. That brings to three the number of hidden Swiss accounts associated with Jean-Marie Le Pen, and France's special prosecutor for financial fraud is now understood to be investigating the former FN president's financial affairs in Switzerland. The affair also throws the spotlight on socialite Jany Le Pen, Jean-Marie's second wife, to whom he has been married for 24 years. Though she usually steers clear of party political issues, Jany Le Pen has on occasions acted as the FN founder's de facto emissary. Karl Laske and Marine Turchi look at the new allegations and examine the profile of a woman who has shared Jean-Marie Le Pen's life for more than a quarter of a century.
The Front National family feud sees former paratrooper launching a splinter group amid attacks on gay officials surrounding his daughter.