Keyword: jean-Michel Blanquer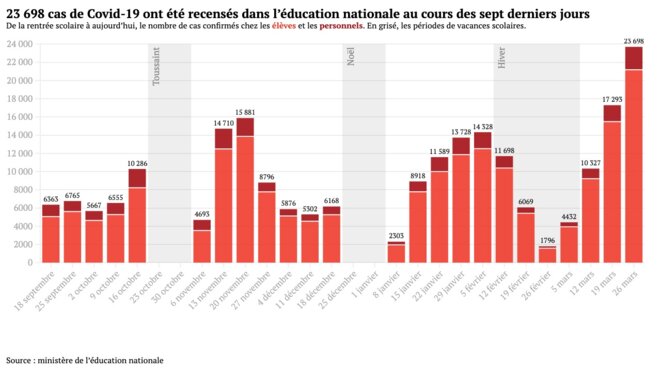 The number of Covid cases found in French schools, week by week.
There has been exponential growth in the number of Covid-19 cases in French schools, both among pupils and staff, and some teaching personnel have become seriously ill as a result. Though the education minister has just announced a further toughening of the health protocols to tackle the virus in schools, some teachers fear the ministry is still "in denial" over the scale of the problem they are facing. One teaching union is now calling on members to take strike action. Ismaël Bine and Caroline Coq-Chodorge report.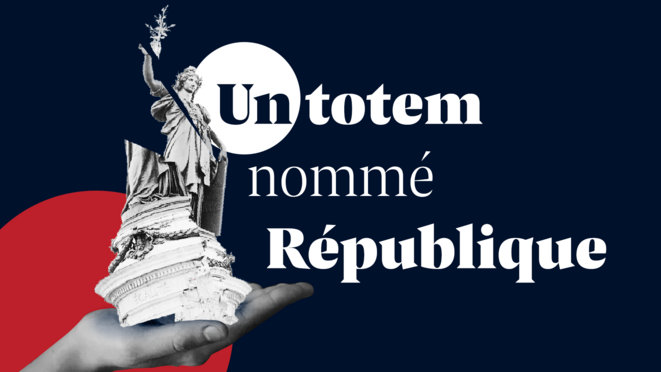 © Mediapart
The word 'Republican' has a hugely positive place in the French collective memory. But recently the concept has come to be used – and abused - as a form of political shorthand to tell people to obey the rules. Mediapart's Fabien Escalona talks to French academics about the shifting meaning of the concept and how it is now cited more to protect existing privileges rather than to extend safeguards and rights to new groups.
 Jean-Michel Blanquer says he wants to avoid having mothers in hijab as volunteers on school trips.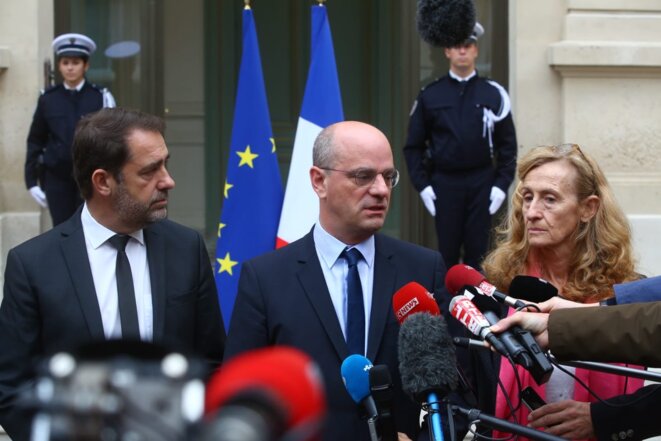 Interior minister Christophe Castaner, left, education minister Jean-Michel Blanquer and justice minister Nicole Belloubet. © @Twitter @jmblanquer
A recent video showing a pupil pointing a pistol – later discovered to be fake - at his teacher in a school in France went viral. The government called an urgent meeting of senior ministers to work out a plan of action to tackle violence in France's schools, amid talk that the police might be asked to patrol in some establishments. Detailed policies are expected to be announced soon. But as Manuel Jardinaud and Faïza Zerouala report, this tough rhetoric, which recalls the days of Nicolas Sarkozy's presidency, has not gone down well with many teachers.
The incident, filmed and put on social media by one of the 15-year-old's classmates, has sparked a top-level meeting to discuss school violence.
Primary school pupils will need to recite the 'meaning of the construction of Europe' to boost patriotism and ward off Euroscepticism.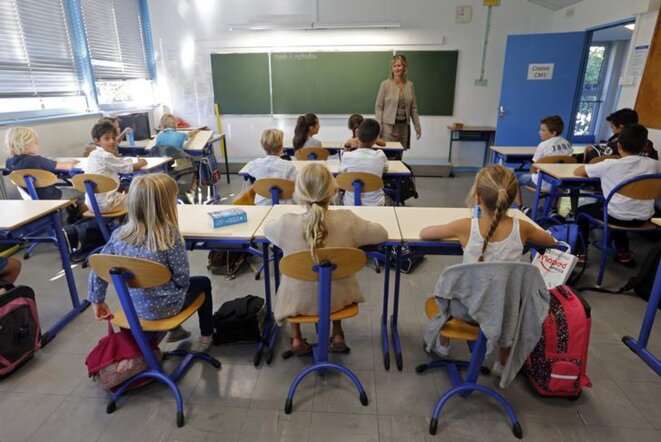 A classroom in a primary school in Marseille. © Reuters
The education authorities have just made their annual announcement about which primary school classes are being closed and which are being opened in the next academic year. Teaching unions and elected representatives in rural areas fear village schools are getting fewer teaching posts so that the government can implement its flagship policy of halving class sizes in education priority zones - which are overwhelmingly in deprived urban areas. Education minister Jean-Michel Blanquer rejects the claims. Mediapart's education correspondent Faïza Zerouala reports.
French education minister Jean-Michel Blanquer has announced that school pupils aged between 6- and 15-years-old will be banned from using their mobile phones at school from the start of the next education year, beginning in September 2018.