Keyword: Jean-Michel Prêtre
Related keywords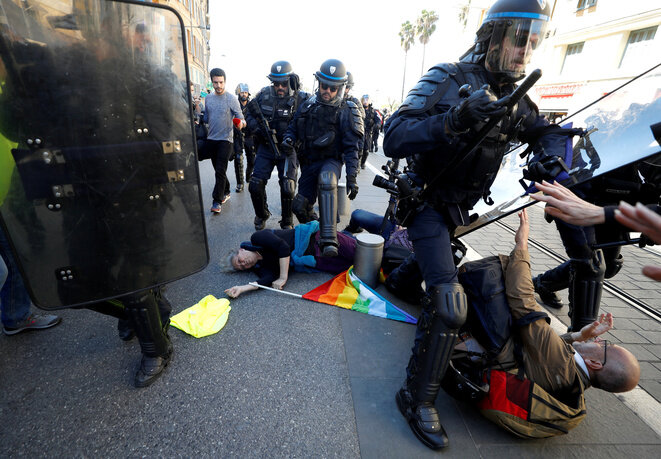 Scenes from immedately after Geneviève Legay fell to the ground after the police charge at the demonstration in Nice.
When 73-year-old activist Geneviève Legay was seriously injured during a 'yellow vest' protest in Nice in the south of France on Saturday March 23rd the incident  quickly dominated the headlines. The French president Emmanuel Macron became involved, insisting that the police officers present at the demonstration had not touched her, a claim initially backed by the local state prosecutor. Yet on the very day of that demonstration a police report, a copy of which has been seen by Mediapart, stated the opposite. Mediapart has also gathered other testimonies which bolster the idea that there has been an attempt to orchestrate a lie over the incident. The state prosecutor has conceded that a police officer did make contact with the protestor, causing her to fall. Pascale Pascariello reports.
A pregnant young Roma mother has been jailed for a year in Nice after being convicted of mistreating her children on the Mediterranean city's streets. Human rights and Roma groups see a worrying link between the woman's arrest and conviction and a campaign by the right-wing mayor Christian Estrosi to clean up the city's streets for the tourist season, and claim the authorities have sought to make an example of her. Louise Fessard reports.