Keyword: Jean-Pierre Jouyet
Related keywords
Jean-Pierre Jouyet is fighting demands for his resignation over his inconsistent comments regarding an alleged plot to scupper Nicolas Sarkozy.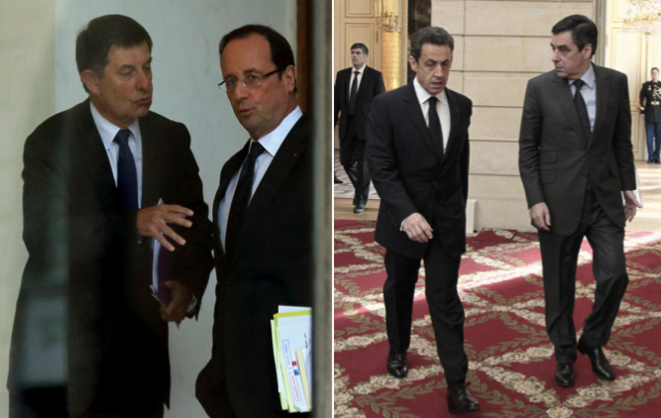 Jean-Pierre Jouyet et François Hollande, Nicolas Sarkozy et François Fillon © Reuters
The fallout from a private lunch between President François Hollande's chief of staff Jean-Pierre Jouyet and former President Nicolas Sarkozy's prime minister François Fillon last summer is threatening to develop into a full-blown scandal. At the meeting on June 24th Fillon is said to have asked the socialist administration to speed up legal investigations into his former boss and now political rival Sarkozy. Jouyet, who served in Fillon's right-wing government but who is a close personal friend of Hollande, later told two journalists of the conversation. When the reporters published the story in a book last week Jouyet at first denied the claim then backtracked and insisted that Fillon had indeed asked him to intervene in the affair. Fillon, however, who like Sarkozy wants to be the Right's 2017 presidential candidate, has angrily accused Jouyet of "lies" and says he is suing for defamation. Once more, say Stéphane Alliès, Ellen Salvi and Mathieu Magnaudeix, the Elysée finds itself at the centre of an embarrassing affair, this time with the president's right-hand man in the firing line.
François Fillon denies renewed claims he tried to get Hollande's chief of staff to speed up a legal case against his rival Nicolas Sarkozy.
François Fillon says he is victim of 'plot' and will sue over claims he urged Hollande's office to speed up legal probe into his former boss.
Jean-Pierre Jouyet, boss of state-owned bank Caisse des Depots, is a well-connected political operator and close friend of the French president.