Keyword: Jean-Yves Le Drian
Related keywords
Seven people are on trial in Paris for their aleged involvement in a multi-million fraud scandal that targeted more than 150 prominent figures and organisations and which included an impersonation by phone and Skype of then defence minister Jean-Yves Le Drian, now foreign minister, requesting funds for a supposed secret mission.
Foreign affairs minister Jean-Yves Le Drian said it was 'essential' that Iran renounced any reprisals or retaliation, adding that no one wanted war.
Mathilde Panot, a senior Member of Parliament for France's radical left opposition party La France Insoumise (LFI) ('France Unbowed'), travelled to Algeria to show her solidarity for the people taking part in the 'Hirak' or popular movement against the regime there. But after two days she and her delegation were arrested and taken to the capital Algiers where she was effectively placed under house arrest in an hotel. After an intervention by France's Ministry of Foreign Affairs Mathilde Panot was eventually put on a plane back to France. Mediapart's Rachida El Azzouzi, Pauline Graulle and Khedidja Zerouali report on events which highlight the continuing repression of opposition voices in Algeria.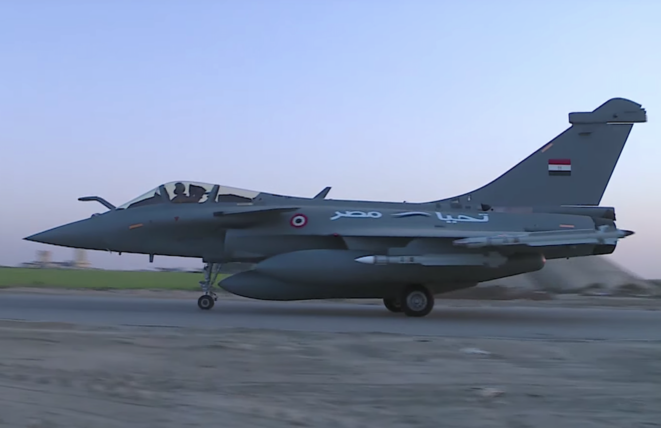 A French-made Egyptian air force Rafale fighter plane taking off as part of an air raid in Libya in 2017.
In April 2019 the self-styled 'Field Marshal' Khalifa Haftar launched an offensive against the regime in Tripoli which is acknowledged by the international community as Libya's legitimate government. Yet during his recent military campaign to control the east of the country, the warlord has had the discreet help of several important allies, including France. And as Yann Philippin, René Backmann and Antton Rouget report, Haftar also received air support from French-made Rafale jets which had been sold to Egypt.
French foreign minister Jean-Yves Le Drian has said there is not 'any reason' for France to reconsider its decision in 2013 to deny asylum to former US intelligence agency whistleblower Edward Snowden, in contrast to his justice minister colleague who said she was favourable towards Snowden's comments in an interview from Moscow, where he lives with his wife in exile, that 'we would love' to be given an offer of asylum by President Emmanuel Macron.
Comment from French foreign minister came after President Trump accused President Macron of sending 'mixed signals' to Tehran.
Three Franco-Israelis allegedly built replica of Jean-Yves Le Drian's Paris office to aid scam say Israeli police.
Reacting to a message posted on Twitter by US President Donald Trump, in which he goaded his French counterpart over current social unrest in France, foreign minister Jean-Yves Le Drian said 'I say this to Donald Trump and the French president says it too: leave our nation be'.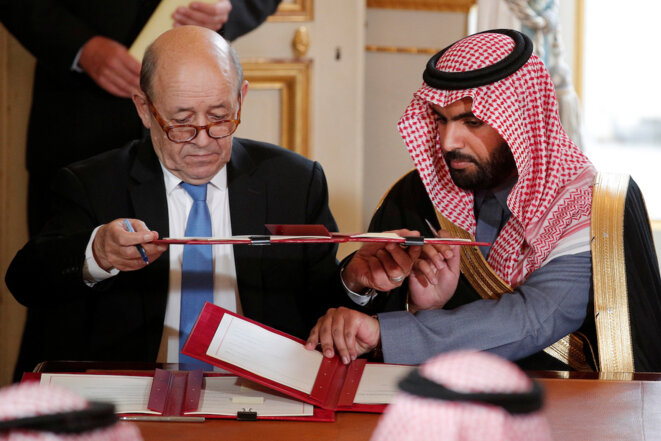 Yves Le Drian and Crown Prince Mohammed bin Salman in April 2018. © Reuters
On November 12th, 2018, Jean-Yves Le Drian insisted on French television that he was not aware of evidence supplied by Turkey regarding the murder of journalist Jamal Khashoggi by Saudi killers. Yet no fewer than seven French diplomats and intelligence agents have contradicted this claim by France's foreign minister. Thomas Cantaloube, Lucie Delaporte, René Backmann, Nicolas Cheviron, Matthieu Suc and Rachida El Azzouzi investigate.
Foreign minister suggests Europe should align itself with countries such as India, Australia, Mexico and other 'powerful democracies'.
Speaking in parliament, French foreign minister Jean-Yves Le Drian said the Damascus regime of Bashar al-Assa and its ally Russia might be held to account for war crimes over indiscriminate aerial bombing of 'civilian populations and hospitals' in Idlib, the beseiged last major stronghold of active opposition to the regime.
French foreign minister Jean-Yves Le Drian said that despite US President Donald Trump's decision to withdraw from the 2015 agreement with Iran limiting its nuclear development programme in exchange for a lifting of economic sanctions France would stick to the deal, while economy minister Bruno Le Maire said the US must not consider itself as the world's 'economic policeman'.
French foreign minister Jean-Yves Le Drian said on Saturday that the air strikes by the US, France and Britain on Syrian targets overnight were 'proportionate and targeted' and warned that they would be repeated if the Damascus regime used chemical weapons in the future, but also insisted that France will pursue diplomatic channels to help reach an end to the Syrian civil war.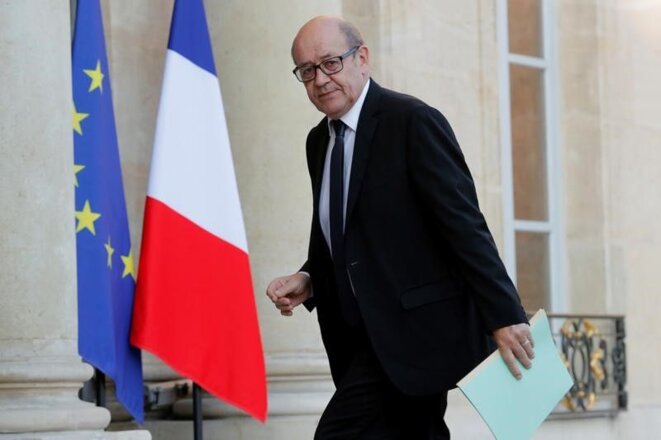 Foreign minister Jean-Yves Le Drian is one of the key figures in President Emmanuel Macron's government. © Reuters
At the start of the new school year in 2017 two teenage boys were able to take up places in the prestigious French lycée in Barcelona, even though their applications had missed the deadline. Meanwhile the school had to turn down applications from hundreds of other pupils that year. But these two particular teenagers were fortunate enough to have had the support of their grandfather Jean-Yves Le Drian, France's foreign minister. His private office intervened directly and a visit to the school by the minister was offered as a potential incentive for allowing the children to get in. Antton Rouget reports.