Keyword: Jean-Yves Le Drian
'They announced they would respect the rights gained in Afghanistan over the past 20 years. [Now] they need to demonstrate it,' Jean-Yves Le Drian said.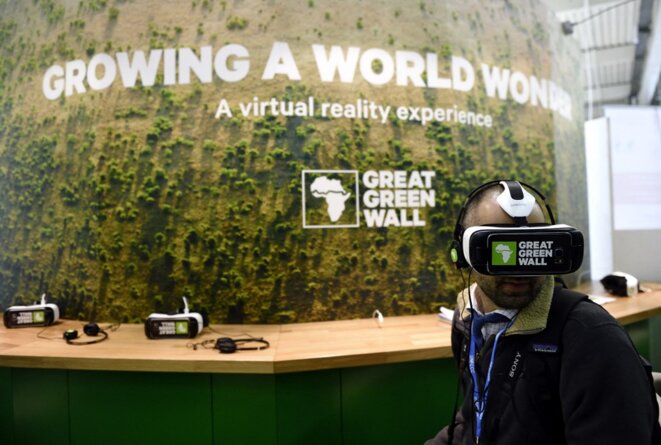 Chad's stand at the COP21 climate summit at Le Bourget, near Paris, December 2nd 2015. © Eric Feferberg/AFP
The Élysée portrays the plan to create a huge swathe of greenery across the Sahara and Sahel as the ultimate solution to the problems of unemployment, lawlessness and desertification in that part of the African continent. However, the French presidency's sudden interest in the Great Green Wall project – which was officially endorsed by the African Union back in 2007 - also has ulterior motives. And as Fanny Pigeaud reports, some experts are sceptical about its benefits.
Olivier Dubois this month appeared in a video appealing to authorities to do everything they can to free him from the group holding him.
Beginning on April 4th, Mediapart has published a series of investigations into the circumstances of the 7.8-billion-euro sale by France to India of 36 Rafale fighter jets, which is clouded by suspicions of corruption on a large scale. In this short video with English subtitles, Yann Philippin explains the key results of Mediapart's investigations into this most complex story.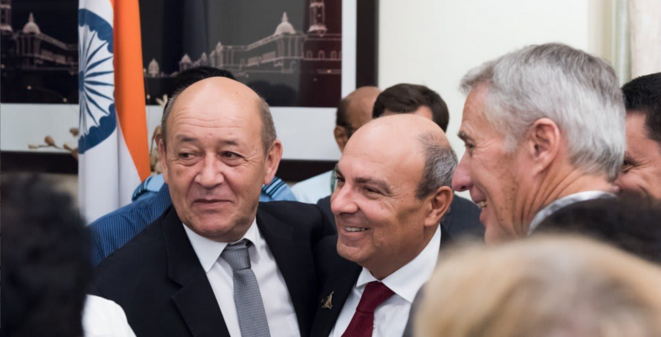 Then French defence minister Jean-Yves Le Drian (l) celebrates with Dassault CEO Dassault Aviation CEO Éric Trappier (c) the signing of the Rafale deal in September 2016. © Dassault Aviation
In this final report in a three-part investigation into the controversial sale by France to India of 36 Rafale fighter aircraft, Mediapart reveals, with hitherto unpublished documents, how an influential Indian business intermediary was secretly paid millions of euros by Rafale manufacturer Dassault Aviation and French defence electronics firm Thales. They succeeded in removing anti-corruption clauses from the fighter contract which was subsequently signed by then French defence minister, now foreign minister, Jean-Yves Le Drian. Yann Philippin reports.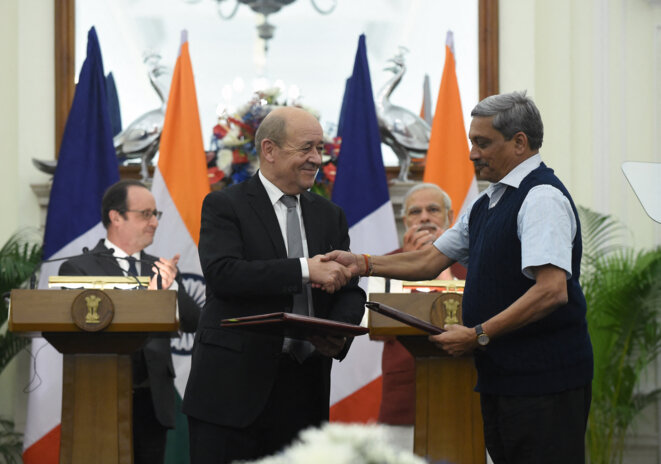 French defence minister Jean-Yves Le Drian shakes hands with his Indian counterpart Manohar Parrikar in New Delhi on January 25th 2016 during a joint press conference with Indian prime minister Narendra Modi and French president François Hollande. © Prakash Singh / AFP
In 2016 France and India signed a 7.8-billion-euro deal for the purchase of 36 Rafale jet fighters made by French defence group Dassault. Mediapart can reveal that, alongside this controversial deal, Dassault also agreed to pay one million euros to a middleman who is now under investigation in India in connection with another defence deal. The French anti-corruption agency Agence Française Anticorruption (AFA) discovered this separate arrangement during a routine audit of Dassault. The AFA nonetheless decided not to alert the prosecution authorities over the payment. This is the first part of Mediapart's investigation into a state scandal which also raises questions over the both the justice system and the political authorities. Yann Philippin reports.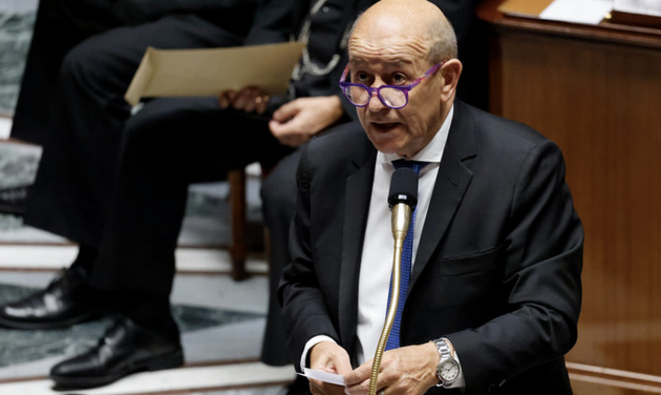 French foreign minister Jean-Yves Le Drian speaking in parliament, September 22nd. © THOMAS COEX / AFP
An opportune letter sent by French foreign affairs minister Jean-Yves Le Drian to LVMH luxury goods group boss Bernard Arnault gave the latter a justification for pulling out of a costly acquisition of US jewellers Tiffany that was agreed before the economic meltdown from the Covid-19 pandemic. According to LVMH, Le Drian, citing a looming tariffs dispute with the US, asked for the 16.6 billion-dollar deal to be halted. Curiously, the letter has never been made public. As Martine Orange reports, it is now at the heart of a legal battle between Tiffany and LVMH to be played out at a trial in the US in January, and threatens to become a major embarrassment for the French government.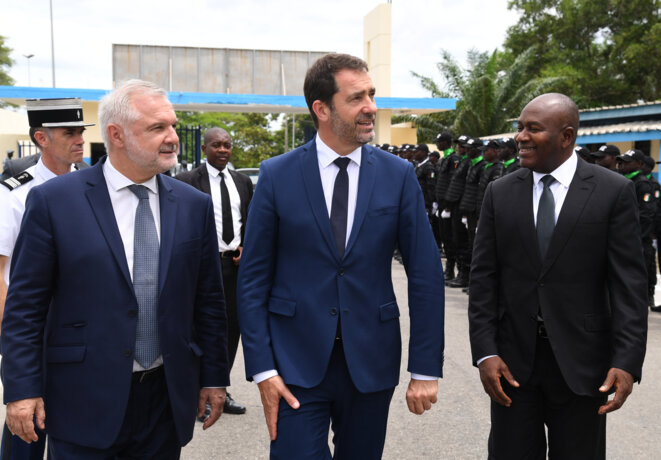 Ambassador Gilles Huberson, left, with the French and Ivory Coast ministers of the interior at Abidjan in May 2019. © ISSOUF SANOGO / AFP
France's Ministry of Foreign Affairs has launched an internal inquiry into Gilles Huberson, ambassador to Ivory Coast, after several women accused him of sexist and sexual violence, Mediapart has learnt. Huberson, who occupies one of France's most prestigious diplomatic postings in Africa, is reported to have returned to Paris, even though Ivory Coast faces an important and potentially tense election in less than two months. Michel Pauron reports.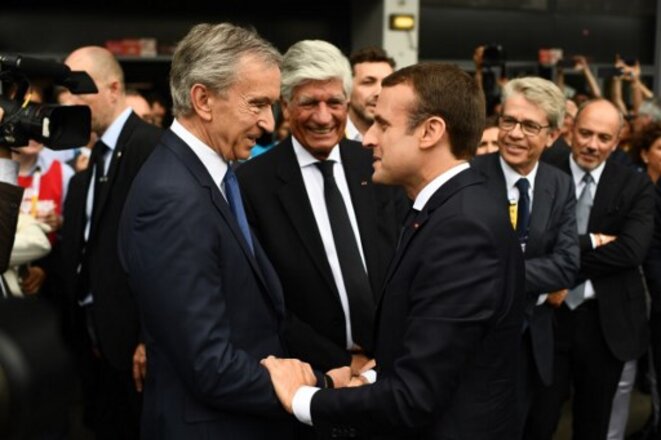 LVMH boss Bernard Arnault and Emmanuel Macron in June 2017. © Martin BUREAU / AFP
France's foreign minister has written an extraordinary letter that provides 'cover' for the French luxury goods group LVMH to pull out of an expensive deal to buy famous American jewellery firm Tiffany it no longer wanted to complete. That letter came after LVMH chief executive Bernard Arnault reportedly asked foreign minister Jean-Yves Le Drian for help. The affair is now likely to lead to a long and bitter legal battle, one that could even end up with the French state facing claims for compensation from disgruntled shareholders. Mediapart's Martine Orange argues in this op-ed article that no French government has ever gone out on such a limb to support a private company.
Two Franco-Israeli men were given jail sentences and heavy fines by a Paris court for masterminding a multi-million-euro fraud using the identity of Jean-Yves Le Drian, who at the time was France's defence minister and is now the foreign minister, to raise money from wealthy political, business and religious figures.
Seven people are on trial in Paris for their aleged involvement in a multi-million fraud scandal that targeted more than 150 prominent figures and organisations and which included an impersonation by phone and Skype of then defence minister Jean-Yves Le Drian, now foreign minister, requesting funds for a supposed secret mission.
Foreign affairs minister Jean-Yves Le Drian said it was 'essential' that Iran renounced any reprisals or retaliation, adding that no one wanted war.
Mathilde Panot, a senior Member of Parliament for France's radical left opposition party La France Insoumise (LFI) ('France Unbowed'), travelled to Algeria to show her solidarity for the people taking part in the 'Hirak' or popular movement against the regime there. But after two days she and her delegation were arrested and taken to the capital Algiers where she was effectively placed under house arrest in an hotel. After an intervention by France's Ministry of Foreign Affairs Mathilde Panot was eventually put on a plane back to France. Mediapart's Rachida El Azzouzi, Pauline Graulle and Khedidja Zerouali report on events which highlight the continuing repression of opposition voices in Algeria.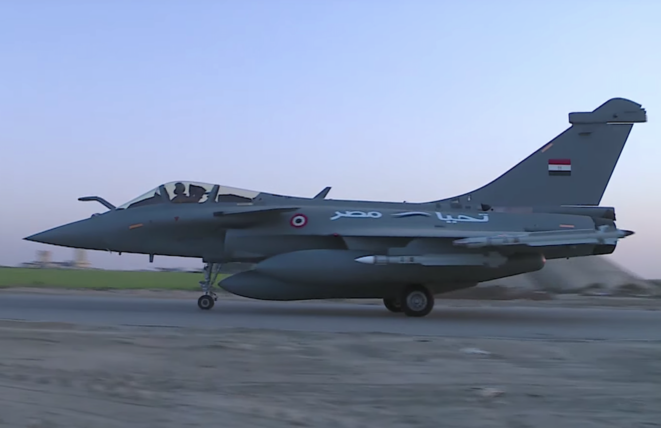 A French-made Egyptian air force Rafale fighter plane taking off as part of an air raid in Libya in 2017.
In April 2019 the self-styled 'Field Marshal' Khalifa Haftar launched an offensive against the regime in Tripoli which is acknowledged by the international community as Libya's legitimate government. Yet during his recent military campaign to control the east of the country, the warlord has had the discreet help of several important allies, including France. And as Yann Philippin, René Backmann and Antton Rouget report, Haftar also received air support from French-made Rafale jets which had been sold to Egypt.