Keyword: Jean-Yves Le Drian
French foreign minister warns US that abandoning nuclear agreement with Iran would trigger a 'spiral of proliferation' in the Middle East.
On visit to Baghdad foreign minister Jean-Yves Le Drian said France would help reconstruction and reconciliation efforts in Iraq.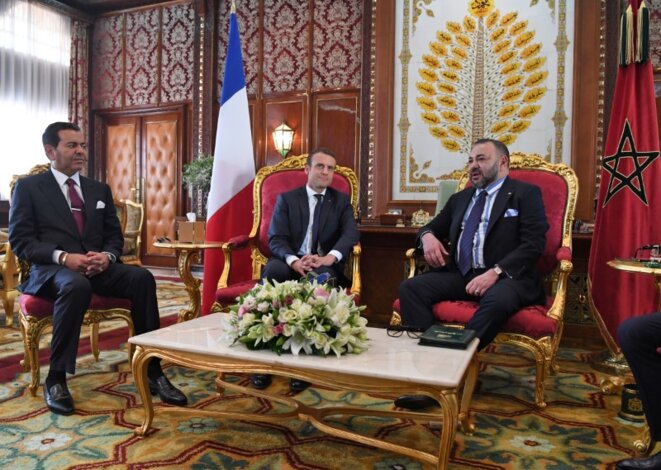 Emmanuel Macron with the King of Morocco Mohammed VI, right, during the French presdent's visit to Rabat on June 14th, 2017. © Reuters
Emmanuel Macron's first visit beyond Europe as French head of state was to Morocco, where anti-corruption protests have caused unprecedented unrest over the past seven months. The visit brought succour to the embattled kingdom but was also a little unsettling for Rabat, which has yet to fully understand the new Macron administration. But it was essentially a trip to signal continuity in Franco-Moroccan relations. Lénaïg Bredoux reports.
On visit to London foreign minister Jean-Yves Le Drian also confirmed one French citizen died in the attack and eight had been injured.
Maverick centrist Emmanuel Macron received a significant boost to his presidential election campaign when defence minister Jean-Yves Le Drian, a veteran Socialist Party figure, announced his support for Macron's candidature in an interview published Friday. 
Benoît Hamon on the evening he won the socialist primary election in January 2017. © Reuters
The official Socialist Party candidate in the French presidential election, Benoît Hamon, has been deserted by a section of the right wing of his own party who are opting to support the independent centrist Emmanuel Macron. The latest high-profile figures to support Macron are former Paris mayor Bertrand Delanoë and defence minister Jean-Yves Le Drian, a close ally of President François Hollande. Some in Hamon's team say the defections make it easier for their candidate to make his pitch on the left. But as Stéphane Alliès and Lénaïg Bredoux report, his campaign is so far pretty much inaudible.

Image from a video in which AQMI claimed responsibility for taking the hostages in Niger.
In November 2013 two journalists from French public broadcaster RFI, Ghislaine Dupont and Claude Verlon, were kidnapped and killed while on assignment in the north of Mali. The exact reasons why the pair were killed have never been clear. Now an investigation suggests the murders may have been a revenge attack after the jihadist kidnappers of four other French hostages had not received all the ransom reportedly paid to secure their release. Yann Philippin reports.
Defence minister Jean-Yves Le Drian says such attacks are doubling every year and says 2017 presidential elections could be targeted.
Three French defence ministry officials and two pilots, also French, were killed in crash as plane heading for Libya took off from Malta airport.
Agreement to buy the Airbus Caracal helicopters is part of a 2.5 billion euro package of deals that the two countries agreed in October 2015.
Move comes at time of growing regional terror threats and after Islamist attack on Grand Bassam beach resort in March that left 19 people dead.
Defence minister Jean-Yves Le Drian says France, which has 900 soldiers in strife-torn nation, aims to reduce troops levels to pre-crisis level.
French defence minister said the jihadist group, which controls a stretch of the Libyan coast, were 'starting to penetrate' inland for oil wells and reserves.
French jets attacked an oil depot near Deir Ezzor, close to the Syrian border with Iraq, in third wave of air strikes ordered by Paris over Syria.
Defence minister announces use of soldiers on home soil with 4,700 personnel deployed at France's 717 Jewish schools.