Keyword: Jean-Yves Le Drian
Move comes at time of growing regional terror threats and after Islamist attack on Grand Bassam beach resort in March that left 19 people dead.
Defence minister Jean-Yves Le Drian says France, which has 900 soldiers in strife-torn nation, aims to reduce troops levels to pre-crisis level.
French defence minister said the jihadist group, which controls a stretch of the Libyan coast, were 'starting to penetrate' inland for oil wells and reserves.
French jets attacked an oil depot near Deir Ezzor, close to the Syrian border with Iraq, in third wave of air strikes ordered by Paris over Syria.
Defence minister announces use of soldiers on home soil with 4,700 personnel deployed at France's 717 Jewish schools.
French defence minister Jean-Yves Le Drian says some important leaders are among those killed or captured, mostly in Mali and Niger.
Jean-Yves Le Drian's comments came days after President Hollande said France would postpone handover of first ship because of Ukraine crisis.
More than 50 years after granting its colonial empire independence, it seems Paris cannot keep its nose out of Africa, argues Newsweek's Brian Eads.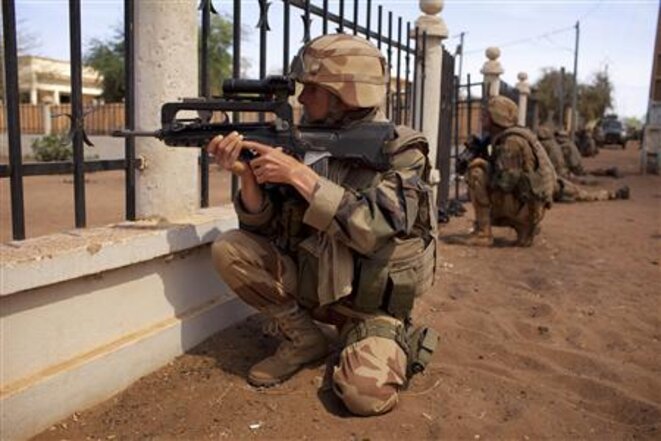 © Reuters
The French government last week announced major cuts in defence spending which include the axing next year of 7,500 jobs in its armed forces, the subsequent closure of several military bases, the scrapping of an artillery regiment and the decommissioning of several warships. "The sovereignty of our country depends as much on tackling our public accounts as on our defence," said defence minister Jean-Yves Le Drian as he detailed the cull on October 15th. But the minister is also under intense pressure over the massive, budget-busting spending of ongoing French military operations abroad, principally in West and Central Africa, and now also against Islamic State militants in Iraq. Lénaïg Bredoux reports on the opaque funding of the campaigns, including the indirect contribution of the French education ministry, and Le Drian's controversial and urgent plans to set up public-private partnerships to finance French defence procurement through leasing deals.
Defense secretary Chuck Hagel confirmed talks over potential French involvement in the US-led campaign against IS in Syria.
Defence minister Jean-Yves Le Drian says that the gathering chaos in the North African country means it is becoming a 'terrorist hub'.
The new operation, codenamed Barkhan, will start soon in the largely lawless Sahel in partnership with five countries from the African region.
Defence minister says the mission of the soldiers will be to fight Islamist militias and other armed groups in north Mali, northern Niger and Chad.
The death brings total number of French soldiers killed in Mali to eight since France launched military operations in the country in January 2013.
Defence minister Jean-Yves Le Drian presents 36-page report and says there will be 'zero tolerance' for assaults and harassment of women recruits.