Related keywords
Judges cut Jérôme Cahuzac's sentence from three years to two, and such jail time is usually reduced in France to community service.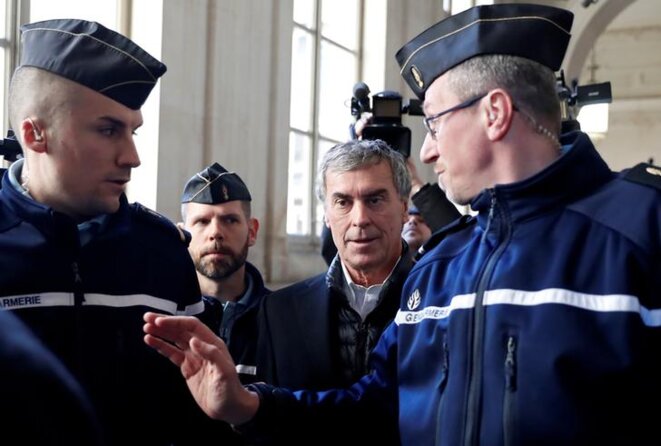 Jérôme Cahuzac (centre) arriving in court on February 12th. © Reuters
At the end of two weeks of hearings, a Paris court on Thursday deferred until May its verdict on the appeal by disgraced former French budget minister Jérôme Cahuzac against a three-year prison sentence handed to him in 2016 for tax fraud and money laundering. Cahuzac, 65, who Mediapart revealed in 2012 held a secret tax-haven bank account while leading a crackdown on tax fraud, did not contest his conviction, but sought a reduced sentence which would allow him to escape prison. While his lawyers argued that Cahuzac was a "broken" and "finished" man who risked taking his own life if sent behind bars, the prosecution has reiterated its demand for a three-year sentence. Mediapart legal affairs correspondent Michel Deléan was in court to follow the proceedings.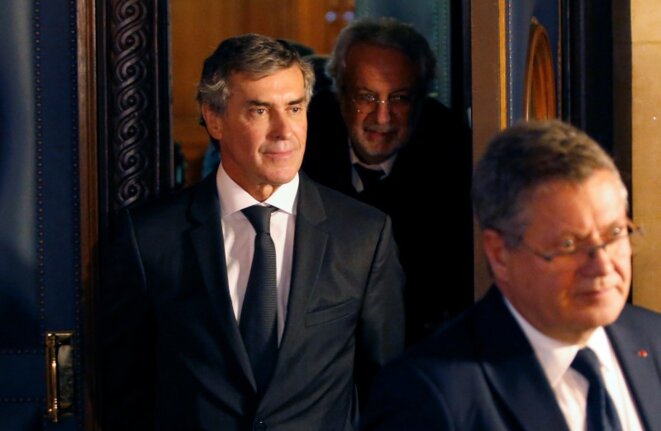 Jérôme Cahuzac (centre) at his trial in September. © Reuters
Former French budget minister Jérôme Cahuzac and his ex-wife Patricia were on Thursday found guilty by a Paris court of tax fraud and moneylaundering the proceeds of the tax fraud. The socialist politician was sentenced to three years in prison and banned from holding electoral office for five years, against which he immediately appealed. Patricia Cahuzac was handed a two-year prison sentence. The verdict was announced almost four years to the day since Mediapart published the first revelations about the secret foreign bank account belonging to Cahuzac, who was then in charge of a crackdown on tax evasion. Michel Deléan reports.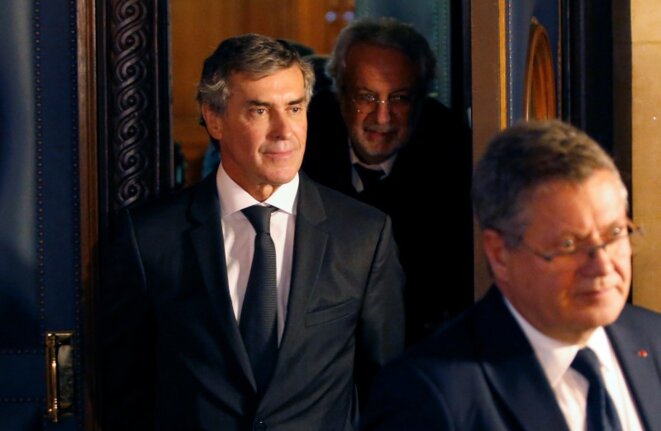 Jérôme Cahuzac arriving for the trial. © Reuters
At the end of a two-week trial for tax fraud and money laundering, Paris prosecutors this week demanded a sentence of three years in jail for former socialist French budget minister Jérôme Cahuzac, and two years in prison for his former wife Patricia. The court will announce its verdict and sentencing in December. The trial was prompted by Mediapart's exclusive revelations in 2012 of how Cahuzac, in charge of a crackdown on tax fraud in France, had held a secret bank account abroad for two decades. Michel Deléan and Fabrice Arfi report on the hearings.
Close to the end of a two-week trial, the prosecutor demanded that Jérôme Cahuzac, who was exposed by Mediapart for holding a tax-evading bank account abroad, be also barred from elected office for five years and that his wife be sentenced to two years in jail.  
The trial of the former budget minister Jérôme Cahuzac for tax fraud and money laundering opened in Paris on Monday, the same day that it was revealed that French prosecutors want former president Nicolas Sarkozy to stand trial for "illegal financing" of his 2012 election campaign. Mediapart investigative reporter Fabrice Arfi says that such high-profile cases give us an insight into the ethics of public life in France. He argues that rather than simply looking the other way, the country needs to own up to the shameful nature of the situation.
Jérôme Cahuzac claimed in court he opened his first secret Swiss bank account in 1992 to fund political activities of the late Michel Rocard.
Serge Dassault, the head of the aviation and defence group that bears his name, a right-wing senator and France's sixth richest person, is accused of laundering the proceeds of tax fraud and of hiding part of his wealth from Parliamentary authorities. The trial, which started on Monday July 4th, focuses on cash hidden in offshore accounts which was allegedly later used to buy votes in the town near Paris where Dassault was mayor. As Yann Philippin reports, the origins of some of these accounts goes back to the days of Serge Dassault's father Marcel, who founded the aviation group.

The Panama Papers revelations have rocked the world with disclosures of how Panamanian law firm Mossack Fonseca mounted offshore financial structures for the rich and powerful that enable tax evasion and money laundering on a staggering scale. Beyond the sensational cases emerging in the leaked documents, Mossack Fonseca is also cited in several judicial investigations into some of the most important corruption scandals in France over recent years. Fabrice Arfi, Karl Laske, Mathilde Mathieu, Yann Philippin and Ellen Salvi report.
The trial of Jérôme Cahuzac, who Mediapart exposed for tax evasion and money laundering, is adjourned until September on a legal technicality.
The trial of the 63-year-old, who Mediapart revealed held a secret tax-dodging account in Switzerland for more than 20 years, opened in Paris on Monday.
Jérôme Cahuzac. © Reuters
Former French finance minister Jérôme Cahuzac will next month stand trial on charges of tax evasion and money laundering. The trial follows a two-year judicial investigation which was itself prompted by Mediapart's revelations that Cahuzac held a secret bank account abroad, which he first denied before finally confessing in April 2013. Mediapart has gained access to the concluding report by the magistrates which details the evidence for sending Cahuzac for trial. Fabrice Arfi reports.
Budget minister was forced to resign in 2013 after Mediapart revealed that he held a secret Swiss bank account.
An official French watchdog that monitors the financial probity of holders of public office has alerted the Paris public prosecutor's office to its "serious doubt" that a French Senator and two members of the National Assembly, the lower house, deliberately under-declared their assets to parliament "notably due to the omission" of their secret bank accounts in Switzerland. The cases of Senator Bruno Sido and MPs Lucien Degauchy and Bernard Brochand, all from the conservative opposition UMP party, emerge just one year after the socialist government's budget minister Jérôme Cahuzac was forced to resign following Mediapart's revelations of his secret account with Swiss bank UBS, and months after a junior minister was found to have avoided paying income tax for several years. Mathilde Mathieu reports.