Related keywords
France reported 516 new deaths from the novel coronavirus in the last 24 hours, bringing its overall toll to 21,856 fatalities on Thursday.
France reported 544 more deaths from Covid-19 in hospitals and nursing homes over the last 24 hours, but registered new falls in the total numbers of coronavirus patients.
The daily tally – 387 deaths in hospital and 144 in nursing homes – brought France's total Covid-19 death toll to 20,796, top health official Jérôme Salomon told reporters.
Health chief  Jérôme Salomon said coronavirus-linked fatalities were up 2.8%, at 20,265, after an increase of 2.0% on Sunday.
The health ministry data showed that 357 people died from COVID-19 in hospitals, compared with 441 in the previous 24 hours, taking the total toll in hospitals to 5,889.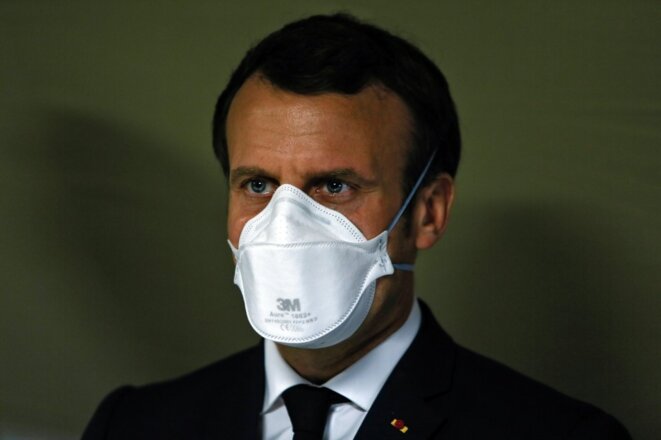 President Emmanuel Macron during a visit to a Covid-19 field hospital at Mulhouse in eastern France on March 25th 2020. © AFP
An investigation by Mediapart has revealed the chaotic management at the highest levels of the French state over the crucial issue of providing protective masks to help tackle the Covid-19 coronavirus pandemic. Our probe, which has analysed the situation since January and is based on numerous witness accounts and documentary evidence, highlights the hidden shortages, the unreliable health instructions, the neglected offers of help with importing masks, the continuing shortage of stocks and the way that some companies have been favoured. It also reveals the lies that have accompanied this mismanagement. Meanwhile hundreds of nurses have become infected with the virus. Yann Philippin, Antton Rouget and Marine Turchi report.
There are now 22,757 people hospitalised in France with COVID-19, with 5,565 of them in intensive care
Health agency director Jérôme Salomon told a news conference that the number of cases had risen to 44,550, a rise of 11% in 24 hours.
French officials said that the overall number of coronavirus cases had risen to 25,233, a rise of about 13% in 24 hours.
Frédéric Valletoux, president of the French Hospitals Federation, said  official numbers do not take account of deaths in retirement homes as well as some people who die at home.
Jérôme Salomon, the head of France's public health service, said 45 people have been hospitalised in intensive care, six more than when the last summary was issued Friday.
The number of confirmed infections rose by 138 to 423, a French health official said on Thursday.
The jump in figures prompted concern as French president Emmanuel Macron warned that the country was bracing for an epidemic.
The 60-year-old teacher has become the first French victim of the coronavirus in the country; the first death was that of a Chinese tourist.