The British government said the row between French fishermen and the authorities in Jersey over post-Brexit restrictions on vessels from France operating off the Channel island, and which led to around 60 French boats sailing in protest into the Crown dependency's main port, was 'resolved for now' but that 'we remain on standby'. 
A French minister has warned that France may cut off electricity supplies to Jersey, the British crown Channel Island dependency, in response to a post-Brexit fishing rights dispute. 
Real Madrid star Cristiano Ronaldo scoring a decisive goal on April 11th that sent his club into the semi-finals of the European Chamions League. © Reuters
Portuguese football star Cristiano Ronaldo, currently under investigation in Spain, where he resides, over his alleged wilful evasion of 14.7 million euros in tax payments between 2011 and 2014, created a trust in Jersey in 2015 from which millions of euros were transferred to a subsidiary in Luxembourg and which did not appear in his 2015 tax declaration, according to confidential documents analysed by Mediapart and its partners in the journalistic consortium European Investigative Collaborations (EIC). The trust was abruptly wound down last week, just 24 hours after the EIC contacted the footballer and his agent for comment on the documents.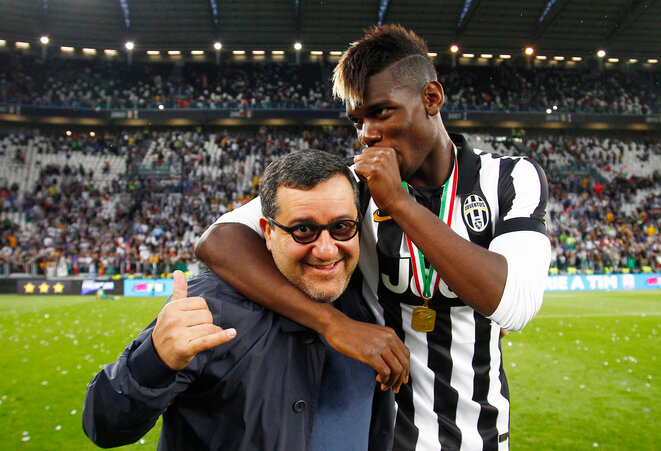 Paul Pogba (right) with his agent Mino Raiola.
Paul Pogba, the world's most expensive football player, has provided rich pickings in commissions for his agents. Beyond the lucrative returns on his transfer fees, the 23-year-old French midfielder's image rights represent a major source of revenue both for the player and his intermediaries. In the space of two years, and amid a bitter dispute between two of his agents, Pogba's image rights have been managed by a company in Luxembourg, subsequently by another in Ireland, and are now held by a shell company in the Channel Island tax haven of Jersey, according to documents obtained by the journalistic collective European Investigative Collaborations, of which Mediapart is a founding member. Yann Philippin, Michaël Hajdenberg and Michel Henry report.
A political row has erupted over the French government's announcement this weekend that it had removed Jersey and Bermuda from its official blacklist of 'uncooperative' tax havens. The decision has infuriated leading figures among the socialist majority in parliament, while Green party anti-corruption campaigner and former examining magistrate Eva Joly denounced the "trembling hand" of a government that had buckled under "the pressure of big corporations". Mediapart has learnt that French foreign affairs minister Laurent Fabius had advised that the move, decided by finance minister Pierre Moscovici, was "politically inopportune". Lénaïg Bredoux reports.
A delegation from Jersey visited the French ambassador to London in an attempt to have the island removed from France's tax blacklist.
French tax authorities have added Jersey, Bermuda and British Virgin Islands to their blacklist of 'uncooperative' tax havens in world.