Related keywords
A March 24 jihadist raid on Palma in Mozambique's northern Cabo Delgado province prompted Total to remove remaining staff from the natural gas site.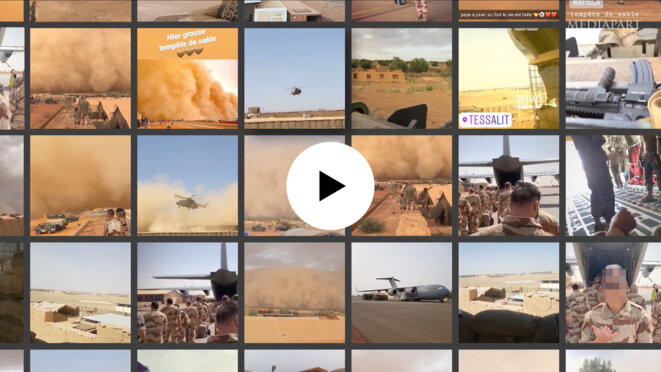 © Mediapart
The French military has banned soldiers from posting sensitive information online. However, via a number of different apps Mediapart has managed to discover the profiles of more than 800 French troops deployed abroad and the profiles of more than 200 special forces soldiers. The military's general staff meanwhile is reluctant to discuss the precise measures that have been taken to contain a problem that could put the security of military personnel and their operations at risk, especially from terrorists who target French troops abroad. Justine Brabant and Sébastien Bourdon report.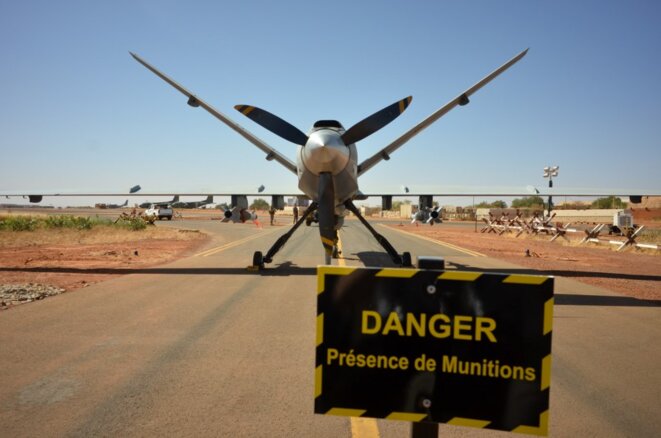 A French Reaper drone parked at its military base in Niamey, Niger, on December 15th 2019. © Daphné Benoit/AFP
Two French soldiers were killed this weekend in Mali when their vehicle was targeted by an improvised explosive device, in what was a grim reminder of the difficulties the French military face in their campaign to defeat jihadist groups in the Sahel region. To strengthen its operations, France has begun deploying, for the first time anywhere, armed drones. But, as Rémi Carayol reports, while these have apparently reduced the capacity of the jihadists to launch mass attacks, the drone strikes have also made civilians fearful for their own safety, with the potential effect of losing support for the military campaign.
French President Emmanuel Macron, visiting Ivory Coast, said French troops killed 33 jihadists early Saturday in an operation in Mali's Mopti region, when one person was taken prisoner and two Malian gendarmes held hostage were freed.
French foreign minister Jean-Ives Le Drian on Wednesday travelled for talks with the Iraqi authorities on setting up a judicial framework to allow for the trials of jihadists detained in Syria, where Kurdish captors said they can longer ensure guarding them in face of the Turkish offensive in the north of the country.
Reports say Iraqi government wants $1m for each jihadist transferred from Syria and $2m each for those whose sentences are commuted.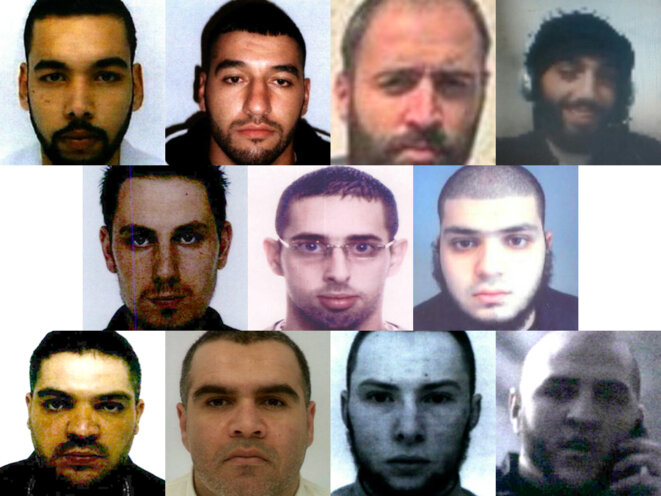 From left to right and from the top, 11 of the 12 condemned to death: Yassine Sakkam, Fodil Tahar Aouidate, Karam El Harchaoui, Bilel Kabaoui, then Kevin Gonot, Léonard Lopez, Mohamed Berriri, and finally Mustapha Merzoughi, Salim Machou and Brahim Nejara. © DR
Twelve former residents in France – eleven of them French citizens, one a Tunisian – have now been sentenced to death in Iraq for having been a member of Islamic State. But whatever charges they face, the way in which Iraqi justice is being carried out in relation to the jihadists has raised major concerns, including among many French lawyers. As Mediapart has revealed, the ides of trying these French citizens and residents in Iraq was conceived in Paris where officials want the process to be carried out "without visible involvement by France". Matthieu Suc reports.
Two French tourists who were taken hostage earlier this month while exploring the Pendjari national park in Benin, when their guide was murdered, arrived back in France on Saturday. They were freed from a location in nearby Burkina Faso by a special forces operation on Friday, during which two French marines lost their lives. The dramatic events have highlighted how jihadist groups have recently begun seizing control of swathes of this region of West Africa, taking advantage of a growing resentment among sections of the population against state authorities. Rémi Carayol reports.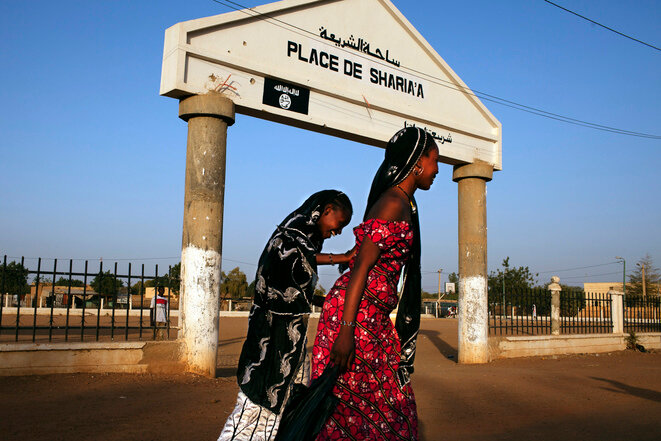 "Sharia Square"in Gao, seen here in February 2013, where the occupying jihadists in 2012 carried out amputations in public. © Reuters
Since France's military intervention in Mali in 2013 put an end to an offensive by Islamic extremists occupying the north of the country, and despite the subsequent UN peacekeeping mission to help stabilize the former French colony, it remains blighted by insecurity. Amid the continuing tensions, the government stands accused of a strategy of clemency towards senior jihadists who led a reign of terror during their occupation of the north. The vast majority of them have been allowed to escape justice, while the few who were placed in jail have been discretely freed, apparently in prisoner exchange deals. Rémi Carayol reports.
France's continued propping up of Chadian President Idriss Déby, a repressive autocrat, in whose country French troops are based for their counter-jihadist mission in the Sahel, appears to some like a return to the didgy old practices of the Françafrique system, opines The Economist. 
Interior minister reported as saying fighters of French origin could be repatriated from Syria as US forces withdraw from that country.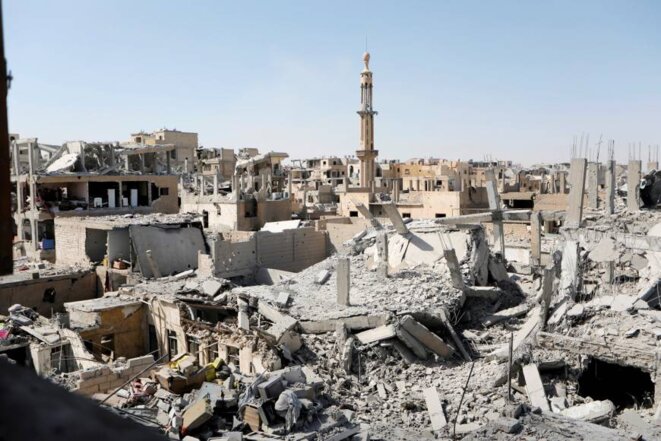 Ruins in the Syrian city of Raqqa, once a bastion of Islamic State. © Reuters
Following the military rout of the Islamic State (IS) group in Syria and Iraq, large numbers of French jihadists were forecast to return home. But in fact, those who have made the journey back represent relatively few of the estimated 700 who joined the ranks of IS in the Middle East. Since 2016, just 64 men and women jihadists have returned – and only seven so far this year. One principal reason is the logistical difficulties for those fleeing the zone and the high fees demanded by people smugglers. But the situation presents a potential security threat in that those who escape by their own means can become invisible to intelligence services.   Matthieu Suc reports.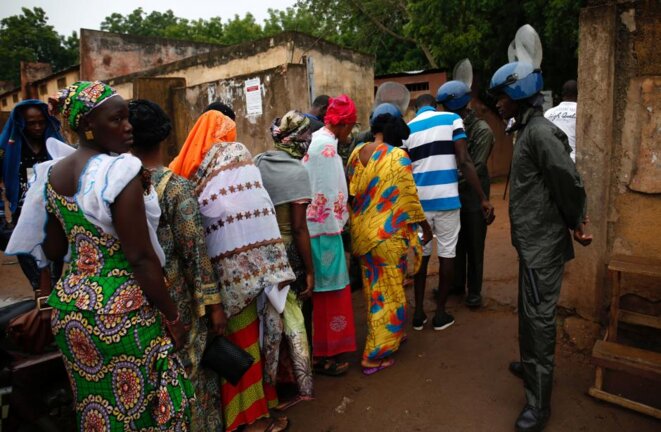 Security checks as voters line up in Mali's capital Bamako on Sunday. © Reuters
The first round of presidential elections was held last Sunday in Mali, the former French colony in West Africa which has become a key centre of the battle, led by France, against jihadist groups operating in the Sahel. Outgoing president Ibrahim Boubacar Keita, 73, hoping for re-election, is roundly attacked by his rivals for having failed to bring security to the country, despite France's military intervention against jihadists in 2013 and the continued presence of thousands of UN peacekeepers. In this analysis of the enduring instability in Mali, Rémi Carayol details how it was fuelled by the toppling of the Gaddafi regime in Libya.
A confidential French justice ministry report, revealed by daily Le Monde, based on a study of court cases involving women returning to France from Syria where they had joined the ranks of the Islamic State group, has found that a majority held active roles within the organisation, and that only one third of those who joined the jihadists did so accompanying their families.