Related keywords
Air France plans to shed 6,500 jobs from its core airline business and to axe another 1,000 posts at its regional airline Hop! between now and the end of 2022, according to staff union officials who are due to meet with management on Friday to discuss the project.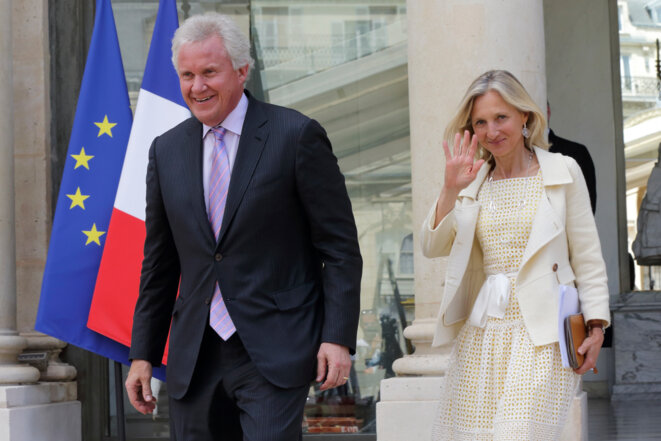 Jeff Immelt, then CEO of GE, leaving a meeting at the Elysée Palace, June 2014 accompanied by then GE France general manager Clara Gaymard. © Reuters
US group General Electric (GE) last month announced it would axe more than 1,000 jobs from its energy arm in France, most of them at its gas turbine plant at Belfort, in the north-east of the country, which it bought from French firm Alstom in 2015. The news, which notably came two days after the European elections in France, caused uproar among trades unions and local politicians, and follows GE's payment of a 50-million-euro fine earlier this year for failing to honour its pledge, when it acquired Alstom's energy division, of creating 1,000 jobs by 2018. Mediapart has obtained the contract inked by GE and the French state in November 2014 which set the terms for the sale of the Alstom business, and it reveals that the US group has also failed to honour other commitments towards its operations in France.
Nationwide street protests called by public sector workers' unions against government plans to reduce 120,000 jobs by 2022 drew between around 110,000-250,000 demonstrators according to, respectively, interior ministry estimates and those of unions, ahead of draft legislation due to be debated before parliament next week.
British home improvement and DIY retail company Kingfisher has announced it is to cut more than 400 jobs at its French subsidiaries Castorama and Brico Depot.
The cuts follow GE's purchase of France's Alstom energy unit, but Paris warns US firm it must stick by pledge to replace lost jobs with new ones.
Human resources boss Xavier Broseta had shirt ripped off as angry airline workers protested over plans to cut 2,900 jobs over two years.
Union officials said the French carrier had informed them 800 jobs will be lost, affecting both ground staff and cabin crews, over three years.
France's biggest drugmaker says it may slash as many as 900 jobs within three years as part of a strategy to trim operations in its home market.
Stern union opposition to Peugeot Citroën's plans to slash 8,000 jobs announces tough test ahead for other European carmakers mulling similar moves.
BNP Paribas said it will cut almost 1,400 jobs at its corporate and investment bank in response to Europe's deepening sovereign debt crisis.
Union sources claim car manufacturer PSA Peugeot Citroën will cut at least 4,000 jobs in France in 2012 as part of a vast cost-cutting plan.
About 130,000 teachers took to streets in towns and cities across France last week for a day of strike and protest at 14,000 job cuts in the state education system announced for 2012. The planned cuts will bring the number of teaching jobs axed under President Nicolas Sarkozy's five-year mandate to 80,000. Meanwhile, the numbers of pupils each year entering schools nationwide are increasing. Cécile Alibert and Noemie Rousseau joined the demonstration in Paris last week to interview teachers about their individual experiences and complaints.