Assange's European defence team say it is their duty to raise case with French preesident Emmanuel Macron.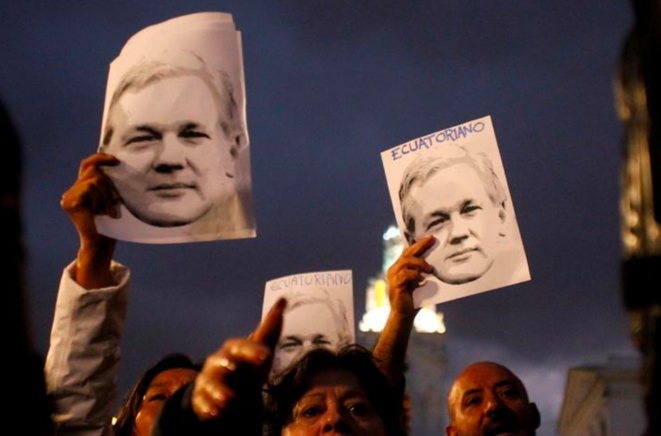 A demonstration in supporrt of Julian Assange held in Quito, the capital of Ecuador, on October 31st 2018. © Reuters
The fate of Julian Assange, just like that of Chelsea Manning or Edward Snowden, represents a far bigger issue than that of him as an individual, writes Mediapart's publishing editor Edwy Plenel in this opinion article. Whatever Assange's personal faults or mistakes, he argues, the move for his extradition to the US is about making an example of him to others because he had the audacity to challenge the powers that be with the weapon of the right to know.
WikiLeaks editor said French president 'gave encouraging signs' over his request for asylum in July, and questioned why it was finally rejected.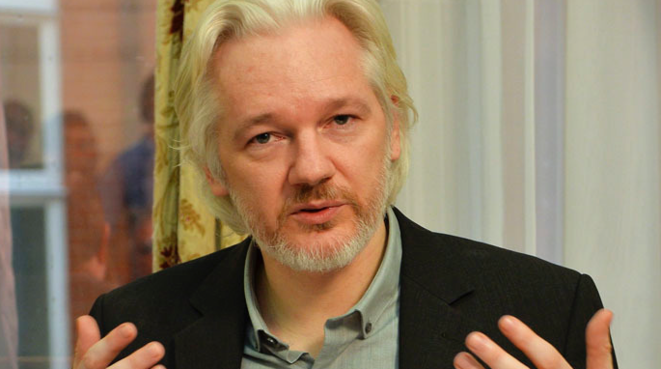 In an open letter to the French president on Friday the founder of WikiLeaks, Julain Assange, made an apparent appeal for political asylum in France. Assange, whose whistleblowing organisation was behind the recent revelations published by Mediapart and Libération about US spying on French heads of state, said that he faced "political persecution" and that his life was "in danger". However, within an hour of the publication of the open letter President Hollande's office issued a brusque statement rejecting asylum for Assange, who has spent three years in the Ecuadorian embassy in London to escape extradition to Sweden. As Lénaïg Bredoux, Jérôme Hourdeaux and Mathieu Magnaudeix report, the episode quickly stirred up a row and will inevitably reignite the debate about how far France should be prepared to go in welcoming whistleblowers such as Assange and the former National Security Agency (NSA) employee Edward Snowden.
President Hollande's office said it had denied request by WikiLeaks founder because his 'situation ... does not present any immediate danger'.
France's justice minister Christiane Taubira said she 'wouldn't be surprised' if WikiLeaks founder and NSA whistleblower were granted asylum.
The game of diplomatic bluff played out in the row between the Unites States and Russia over the asylum offered to former NSA computer analyst-turned-whistleblower Edward Snowden disguises an essential issue that concerns all of us, writes Mediapart editor-in-chief Edwy Plenel. That issue, he argues here, is how a 'state of exception', symbolized by the US Patriot Act and which cites supposed security concerns above the just rule of law, is surreptitiously extending its already vast power amid hitherto widespread indifference. A battle is on to force its retreat, and it is being fought here, on the internet.
Au-delà du combat diplomatique et médiatique qui fait rage entre les gouvernements britannique et équatorien autour du cas du porte-parole de Wikileaks, que dit réellement la loi ? On a beau chercher, Julian Assange se retrouve dans une impasse juridique. Démonstration.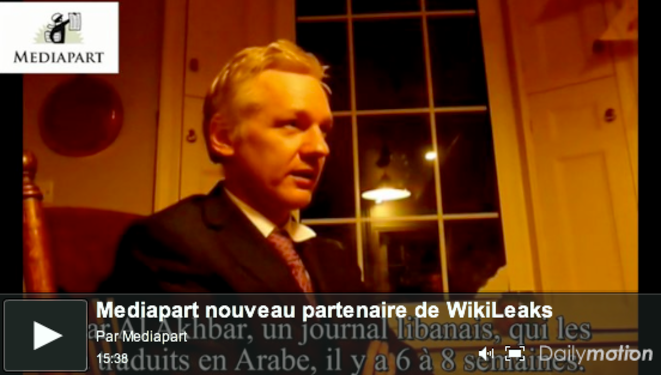 Vidéo accessible dans le corps de l'article.
Mediapart has become a new partner of WikiLeaks, the whistle-blowing website that rocked the world after it began releasing secret US diplomatic cables last year, published by five international press titles. Now Mediapart also has access to the confidential documents and will begin publishing its own investigations into the information they contain. Mediapart Editor-in-Chief Edwy Plenel and Editor François Bonnet present here the circumstances and spirit of the signature of their agreement with WikiLeaks, along with a video interview recorded during the meeting with its founder Julian Assange.
WikiLeaks has opened a worldwide battle over the future of freedom of information with its release of US diplomatic cables. Mediapart's Editor-in-Chief Edwy Plenel argues here that it pitches the fundamental right of the public to access information against the stranglehold on information hitherto exercised by governing powers and establishments. At stake is whether the alliance of economic interests and national powers-that-be can snuff out the future of democratic ideals spurred by the tools of the digital age; and the result concerns everyone of us.