The detained were all from the region around Nice in south-east France, suspected of helping Mohamed Lahouaiej Bouhlel mount his attack on July 14th, when he drove a truck into Bastille Day crowds on the Nice seafront causing the deaths of 86 people.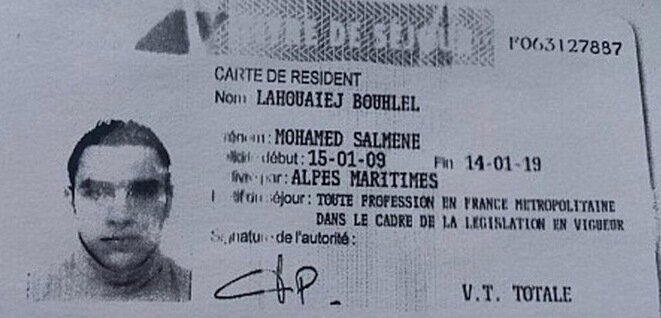 Mohamed Lahouaiej Bouhlel's residency permit. © DR
Three new arrests were made on Sunday as French investigators attempt to establish whether Mohamed Lahouaiej Bouhlel, the 31-year-old Tunisian who drove a heavy truck into Bastille Day crowds in Nice on Thursday, killing 84 people, received help from accomplices in preparing the massacre. Fresh evidence emerged this weekend suggesting he had carefully planned the attack, including CCTV footage of him reconnoitring the scene earlier last week. But despite a claim by the Islamic State group that Bouhlel was a "soldier" for the jihadist group, his motive remained unclear. Meanwhile, French health minister Marisol Touraine said on Sunday that "about 85 people" were still hospitalised after the carnage on July 14th, of which 18, including a child, were in a life-threatening condition. Graham Tearse reports.