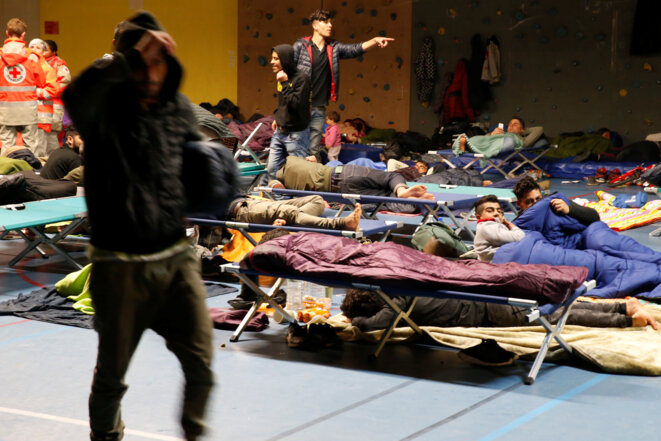 Displaced migrants from the destroyed Grande-Synthe camp were offered shelter inside one of the town's gymnasiums. © Reuters
A migrant camp close to the Channel port of Dunkirk, in north-east France, which housed about 1,500 people in wooden sheltered accommodation, was razed to the ground in a huge blaze on Monday that was started during fighting between groups of Iraqi Kurds and Afghans. The events have further fuelled anti-immigrant rhetoric from candidates campaigning in the French presidential elections, and placed in question the outgoing socialist government's already reluctant support for the site. But, as Carine Fouteau reports, the local mayor behind the creation of the camp, which opened only last year, has pledged to rebuild it.
In an operation beginning with French-language courses, the 80 former inhabitants of the now-demolished squalid Channel port migrant camp were required to have already been students in their home countries and to demonstrate interest in the university courses on offer.
As winter bites in the French capital, three humanitarian associations allege the police have been harassing migrants on the streets of Paris and in some cases tear-gassing them as they queue at the refugee centre. And following the destruction of the so-called Jungle migrant camp in Calais, a local association says remaining migrants there are also suffering harassment. Carine Fouteau interviewed Corinne Torre of Médecins Sans Frontières to find out more.

Unaccompanied minors dispersed from the 'Jungle' refugee camp last month to France's official reception centres have alleged that have been forced into unpaid work on farms to pick apples sold to French supermarkets, and some said they had not been given clean clothes since they arrived at the centres.
Officials say rise in number of people living on street in capital could be linked to the demolition of so-called 'Jungle' migrant camp in Calais.
But charities said many unaccompanied minors at the camp had not been processed and reporters said groups of adults remained in area.
Officials say demolition will start by hand and bulldozers will not roll in immediately in an effort to minimize tensions as evacuation continues. 
After sporadic unrest overnight, migrants waited with calm resignation to be relocated by bus in France while asylum requests are considered.
More than 1,200 police and officials have begun operation to clear the 'Jungle' migrant camp in Calais which has been housing 7,000 people.
With the expected dismantlement of the 'jungle' migrant camp in Calais to begin as of Monday morning, the French authorities step up attempts with UK counterparts to save children who have right of entry into Britain from being herded with adults into centres around France amid 'chaos' of evacuation. 
The evacuation and subsequent demolition of the makeshift camp estimated to shelter up to 10,000 migrants attempting to reach Britain in clandestine crossings of the English Channel will begin on October 24th, the French authorities have announced, when thousands of migrants will be bussed to refugee centres around France.
A TV crew filming migrants apparently awaiting an opportunity to stow away in trucks at a service station near the Channel port were set upon last Thursday evening in what they believe was probably an attack motivated by a people smuggler who was on the images.
Hundreds of unaccompanied minors trapped in the "Jungle" migrant shantytown in Calais, which is due to be demolished, are to be allowed entry into Britain to join relatives as French and British officials speed up the transfer process.
A number of volunteers from Britain who were heading to the migrant camp in Calais to distribute aid packages of food, clothes and tents were turned back by French customs officers ahead of the imminent demolition of the so-called 'Jungle'.