Balladur to face trial for allegedly diverting commissions on arms sales to Pakistan and Saudi Arabia to his failed 1995 presidential election bid.
In May 2002, 11 French naval engineers were murdered in a suicide bomb blast in the Pakistani port city of Karachi. The ongoing French judicial investigation into the massacre, which has become known as the 'Karachi Affair', has uncovered strong evidence suggesting it was linked to a secret political funding scam in France. Several survivors of the blast are now engaged in a legal battle to get to the truth as to whether former French intelligence officers have lied on oath about what their agency knew about the links between a wealthy Saudi figure, Ali Ben Moussalem, identified as a key figure in the case and the politicians suspected of corruption. Fabrice Arfi reports.    
Ex-premier and his former defence minister face investigation over claims that arms sale commissions were used to fund 1995 presidential campaign.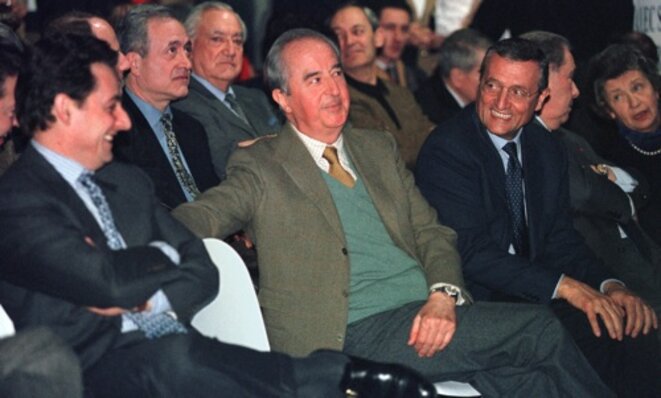 MM. Sarkozy, Balladur et Léotard. © Reuters
The prosecution authorities in Paris have recommended that six people, including three former senior political aides, face trial over the Karachi affair. The ex-aides, who at the time of the alleged offences were working for prime minister Édouard Balladur, defence minister François Léotard and budget minister Nicolas Sarkozy, are accused of setting up a massive system to siphon "commissions" from major arms deals back to France for political funding, or of receiving those illegal kickbacks. Mediapart has now obtained a copy of the prosecutors' legal reasoning, which details this complex web of networks and bank accounts and which, confirm the prosecutors, was aimed at the "secret funding of French politicians". As Fabrice Arfi reports, the question still remains as to whether the advisors' political masters will one day face trial over the affair.
Businessman, who is banned by the French courts from leaving France, may also have tried to take flight to Middle East before Christmas.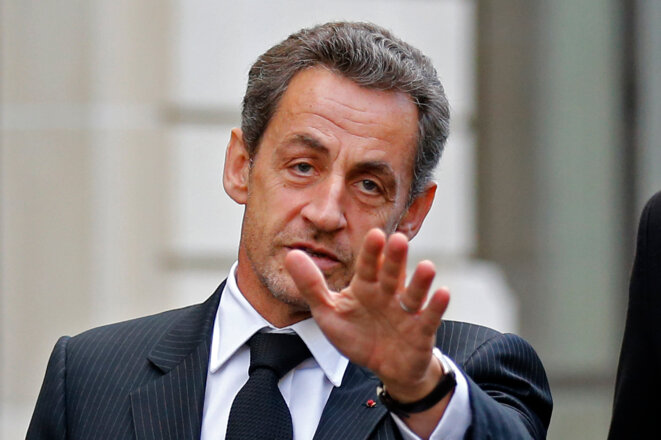 Par quels juges sera-t-il entendu ? © Reuters
Judges investigating suspicions that senior politicians, including Nicolas Sarkozy, were implicated in the use of kickbacks from defence deals to illegally fund a presidential campaign have uncovered a dramatic new piece of evidence. The document, published here by Mediapart, shows that as budget minister Sarkozy signed a letter backing the complex set-up that led to the illegal payments. The document, which dates from 1994, contradicts claims from the former president that he had no involvement in the affair. Its discovery coincides with moves to get Sarkozy and two other former ministers investigated by a special court that handles allegations of offences committed by ministers in the line of duty. Fabrice Arfi and Karl Laske report.
Probe into ex-president's role in Bettencourt affair is over but other cases threaten damage to his reputation as he mulls over poltical comeback.
Pierre Mongin, chief of staff of former prime minister Edouard Balladur, has been placed under formal investigation by magistrates.
Arms dealer Ziad Takieddine had been detained on suspicion that he was making plans to flee the country by trying to buy a diplomatic passport.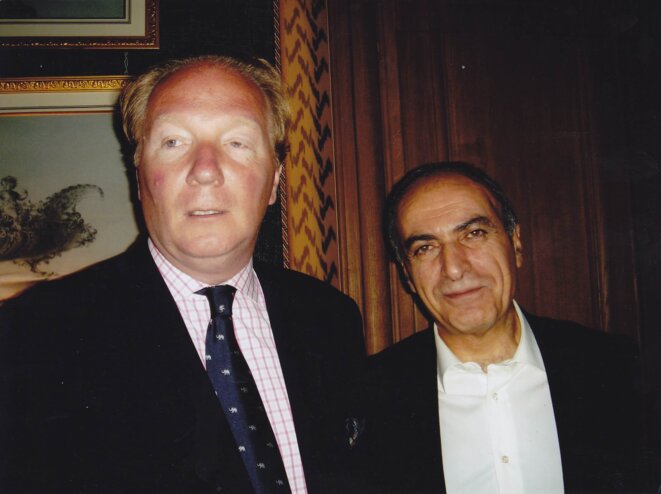 MM. Hortefeux et Takieddine, en 2005 © dr
After providing Mediapart with further information concerning allegations that President Nicolas Sarkozy's 2007 election campaign was partly funded by former Libyan dictator Muammar Gaddafi, the man at the centre of the controversy has now suddenly denounced a "crude manipulation" of his secret report detailing the alleged scam. Jean-Charles Brisard, a French expert on terrorism and terrorist financing, had earlier told Mediapart how Brice Hortefeux, (pictured with arms dealer Ziad Takieddine) a longstanding close friend and political aide of the French president and who is now vice-president of France's ruling UMP party, was the "front" in a financial network set up for the secret funding of Sarkozy's 2007 election campaign by the Gaddafi regime. The Swiss-based consultant said he had a file containing "precise amounts, names, countries and dates." Fabrice Arfi and Karl Laske report.
Franco-Lebanese arms dealer Ziad Takieddine, at the centre of what has become known as the 'Karachi affair', involving secret political funding from commissions paid in French weapons sales abroad, has given a detailed interview to French TV news channel BFMTV (photo), in which he appeared to address a warning to President Nicolas Sarkozy, now increasingly implicated in the case: "I want to see the president, he has an interest, I think, and France has an interest, that he receives me for at least 15 minutes."
French police quiz President Nicolas Sarkozy's adviser and friend Brice Hortefeux over his access to confidential evidence in 'Karachigate' case.

A Paris magistrate investigating suspected illegal political party funding in France has obtained documents (photo), extracts of which are exclusively published here by Mediapart, which amount to the most significant evidence yet indicating that former Prime Minister Edouard Balladur's presidential election campaign may have been partly funded via French weapons sales abroad. While the events date from the 1990s, they lie at the heart of what has become known as the Karachi Affair, a fast-developing corruption scandal implicating current French President Nicolas Sarkozy and several of his senior political allies. Fabrice Arfi reports.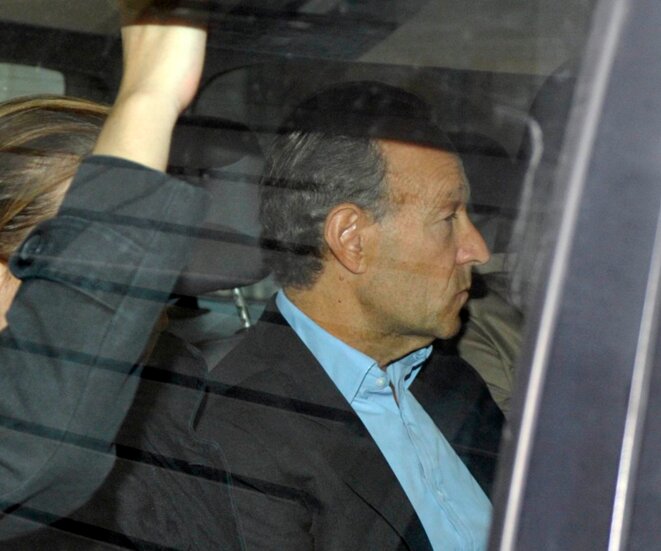 Thierry Gaubert © Reuters
After a week of startling developments, the French presidency was this weekend engulfed by yet more revelations over the illegal political party funding scandal dubbed as Karachi-gate, involving secret cash payments siphoned off from French weapons sales abroad, notably to Pakistan, which implicates both the French president and his close political entourage. Two of Nicolas Sarkozy's longstanding political servitors, Nicolas Bazire and Thierry Gaubert (photo), are now under official investigation over their alleged role in the affair, which includes the transport to Paris of suitcases stuffed with cash from a Swiss bank vault. Meanwhile, presidential advisor Brice Hortefeux, one of Sarkozy's closest friends, has been caught by phone taps informing Gaubert, while he was in police custody, of damaging statements made by his estranged wife, Princess Hélène of Yugoslavia. In this report on the latest developments in the case, Mediapart exclusively reveals excerpts of what Gaubert told the police, along with the official transcript of a phone conversation in which his daughter speaks of Sarkozy, Hortefeux and other senior officials as being "in the shit". Fabrice Arfi and Karl Laske report.