Related keywords
Four US-made Javelin anti-tank missiles, bought by France and discovered by forces loyal to the UN-backed Libyan government in a camp used by enemy troops serving Libya's eastern commander Khalifa Haftar, were left by a French military unit on 'counter-terrorism operations' and were 'damaged and unusable' according the defence ministry in Paris.
A statement from the Government of National Accord (GNA), the Tripoli-based authorities recognised by the UN as Libya's governement, said its interior ministry had suspended 'all relations' with France because 'support of the criminal Haftar', a reference to rebel commander Khalifa Haftar, based in the east of the country, whose forces have launched an ongoing military offensive to overthrow the GNA.
A planned European Union statement calling on military strongman Khalifa Haftar to halt his Libyan National Army's offensive against the UN-backed Government of National Accord in Tripoli was vetoed by France, which has provided military assistance in past years to Haftar in his eastern stronghold.
A spokesman, for Khalifa Haftar, whose Libyan National Army controls much of eastern Libya and who press reports last week said was in a coma after suffering a stroke, claimed on Twitter on Friday that he had visited a Paris hospital 'for normal checkups' and would 'be back in Libya within few days'.
Field Marshal Khalifa Haftar, military strongman in Libya, a potential war crimes suspect. © Reuters
In 2015 the former chief prosecutor for the International Criminal Court defended the interests of a billionaire businessman with links to the former Gaddafi regime and who was a supporter of potential war criminals in Libya. Luis Moreno Ocampo, who had left the ICC in The Hague just three years before, was paid a total of 750,000 dollars for his work, Mediapart and European Investigative Collaborations (EIC) can reveal in their 'The Secrets of the Court' investigation. Moreno Ocampo denies any wrongdoing and says he was simply advising the businessman, Hassan Tatanaki, to be cautious in his dealings with a faction involved in the Libyan civil war. Stéphanie Maupas and Hanneke Chin-A-Fo, from NRC Handelsblad in Holland, report.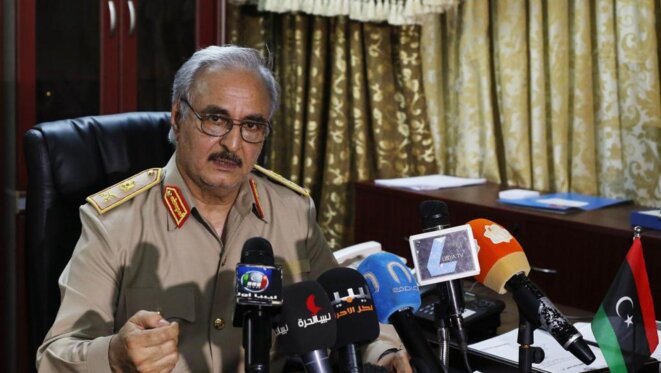 General Khalifa Haftar is a rival to Libya's official government but is supported militarily by France. © Reuters
Under President Nicolas Sarkozy France launched a military intervention that plunged Libya into chaos. Now under President François Hollande Paris is conducting two parallel and very different policies; one official, one secret. In Tripoli France supports the government that is recognised by the international community. But at the same time it is also discreetly providing military aid to the official Libyan government's main adversary, General Khalifa Haftar, whose power base is in the east of the country. René Backmann and Lénaïg Bredoux investigate.