The Lebanese businessman says he handed over suitcases of cash in Geneva that came from arms deals with Saudi Arabia and Pakistan.
Franco-Lebanese arms dealer Ziad Takieddine, at the centre of what has become known as the 'Karachi affair', involving secret political funding from commissions paid in French weapons sales abroad, has given a detailed interview to French TV news channel BFMTV (photo), in which he appeared to address a warning to President Nicolas Sarkozy, now increasingly implicated in the case: "I want to see the president, he has an interest, I think, and France has an interest, that he receives me for at least 15 minutes."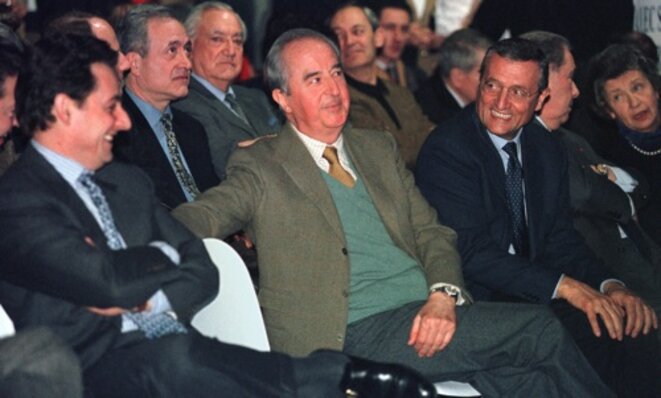 © Reuters
A former controller-general of the French armed forces told a parliamentary mission he was informed that former French Prime Minister Edouard Balladur financed his presidential election campaign with illegal kick-backs on the sale of submarines to Pakistan, Mediapart can reveal. The disclosure of Jean-Louis Porchier's testimony raises further questions about the role played by Balladur's then-budget minister and campaign spokesman, Nicolas Sarkozy (left on photo).
A key witness in the investigation into suspected illegal political funding in France from bribes allocated for the sale of French submarines to Pakistan has given testimony of a blackmail attempt against senior government figures, including Nicolas Sarkozy, in the months before the 2007 presidential elections and centred on allegedly compromising information about the kickbacks. We reveal here what he told a French judge.
The families of 11 French engineers killed in a bomb blast in Pakistan in 2002 want French President Nicolas Sarkozy to be formerly questioned by an investigating magistrate about what he knows of a corruption deal linked to the attack.
The deal is suspected to have involved illegal political party funding in France, paid through secret kick-backs from the sale of submarines to Pakistan, a scam largely confirmed in November in the testimony, before a judge, of a former French defence minister.
Mediapart, which has led the revelations over what is now known as 'the Karachi affair', has produced a video report clearly explaining the backround to the scandal now engulfing the French president. Click here to watch the video and to read a selection of Mediapart reports on the story.
In May, 2002, eleven French naval engineers died in a bomb attack in the Pakistani port of Karachi, where they had been helping to build three submarines sold by France to Pakistan in 1994. The ongoing Paris-based judicial investigation into the murders is working on the theory that they were murdered in revenge for the non-payment by France to intermediaries of huge cash kickbacks. It has found evidence suggesting the kickbacks may have also involved illegal political funding in France. Central to this allegation are the presidential election campaign expenses of former prime minister Edouard Balladur, for whom Nicolas Sarkozy was campaign spokesman and which are due to be the subject of a second judicial investigation. Both deny any wrongdoing. However, Mediapart reveals how France's top administrative court smothered evidence suggesting the contrary.
L'ancien président pakistanais Pervez Musharraf inspecte, en 2003, à Karachi, les sous-marins Agosta 90 B de la DCN, vendus au Pakistan en 1994. © Reuters
On May 8
th
, 2002, a group of 11 French naval engineers died in a bomb attack in the Pakistani port of Karachi. They had been helping with the construction of three Agosta 90 attack submarines, sold to Pakistan by France in 1994. An ongoing French judicial investigation into the blast is now working on the theory the murders were in retaliation for the non-payment by France of huge cash kickbacks promised to secure the deal. But evidence increasingly suggests that the bribe money was also ultimately destined for illegal political party funding in France.